The new HP ZBook Studio is HP's first quad core workstation Ultrabook, a very thin, light, full performance mobile computer built on Intel CPUs, with Thunderbolt 3 connectivity, HP's internal system software and many configuration choices.
Supplied at 2kg and 18mm thick, the Studio can be customised for processing power, graphics, storage and display panel. It can be built with Intel Core or Xeon processors with up to 32GB of memory, two SSD storage bays holding up to 2TB of total storage, dual Thunderbolt 3 connections, dual cooling fans, and 15.6-inch full-HD or UHD IPS LED-backlit display, with a touch-screen or a UHD DreamColor option.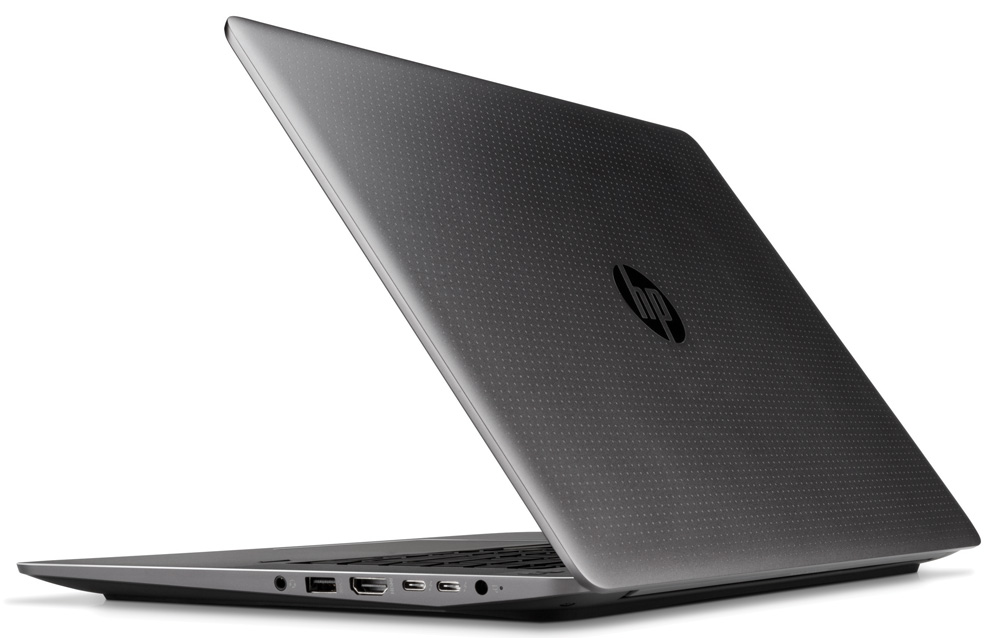 The Xeon processors are available at a higher price, and these can be chosen with optional ECC memory for an additional cost as well. ECC memory is error-correcting code memory that can detect most common types of internal data corruption.
The storage media you specify can range from 128 GB M.2 SATA solid-state drives, to M.2 SATA self-encrypting SSDs up to 512 GB, to HP Z Turbo Drive G2 drives, which are NVMe PCIe SSDs with capacities to 1TB.
The ZBook Studio is built to handle heavy graphics loads, and all versions come integrated with Intel HD graphics 530, P530 or Iris Pro Graphics P580, configurable as a standalone graphics option depending on your processor, plus the NVIDIA Quadro M1000M discrete graphics card, with 2GB extra dedicated GDDR5. The M1000M is a special edition in the Studio, in which it runs with a total of 4GB. However, it returns to 2GB when used in the Zbook 15 and 17 G3 models.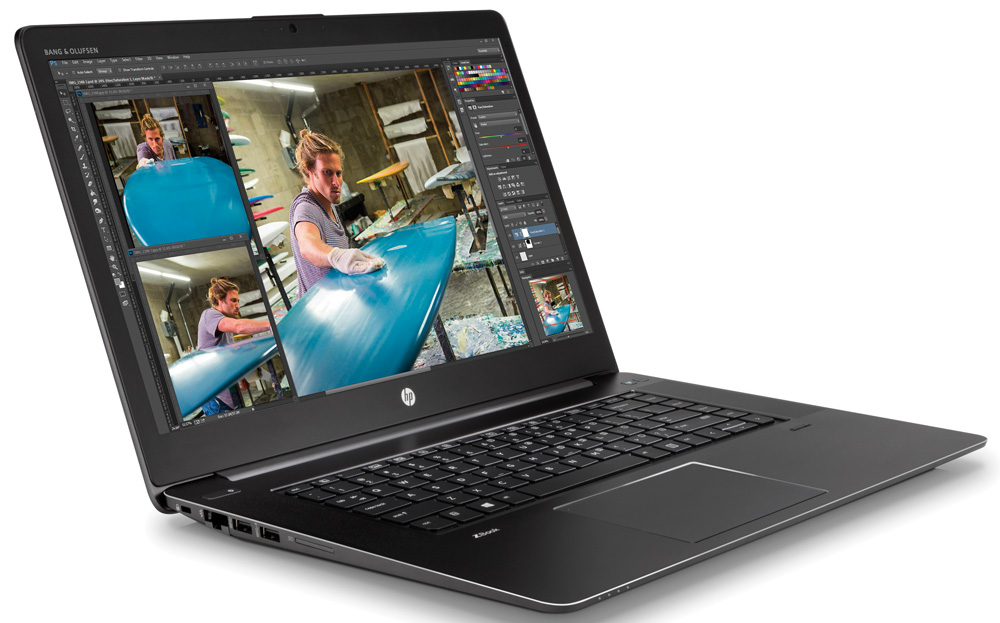 Connectivity includes, on the left-hand side, an RJ-45 input for LAN connection and a USB 3.0 input plus a second USB 3.0 for charging, and on the right-hand side a power connector, two Thunderbolt 3 inputs, a third USB 3.0, a HDMI 1.4 input and a stereo microphone-in/headphone-out combination jack. The internal Bang & Olufsen HD audio comprises integrated stereo speakers and microphone.
The Studio can be used with the new HP ZBook Dock, also with Thunderbolt 3. Users can link up to 10 devices at once, plus simultaneous charging through one cable, through ports including Thunderbolt 3 - supporting DisplayPort 1.2, USB 3.1 Gen 2 and PCIe - four USB 3.0, RJ-45 for the network, VGA displays, combined microphone/headphone audio, and two extra DisplayPorts.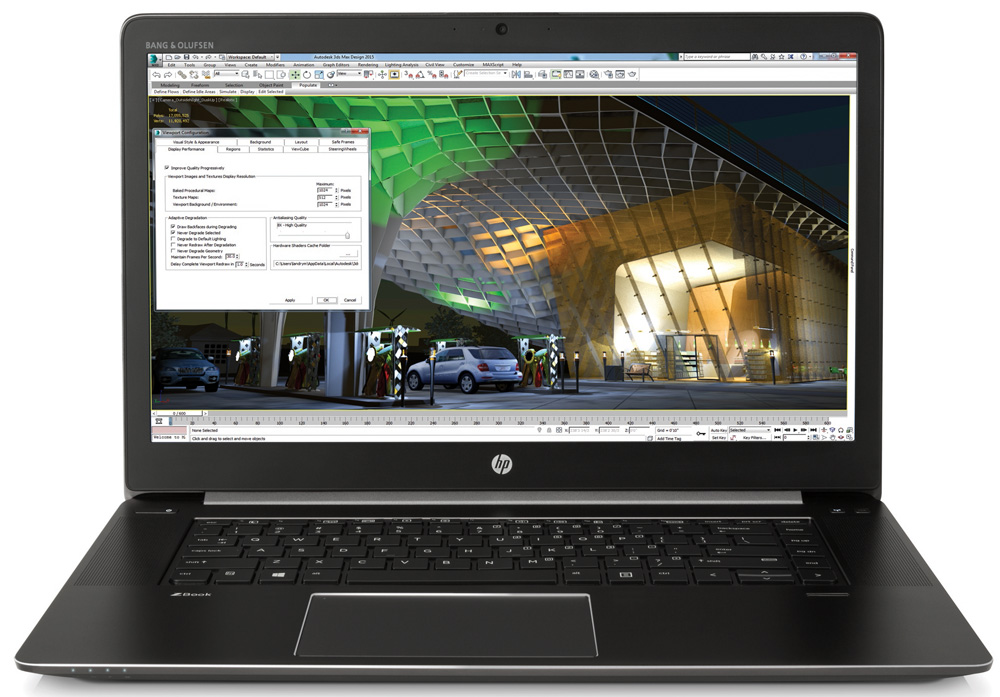 ISV certification for all of the Zbooks, including the Studio, is currently being updated, but you can check on specific software applications here. The major packages from Autodesk, Adobe and Avid are supported at this time.
Internal HP System Software
The Studio comes loaded with HP's internal system software, maintaining the workstation's performance, connectivity and security. It includes Performance Advisor, which can be used to optimize the system for specific applications, and to graphically display the interior of the computer in different modes. The controls adjust up-to-date certified graphics drivers and the correct BIOS settings. To use it for trouble-shooting, you can generate a system configuration report and monitor activities in real-time such as CPU and GPU usage, multi-tasking options and so on.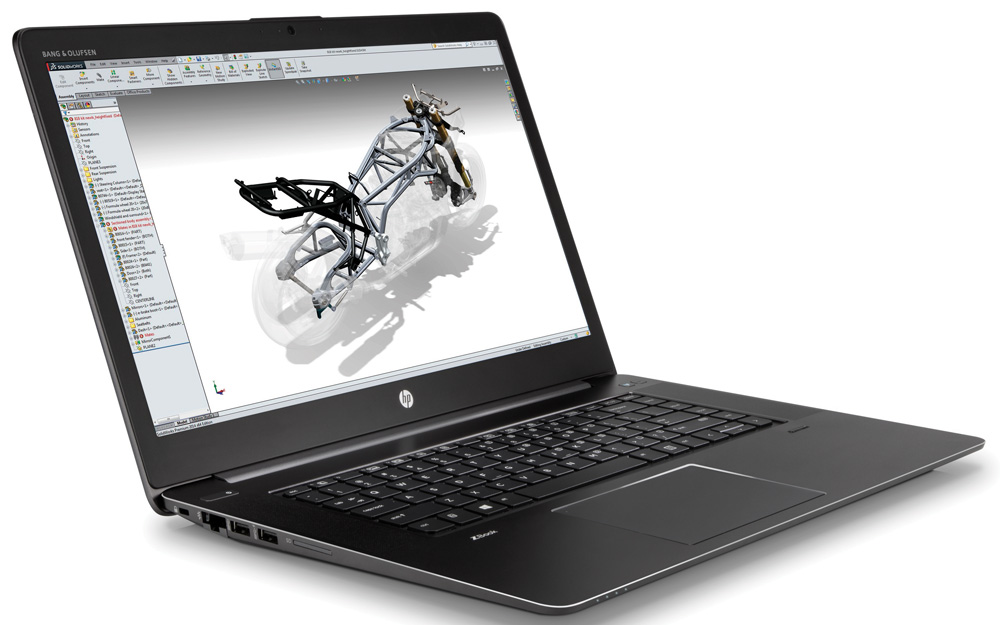 Using Remote Graphics software, RSG,you can collaborate in real-time with people on external computers by sharing your Windows or Linux workstation screen with multiple users simultaneously, granting view-only or full interactive access. Other people can connect from remote computers at any location with a network connection, and you can access the full power of your workstation and software when off-site on other computers and devices including Windows 8 tablets.
RGS sends pixels not data, regardless of the applications in use at either end, and auto-sets resolution and multi-display settings to match the receiver's system. Performance depends on network latency and image frame content, however, the inclusion of HP Velocity software in RSG optimizes available bandwidth to help cope with poor network connections. Image compression makes real-time visualization possible for graphic-heavy applications, and the required bandwidth for video can be reduced up to 50 per cent. Open GL and Direct X 3D graphics APIs are supported.
HP's Sure Start client security, built into the Studio workstation, is a firmware ecosystem based on the HP BIOSphere, or Basic Input/Output System, and Sure Start, a dynamic self-healing PC BIOS with runtime monitoring that protects and recovers without interrupting the user's work. This system shields the BIOS against attacks using customizable security authentication and BIOS-level passwords. It can automatically restore the system PC to its previously safe state if attacked or corrupted.
The HP ZBook Studio and the ZBook Dock are available now. www.hp.com.au