University of Dallas Webcasts Sports with Matrox Monarch HD
At the University of Dallas in Irving, Texas, the Sports Information team has set up a live streaming system for the university's sports events, recognizing that families and fans of the athletes want to show their support. Despite the distance, they devised a way for everyone to watch games live, and later on demand.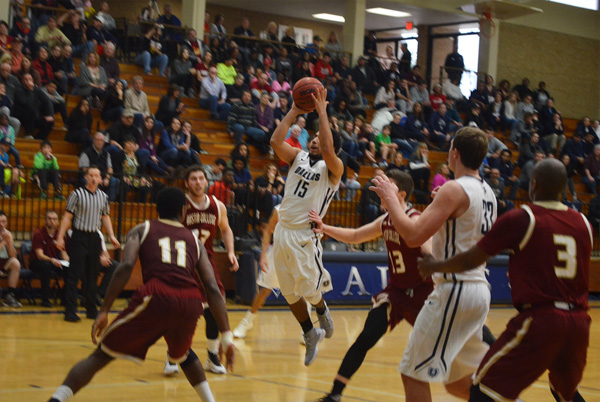 The University of Dallas athletics program has 14 teams affiliated with the National Collegiate Athletics Association, the NCAA. Recently, the university added a Matrox Monarch HD encoder to their video production set-up and partnered with College TV Ticket, a webcasting service for NCAA sports, to live stream games. Now, viewers watching locally, interstate and around the world can view most of the home events in baseball, softball, basketball, lacrosse, soccer and volleyball live online by subscribing to the service.
Before adopting Monarch HD, events were recorded on videotape in-camera and later digitized. The tapes had to be changed periodically during the event, risking accidental overwrites of previous footage, and video quality was not optimal. The delay of creating digital files also meant that footage could not be shared immediately.
Digital Turning Point
Because the university hosts about 100 sporting events during the year, they felt it was time to update their setup and find a reliable device to initiate the stream to College TV Ticket, and to record high-quality footage.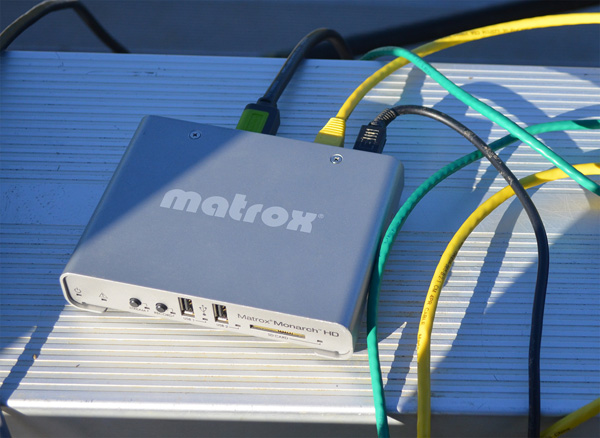 Nathan Yacovissi, the university's Sports Information Manager, noted that since so many processes had become digital, his team needed a device that could record video in a format that didn't require conversion. The athletics department decided on the Matrox Monarch HD H.264 encoder for its ability to stream and record simultaneously, its affordable price and its direct recording to digital file formats, alleviating the concern about overwriting content.
Monarch HD is now used to stream live video to College TV Ticket and meanwhile record video files locally on an SD card as back-up and for coaches to access for training purposes. The device records H.264 video files in MP4 or MOV format, either of which can be used in most content creation and post software - such as the applications from Adobe, Apple and Avid - without transcoding.
The recorded files can play back on free media players like the VideoLAN VLC Player and Apple QuickTime. The back-up recording could also be used in the case of a stream interruption due to network failure, for example. In that case, the Sports Information team would only need to upload the recorded video to College TV Ticket as their archive file.
Streaming Workflow
Monarch HD is used at five different sports venues across campus, both indoors and outdoors. Games are captured with a Canon Vixia HV40 camera which outputs an HDMI signal to the Monarch HD unit. A laptop running the Monarch HD Command Centre, a web-based interface, controls the unit for starting and stopping streaming and recording.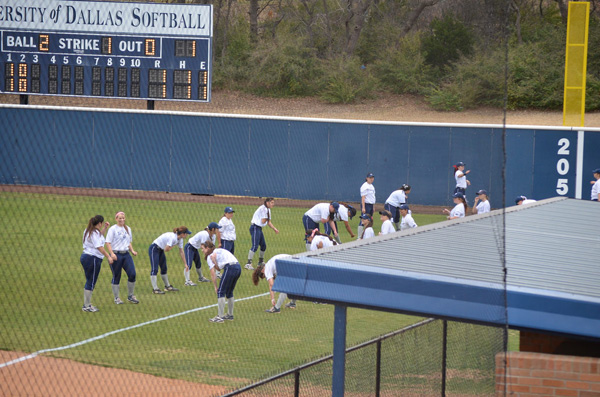 The Monarch HD and laptop are connected to a router, which streams the encoded video over the internet to College TV Ticket's media server using RTMP protocol. The H.264 files on the SD card can be immediately shared and played by most applications on devices.
For the University of Dallas athletics program, adding Monarch HD to their workflow has been a step toward upgrading their video production set-up overall. An associated advantage, for instance, was an improved network connection that removed a 600-700 kb/s stream bitrate limitation. The Sports Information team is now able to use Monarch HD to provide a higher quality HD video stream for indoor events at 2 mb/s.
According to Nathan Yacovissi, the Monarch HD's reliability and straightforward set-up and operation have been especially important because college students are often the operators during the games. Coaches have easier access to the game footage to review for training purposes, and it has now become common practice for coaches from opposing teams to request a game video exchange. The digital files are available immediately after the matches and copies can be made before they leave the venue. www.matrox.com