HP's New Workstations Accelerate Machine Learning and Media Workflows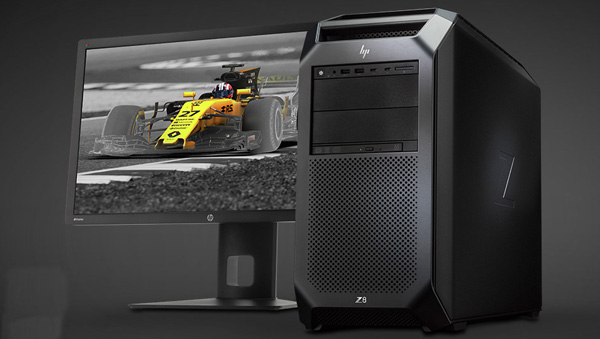 While the algorithms evolve and data sets continue growing, HP believes the best platform for machine learning development is local processing at the edge of the network, and that workstations are the best means of automating such workflows for use in facial identification, sentiment analysis, fraud detection and predictive analytics.
A workstation with the right specifications can compete in terms of cost with cloud systems for creating complex models with large quantities of data. Furthermore, machine learning at the edge can give developers certain advantages regarding control, performance and security, leading to faster results.

The HP Z8 Workstation, HP's top workstation for ML development, addresses the issue of limited power budgets that users have to manage. When training models with significant amounts of data, in order to achieve high-level results, users need machines that they can pack with high-performance storage, like HP Z Turbo Drive, memory, graphics and processing. The HP Z8 Workstation now has the new NVIDIA Quadro GV100 GPU, the NVIDIA GPU Cloud and the HP ML Developers Portal, devoted to the computing needs of ML developers. The portal includes tools such as software stacks that HP has curated, and aims to promote the adoption of ML.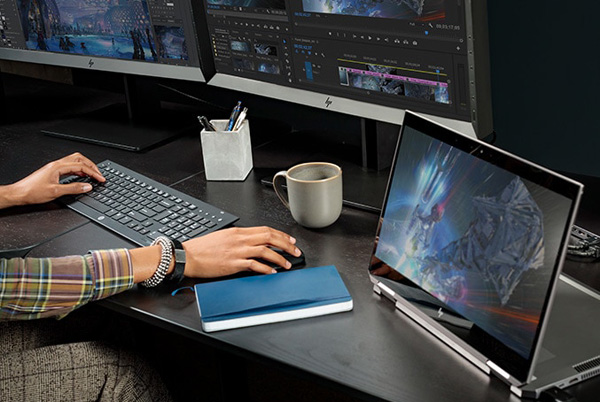 HP ZBooks
HP has also updated their ZBook computers with new and updated models. The HP ZBook Studio x360 G5 is a convertible PC built to run multiple applications while maintaining speed and responsiveness. The NVIDIA graphics and Intel Xeon processors support editing high-resolution images with minimal or no lag, for example. From the laptop mode, it can be reconfigured as a stand to display work, folded up like a tablet or docked and connected to other displays and hardware. It has a 4K HP DreamColor display allowing precision graphics inking with 4,096 levels of pressure sensitivity.

The compact HP ZBook Studio G5 has an optional 4K DreamColor laptop display supporting 100 percent Adobe RGB with 600 nits of brightness and a storage capacity of up to 6 TB of storage. It has certified NVIDIA Quadro P1000 graphics and 6-core Intel Xeon processors for fast editing design work and rendering multi-layered files.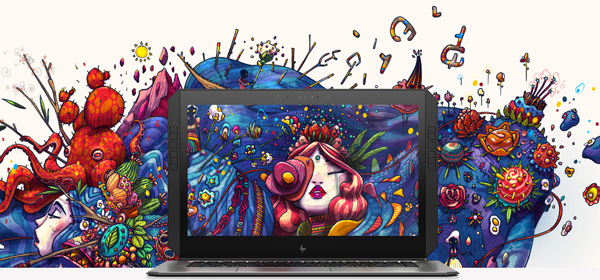 The HP ZBook x2 introduced late in 2017 is a detachable PC. In terms of performance and versatility, it is designed and well-suited to work with Adobe Creative Cloud. Its build includes 8th generation Intel quad core processors, and an integrated stand and full-sized keyboard that stays active when detached, via Bluetooth. When using the computer as a tablet, users also have HP Quick Keys, allowing you to continue work in Adobe apps without a keyboard using a Wacom EMR pen. By purchasing a ZBook dock with Thunderbolt 3 ports, you can power two 4K displays from the PC.
Mobile Workstations
HP's mobile workstations, built for heavy rendering, engineering and simulation work, are specified to run with desktop performance, but are designed for use as mobile laptops.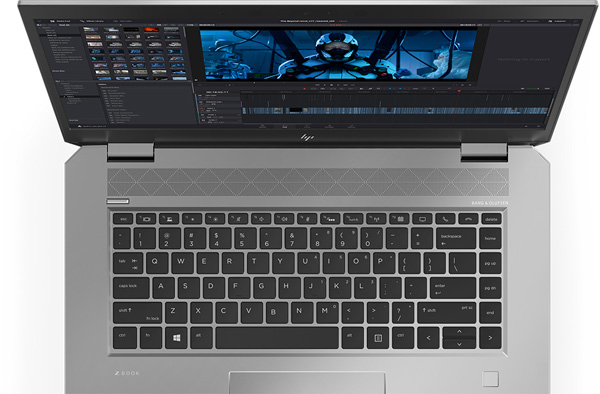 The top of the line HP ZBook 17 G5, for example, allows users to edit multiple streams of content, manipulate data and develop virtual reality projects. HP re-builds this model with 50 percent more cores, and correspondingly better thermal management at each generation update to control temperature and noise. It supports up to 10 TB storage and has 64 GB memory and NVIDIA Quadro P5200 graphics. With a large number of different configurations, the HP ZBook 17 G5 can be customised for most applications and can be upgraded quickly without tools.
Made for industries such as video editing, architecture, product design and engineering, the 17 G5 handles VFX and 3D modelling tasks, and on-location colour grading owing to built-in configurable video colourspaces for work with HD and 4K content. Architects can output real-time walk-throughs and explore immersive designs, and the Quadro P5200 graphics card is able to process LIDAR point cloud data in real time. It also supports display and manipulation of virtual reality material for teams developing 360-degree content.
Server-grade processors make other real-time work possible such as simulation-based design, memory intensive motion graphics, and interactive design including renders, presentation and configuration.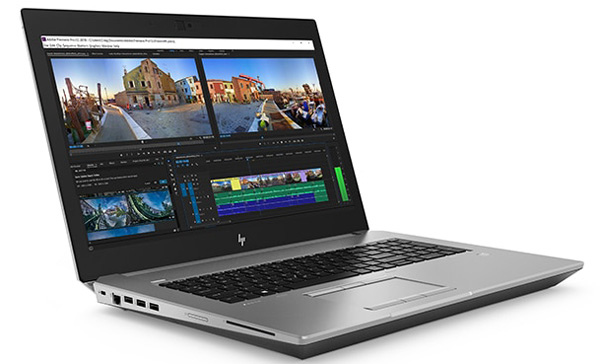 Similarly, the HP ZBook 15 G5 withstands heavy rendering, engineering and simulation workflows while staying cool and quiet. When configured with the optional 600-nit, 4K DreamColor display, users can accurately view projects with one billion colours. Users can also increase performance with up to 6 TB of storage and three drives, and up to 4 TB local PCIe TLC storage, added through the computer's tool-less access. In 2016, NASA purchased 1,200 HP ZBook 15 mobile workstations for use on the ISS and to support ground development and flight support.
HP ZBook 15v G5 is a high-performance laptop, aimed at engineering students and small to medium businesses, with processors and graphics certified for performance and chosen to keep the cost affordable. It records short response times with 6-core Intel Xeon processors and 32 GB memory, including when running multiple applications at once. It may be purchased with up to 4 TB of high-speed storage and up to 2 TB local PCIe TLC storage for access to 4K files quickly, and handles complex 2D and 3D models with certified NVIDIA Quadro graphics. The HP ZBook 15v is optimised for stability and performance with software from vendors such as Autodesk, Revit and SOLIDWORKS.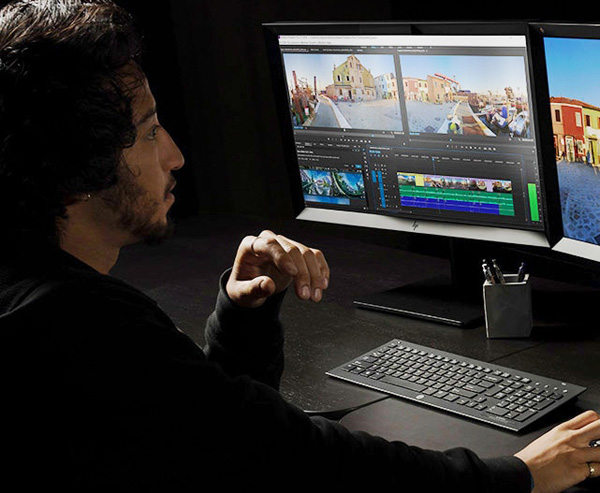 The HP DreamColor Z27x G2 Studio display can be purchased as separate hardware – a 27-inch display with a wide colour gamut, IPS Panel and workflow management tools. It uses an integrated pop-up sensor that calibrates on demand or on a regular schedule. The design in particular supports visual effects artists and includes onscreen markers, remote management and an integrated keyboard-based input-switching KVM to switch between devices. Users have accurate colours from 99 percent DCI P3 coverage, 98 percent Adobe RGB and a 1500:1 contrast ratio.

The Z28, Zbooks, mobile workstations and Z27x G2 are available now. Starting prices begin at A$2,299 for the HP ZBook 15v and range up to A$5,888 for the HP ZBook 17 G5. The HP DreamColor Z27x G2 Display starts at $4,950. All prices increase with the addition of options and accessories. www.hp.com