NVIDIA Studio Optimises Performance with RTX GPUs, SDKs and Drivers
The new NVIDIA Studio platform combines RTX GPUs, a specialised NVIDIA Studio Stack of SDKs, and dedicated Studio Drivers, and has undergone hardware and software testing for creative applications and workflows. It was developed for online and studio-based artists whose work is based on high performance PCs.
At the Computex information and communications technology conference and exhibition, running 28 May to 1 June 2019 in Taipei, 17 RTX Studio laptops were announced from seven PC manufacturers including Acer, ASUS, Dell, GIGABYTE, HP, MSI and Razer. All models meet the hardware and software requirements needed to receive the new RTX Studio badge - NVIDIA Studio matches RTX GPUs to studio-grade software, enabling real-time ray tracing, AI processing and high-resolution video editing.
Inside RTX Studio
The laptops are built with the new Quadro RTX 5000, 4000 and 3000 GPUs, as well as GeForce RTX 2080, 2070 and 2060 GPUs. The RTX GPUs accelerate content creation for tasks ranging from video editing to 3D rendering. Quadro RTX 5000-based laptops include 16GB of graphics memory, enabling workflows involving several applications and the use of large 3D models, which would otherwise not be possible without a desktop computer.
Performance testing was conducted by NVIDIA in May 2019 on RTX Studio laptops equipped with 16GB RAM, Intel Core i7-8750H CPU and GeForce RTX 2080 Max-Q, comparing them to to 15-inch MacBook Pro models with 32GB RAM, Intel Core i9 CPU and Radeon Pro Vega 20 GPU. The GeForce RTX 2080 Max-Q laptops tested seven times faster in Maya with Arnold and REDCINE-X PRO. Arnold performance measures render time with Maya 2019 and Arnold 3.2.0.2 using the NVIDIA SOL 3D model. REDCINE-X PRO performance measures video playback FPS using an 8K 5:1 REDCODE RAW video.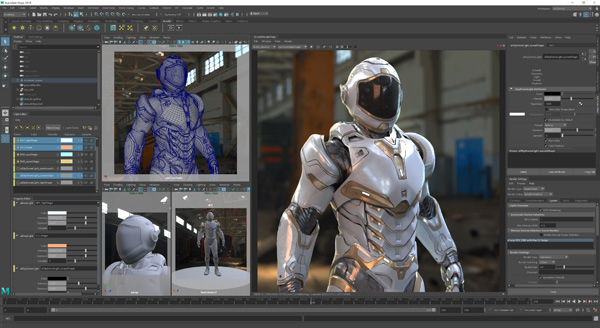 NVIDIA SOL 3D model
Many of the new laptops are also built with 4K precision displays and NVIDIA Max-Q, a combination of thermal and electrical design and software included to make laptops thinner, cooler and quieter.
NVIDIA Studio Stack
On the software side, NVIDIA Studio Stack includes NVIDIA Studio SDKs and APIs for software developers and NVIDIA Studio Drivers for content creators using their applications. Both were developed to improve performance and reliability. Studio SDKs accelerate rendering, video editing and processing, 2D vector animation and similar work.
If using the CUDA-X AI platform, creative app developers can use AI to automate repetitive tasks such as upscaling images, tagging photos or colour matching videos. CUDA-X AI is a collection of software-acceleration libraries built on top of CUDA, NVIDIA's parallel programming model. The libraries optimise hardware for deep learning, machine learning and high-performance computing and also work directly with NVIDIA Tensor Core GPUs to accelerate the development and use of AI-based applications.
They are integrated into deep learning frameworks like TensorFlow, PyTorch and so on, but also the main cloud platforms including AWS, Microsoft Azure and Google Cloud. They can also be deployed on the NVIDIA GPUs installed in desktops, workstations, servers and cloud computing.
NVIDIA Studio Drivers have been tested against creative content workflows based on multiple applications and multiple revisions of the major software from developers including Adobe, Autodesk, Avid, Blackmagic Design, Epic, Maxon and Unity. This means that the latest NVIDIA Studio Driver, available now, supports the up to date releases of applkications including Autodesk Maya 2019, Autodesk 3ds Max 2020, Blackmagic Design DaVinci Resolve 16 and Daz3D Daz Studio.
RTX Studio laptops will be available starting in June from top OEMs, including Acer, ASUS, Dell, GIGABYTE, HP, MSI and Razer. nvidia.com