A Close-up Review of the Apple Mac Pro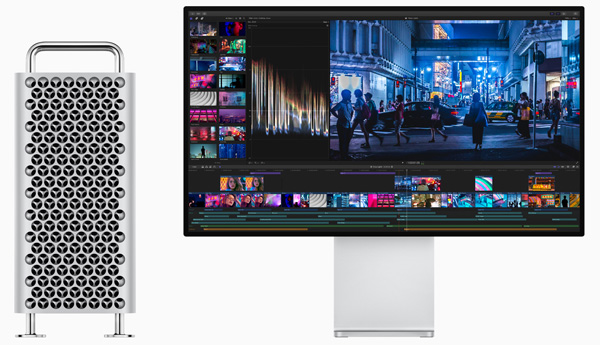 Recently Digital Media World visited the Apple office in Sydney to have a first hand look at the Mac Pro and Pro Display XDR. What impressed us the most were Mac Pro's dedicated workflows for people who work with high resolution graphics and video. It is fast and configurable, with its own GPU modules and a camera native ProRes workflow.
Moreover, Apple Mac Pro was built for people who like configuring their own computer hardware, and it also makes it easier for people who like the idea of configuring their own computer but don't have much experience. On the logic board, you can change the processor, graphics and expansion, as well as storage and memory.
For video editing, the Mac Pro has a camera-native ProRes workflow, based on an optional hardware accelerator card called Afterburner, one of the most interesting parts of the new computer. It is built with an FPGA or field programmable gate array – a programmable logic chip – that you use to effectively turn the Mac Pro system into a video processor allowing it to be integrated into film and video workflows. Afterburner can decode up to six streams of 8K ProRes RAW, 16 streams of 4K ProRes, or 23 streams of 4K ProRes RAW.
But more important, Afterburner means editors can work on camera native files throughout the workflow without creating proxies, by offloading the decoding of all ProRes types including ProRes 422HQ, ProRes 4444, ProRes XQ, and ProRes RA. Because the work of ProRes decoding is normally done on the CPU, Afterburner allows more CPU headroom for other video processing or compute demands, and also allows users to work with high stream count projects even with a lower core count Mac Pro. Final debayering still needs to be done on the GPU.
Afterburner accelerates ProRes and ProRes RAW playback in applications that use Apple's VideoToolbox APIs, which includes new versions of Final Cut Pro X, Blackmagic DaVinci Resolve, QuickTime Player X, and others. It should be installed in one of the machine's PCIe x16 slots, especially when working in multistream 4K or 8K workflows.
Graphics and the MPX Module
For graphics applications, because professional projects nowadays depend more often on GPUs, Mac Pro supports several upgradable workstation graphics options that overcome the fact that existing cards can bring many challenges to the systems they are installed in.
Traditional desktop GPU cards lack Thunderbolt support, involve power cables and take up PCIe bandwidth and overall system power. On the other hand, modern GPUs demand more power and cooling – full size cards have substantial thermal systems, multiple display outputs for high-res displays and auxiliary power connections, making them complex to install. Thunderbolt is still not native because it would affect the GPU's PCIe bandwidth.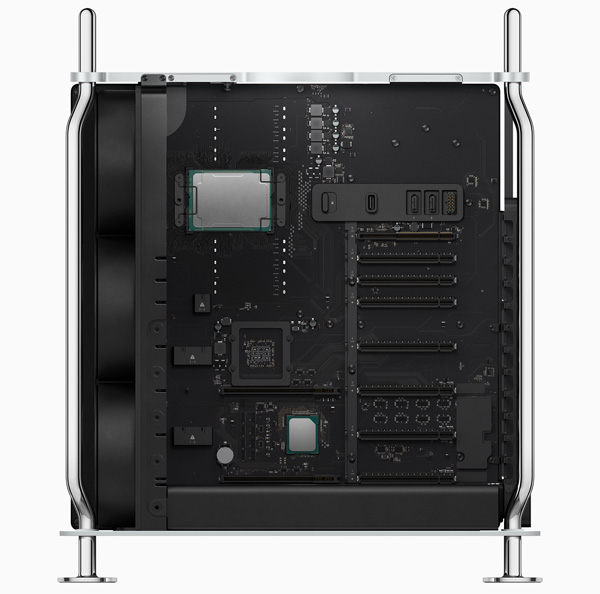 Apple developed the hardware MPX Module to overcome those difficulties. The modules come in four versions – two full-height and two half-height – that fit into two bays built into the Mac Pro. Each one has a standard PCI Express x16 GPU slot, and adds a secondary card-edge connector with extra independent PCIe bandwidth (x8 PCIe lanes) for Thunderbolt. It includes routing for DisplayPort video to the main logic board and 475W more power beyond the 75W per PCIe x16 slot already supplied.
The modules and bays are also bigger than the space normally available for GPUs – big enough for a passive heat sink that is handled as part of the main thermal system in Mac Pro. This allows Mac Pro to operate quietly under heavy load, and enables use of other systems like dual GPU modules, RAID storage modules and so on.
Regarding Thunderbolt, the full-height and half-height MPX Modules handle the integration differently. The full size modules add four Thunderbolt ports on the card without impacting the graphics processor bandwidth. The half size ones have two HDMI 2 ports on the card, and both sizes route DisplayPort connections to the main logic board, supporting the four built-in Thunderbolt ports.
AMD Radeon Pro GPUs
Each of the for module versions support a different AMD Radeon Pro GPU. The Radeon Pro 580X half-height MPX Module is the entry card made for non-GPU-intensive applications like audio, software development or compute tasks that don't need high-performance graphics. The Radeon Pro W5700 MPX Module, also half-height, is a mid-range 7nm GPU based on the AMD RDNA architecture with a GDDR6-based memory controller, and supports real time rendering in design viewports.
The full-height Radeon Pro Vega II MPX Module outputs workstation-level graphics to support professional software. Installing two of them in a MacPro, and connecting them with AMD Infinity Fabric Link results in multi-GPU performance – Infinity Fabric Link accelerates data transfer between GPUs. Two Vega II MPX Modules with Infinity Fabric Link work well for video applications like Final Cut Pro X, because each GPU has dedicated PCIe x16 bandwidth for video transfer while the Link allows multi-GPU processing.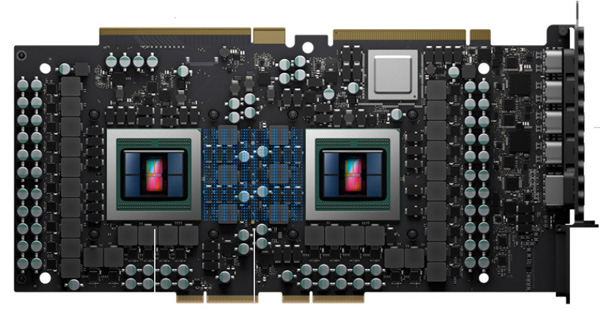 Radeon Pro Vega II Duo MPX Module
For multi-GPU applications that need more performance than this, the Radeon Pro Vega II Duo MPX Module, the fourth version, holds two Vega II GPUs, each with 32GB of HBM2 memory and connected on-board with Infinity Fabric Link. If two of these modules – that is, four GPUs – are installed in the Mac Pro, it can support graphics compute intensive tasks like GPU rendering.
PROCESSING, MEMORY AND CONFIGURATION
The Mac Pro has an Intel Xeon W processor, starting from 8 cores and going up to 28 cores – the most that Apple has allowed in a Mac. Beyond L1, the computer's fastest cache, it has large L2 and L3 caches shared across all the cores. A high-bandwidth mesh architecture internally connects processor cores to memory and I/O on the processor. This has 64 PCI Express lanes supplying bandwidth in and out of the processor, to compute, graphics and storage resources inside the system.
For speed, the processor has a six-channel memory architecture and 2933MHz – times per second the RAM can access memory, that is, how quickly the OS can get data into and out of memory for processing – DDR4 ECC memory (newest type of memory). It has 12 physical DIMM slots allowing the user to upgrade the memory capacity significantly over time, using standard DIMMs (dual in-line memory modules).
Mac Pro configurations start with 32GB of memory using four 8GB DIMMs – utilising four memory channels. For more memory performance, six or 12 DIMMs, fully utilising each channel, should be configured. For instance, with 24- and 28-core processors, the MacPro can be configured with up to 1.5TB of physical memory enabled by installing twelve 128GB load-reduced (LR) DIMMs, built with memory buffer chips. But to avoid memory latency it's important to balance physical memory with DIMM capacity, which achieves higher effective memory bandwidth.
More Configuring – Expansion
The Mac Pro's eight PCI Express expansion slots allow other kinds of configuration, supporting graphics cards, hard drives, SSDs, Wi-Fi and Ethernet hardware connections. There are four full-length 16-lane (x16) PCI Express expansion slots suitable for GPUs, three 8-lane (x8) slots and a half-length x4 slot (Slot 8) that is preconfigured with the Apple I/O card, which has two Thunderbolt 3 ports, two USB-A ports and a 3.5mm headphone jack. It has a dedicated connector to the DisplayPort connections routed from the MPX graphics modules [described above], supporting video over its Thunderbolt 3 ports. If you need a half-length slot for another use, the Apple card can be removed and Slot 8 used as a regular half-length, full-height PCIe x4 slot.
The PCIe slots are powered by the 64 PCI Express lanes supplied through the Intel Xeon processor and a high-performance PCI Express switch fabric on the main logic board – all PCI Express slots and Thunderbolt controllers connect either directly, or through this switch fabric. The default setting for the system configures the bandwidth automatically and usually that can be left as it is. But if you have a special requirement, you can override it.
The Internal Mac Pro SSD is configurable from 256GB up to 8TB of internal storage. Each SSD capacity, except for the single-module 256GB SSD, is implemented through two modules of half the total capacity that are interleaved together to form a single volume. For example, a 4TB SSD is is made up of two 2TB modules cryptographically paired to the Apple T2 Security Chip in each Mac Pro. Data on the internal SSD is protected by a dedicated AES encryption engine in the Security Chip, delivering 3.4GB/s sequential read and write performance. Secure boot protects the lowest levels of software and makes sure only operating system software trusted by Apple loads at startup.
Getting Connected
For connectivity, Mac Pro is very flexible with four Thunderbolt 3 ports, two USB-A ports and two 10Gb Ethernet ports as standard. Some of the MPX Modules supply extra Thunderbolt ports on their own independent PCIe lanes as well, adding up to a possible twelve Thunderbolt 3 ports all together. In other words, you could connect up to twelve 4K displays or six Apple Pro Display XDRs.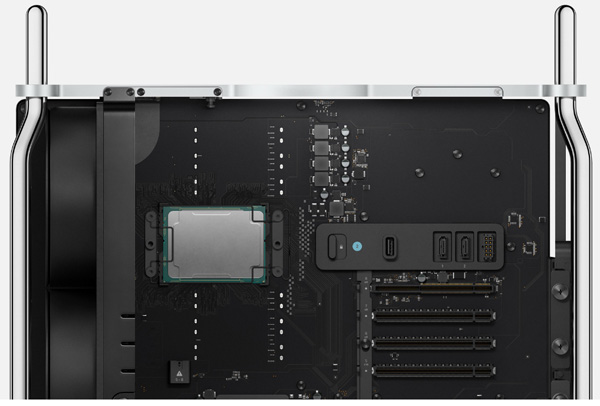 As well as the two Thunderbolt 3 ports on the Apple I/O card [see above], Mac Pro has two Thunderbolt 3 (USB-C) I/O ports – 40Gb/s bandwidth and up to 15W of power – on the top of the tower or the front of the rack-mount. Dual 10Gb Ethernet is built in. 10Gb Ethernet moves data up to 10 times faster than 1Gb, when connecting to high-performance networks and NAS storage devices. Mac Pro has an internal USB 3 port (5Gb/s USB-A) that powers license keys for pro software, and means these resources can be secured inside the system.
There are also two internal SATA ports plus a power connector supporting third-party internal storage accessories. An example is the Promise Pegasus J2i, specifically designed for connecting to the Mac Pro enclosure with a custom bracket. But this type of storage is treated like an external drive and won't be encrypted by the Apple T2 Security Chip.
Mac Pro on the Outside
Built inside a steel space frame with removable housing instead of a chassis, the interior components attach to the frame. When it is open, you have 360º access to the whole system for configuration. As options, you can add wheels to the bottom or buy the computer as a rack mount, which puts the hardware into a 5U enclosure, while the performance, expansion and configurability stay the same as in the Mac Pro tower.
Special attention was paid to the cooling system - the computer can use over 300 watts of power but has a heat sink to keep the system cool with heat pipes that move heat away from the chip and disperse it along aluminium fin stacks to the fan system. Three silent fans on one side with a blower move air across the memory, storage, the power supply and out through the back. When the cover is in place, it creates pressure zones for the airflow, and the unusual lattice pattern cut into it increases the airflow as far as possible without affecting its rigidity.
Digital Media World will soon take a look at the Apple Pro Display XDR, built to use with the Mac Pro. It has Retina 6K resolution, extreme brightness, accurate colour and contrast ratio. www.apple.com