MSI Turns Up Performance and Colour in the WS75 Workstation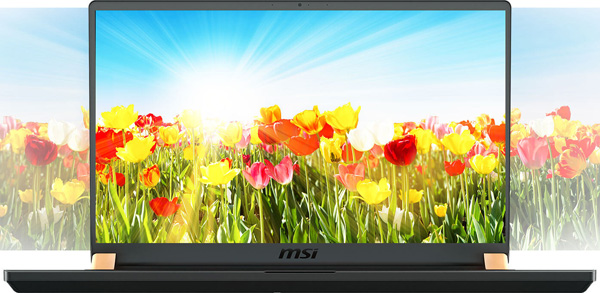 For VFX and video professionals the two most important aspects of a portable workstation are the display resolution and colour accuracy, and computing power. Yes, it is nice if the workstation you have to carry around from place to place is not too heavy or bulky, but that is secondary to the performance of the machine. However, the MSI WS75 has all of these features well covered. This laptop is ahead of its field for performance and price.
The MSI WS75 is made for design and engineering with many independent software vendor (ISV) certifications and a 17.3 inch display for full HD and UHD imagery. It has an NVIDIA Quadro RTX graphics card with Turing architecture for fast performance, and is lightweight and compact for a laptop of this size and grunt. I can easily see it being a digital artist's choice of workstation for the studio, on the road or at home.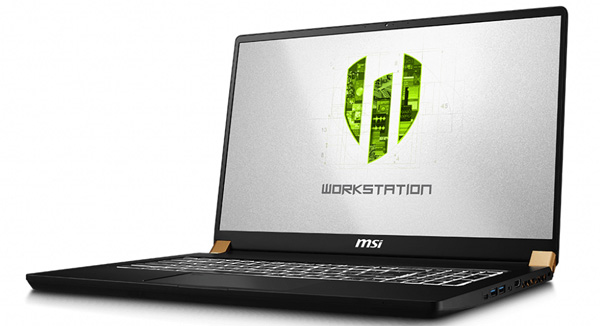 Display
The 17.3 inch display rivals the top screens from the other major manufacturers. It has an ultra-thin bezel giving a very comfortable feeling in use. MSI uses their own True Color Technology. The display is shipped factory calibrated and shows vibrant colours and excellent detail for super sharp images. The 4K in-plane switching (IPS) gives high colour fidelity and a high contrast ratio.
With MSI's Matrix Display, you can expand your work set-up by adding up to three additional screens. It is DisplayHDR-1000 certified with up to 1+3 Matrix display and supports HDR10. It supports the DCI-P3 colour space, which is important for digital cinema content, and Display P3 which is step up from RGB and important for collaboration between Mac and PC.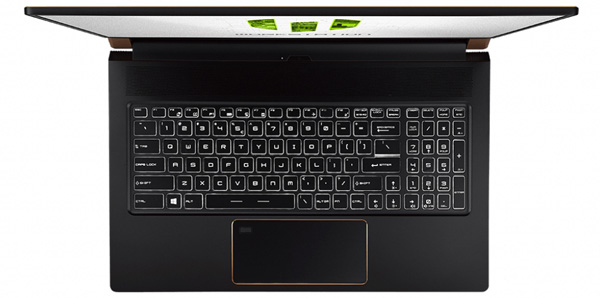 NVIDIA Quadro RTX Series Graphics Card
Taking advantage of the NVIDIA RTX platform for computer graphics for content creators, the WS75 can be configured with any of the RTX line of cards. When using an RTX 3000, whether you're working on high-end VFX, 3D rendering, CAD or video editing, your need for speed will be met.
According to NVIDIA the RTX 3000 combines ray tracing, deep learning and advanced shading. In the time we had access to the review machine, we weren't able to put it fully through its paces, but it is an ideal configuration for any VFX or broadcast tasks.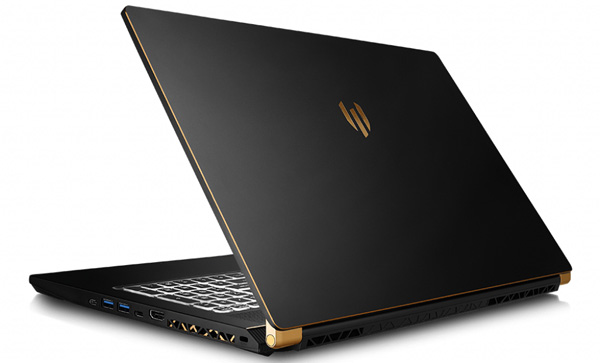 Form Factor
The WS75 is light, weighing in at only 2.28kg. The keyboard has a sturdy but lovely feel and light touch, and its long battery life is important if you are working on the move.
It comes with all the extras you would expect to need including Thunderbolt 3 and WiFi 6 connctivity, and it also supports secondary power charging through USB-C power delivery and 27W (9V/3A) fast charging for all of your USB-C mobile devices.
Creator Center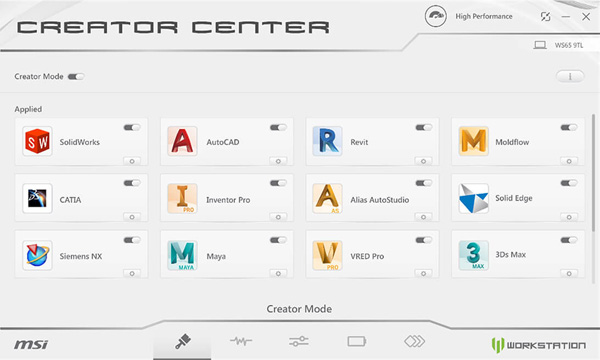 The WS75 comes with MSI's Creator Center software pre-loaded. The Center mixes gaming laptop-type monitoring of CPU and GPU usage and fan speed with a battery health check and hotkeys to switch performance, fan and backlight level combinations. You can also choose various optimisations or presets for various software applications including Adobe After Effects and Premiere Pro, and engineering applications like SolidWorks, CATIA, AutoCAD, ANSYS and others.
MSI have successfully moved on from their reputation as a gaming machines manufacturer and are now producing high-end workstations that any digital artist should consider. www.msi.com
Sean Young