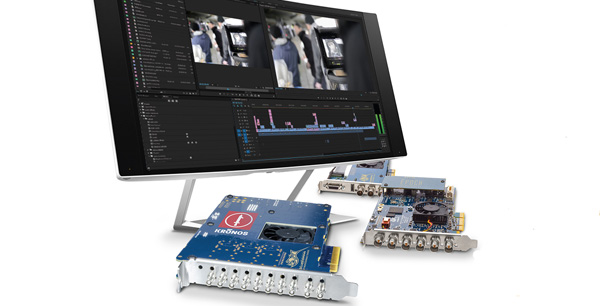 Adobe Creative Cloud applications now support the Bluefish444 KRONOS K8 multi-channel 4K/UHD SDI card via the most recent Bluefish Windows 2020.14.1 installer package.
Bluefish's K8 video I/O card and the Epoch range are now fully supported within the latest versions of Adobe Premiere Pro, After Effects, Adobe Audition, Character Animator and Prelude giving production and post-production professionals access to high quality SDI capture and playback support.
With K8, editors using Premiere Pro are able to playback multiple channels of 4K/UHD SDI from their timeline using Bluefish's proprietary 12-bit processing engine for maximum quality. The 2020.14.1 update also expands support for Epoch cards to the new versions of Adobe Creative Cloud applications. Both K8 and Epoch cards have full support for High Frame Rate and HDR workflows, and SDI capture from Premiere Pro.
Bluefish brings workflow opportunities to Adobe apps with a video interface allowing capture and playout of professional video and audio signals. Bluefish supports record workflows with bundled IngeSTore software. When using both IngeSTore and Premiere Pro together, recording can be carried out in the background while Premiere Pro edits the Growing Files in an Edit-While-Record workflow.
Bluefish's KRONOS K8 and Epoch video I/O card range, compatible with Adobe Creative Cloud applications, are available now. To download the 2020.14.1 Windows Installer, visit bluefish444.com/support/downloads
bluefish444.com