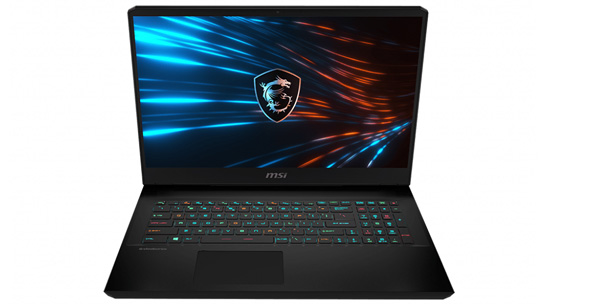 MSI GP76 Leopard
Laptop developer MSI held its first product launch of 2021 on 13 January as a virtual event to celebrate its 35th year and launch a special edition of its new GE76 Raider laptop. MSI showed their laptops equipped with the new NVIDIA GeForce RTX 3080 GPU and with Wi-Fi 6E, making these among the first laptop devices compatible with the new Wi-Fi 6E networking specification.
MSI's GE Raider series now includes the GE76 Raider that comes with a 17.3 inch display, and the 15.6 inch GE66 Raider. The GE76 Raider Dragon Edition, named Tiamat, can be specified with up to NVIDIA GeForce RTX 30 series graphics, with an Intel Core i9 Processor. The GE76 has a fast 300Hz screen and large 99.9Whr battery with a new cooling system, plus front facing speakers and a 1080p webcam. Connectivity includes 2.5 gigabit ethernet.
MSI also announced the GeForce RTX 30 Series's support for NVIDIA's Resizable BAR, an optional PCI Express interface. Normally, as players move through a world in a game, the computer's GPU memory, or VRAM, constantly transfers textures, shaders and geometry in many small CPU to GPU transfers.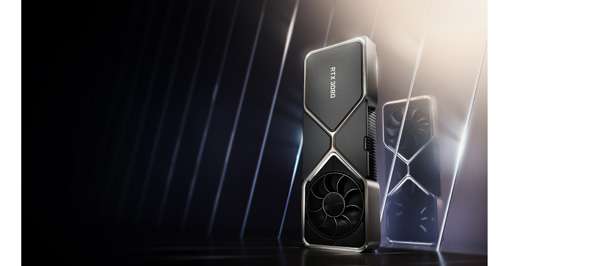 NVIDIA GeForce RTX 3080 GPU
But because modern game assets are continuing to grow, this process can result in a huge number of transfers. Using Resizable BAR, assets can instead be requested as they are needed and sent as complete transfers. The CPU can access the entire frame buffer more efficiently and, if multiple requests are made, transfers can occur at the same time instead of queuing.
Other aspects of the GeForce RTX 30 Series that are advantageous for laptop performance are 2nd generation RT Cores, 3rd gen Tensor Cores and new streaming multiprocessor (SM) in the NVIDIA Ampere architecture deliver a performance increase for all types of games and creative apps.
Gamers at the launch event described high smooth frame rates achieved over extended periods, due to the laptop's 4K raytracing and DLSS 2.0 (Deep Learning Super Sampling), a deep learning neural network that enhances frame rates while generating high-resolution images. It is able to balance ray tracing settings with output resolution.
Two new high performance laptops built for processing 3D rendering and other engineering applications, the GP66 and GP76 Leopard, will be supplied with RTX 3080 GPUs and have a complete set of I/O ports, adequate to support displays of up to 8K output. The Creator 15 for content creators, along with new RTX 30 graphics, now comes with an individually calibrated 4K True Pixel panel verified by Calman and 100% Adobe RGB colour gamut.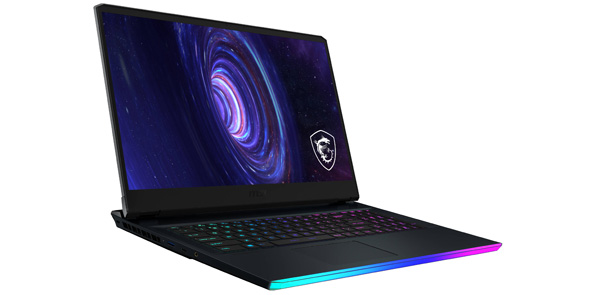 GE76 Raider laptop
The GS66 Stealth series has also been upgraded with the RTX 30 series graphics cards to handle heavy workloads and gaming experiences. The Stealth 15M, one of the thinnest 15.6-inch gaming laptops available, as well as the GF Thin series for mainstream applications, will be equipped with Intel 11th Gen H processors up to 5 GHz, and the RTX 30 series cards.
MSI are among the first manufacturers to launch laptops that are compatible with Wi-Fi 6E, capable of operating in the 6 GHz band with faster data output for video streaming, VR and other wireless experiences. The company has also collaborated with Microsoft Azure Cloud to update their built-in optimisation software, MSI Center, which calculates and projects user requirements using AI. While multitasking, the AI engine optimises the system automatically to maintain productivity while limiting the need for manual adjustments.
At the end of the launch event, MSI revealed their CES 2021 award-winning products – the GS76 Stealth, the business laptops Summit E15 and convertible Summit E16 Flip and the stylus MSI PEN. www.msi.com
MSI is running two pre-order programs for AMPERE Range Laptops from 13 to 27 January 2021 from the following retail links -