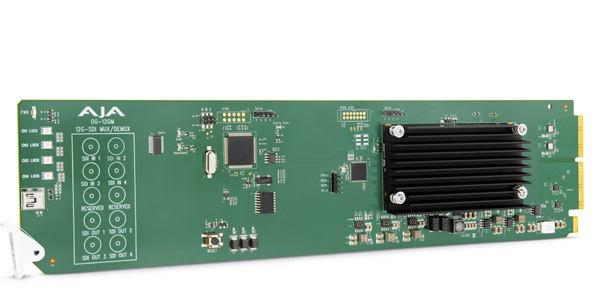 AJA OG-12GM
AJA has released two new 12G-SDI openGear devices, AJA OG-12GM and AJA OG-FiDO-TR-12G. Featuring support for up to 4K/UltraHD content, OG-12GM is a 12G-SDI to/from quad-link 3G-SDI Muxer/DeMuxer, and OG-FiDO-TR-12G is a 12G-SDI/Fibre transceiver. Both are designed for use in high-density openGear 2RU frames and compatible with Ross DashBoard software for flexible device control and monitoring.
"As demand for high raster 4K/UltraHD content increases, convenient 12G-SDI hardware is critical to simplifying cabling and transport of high bandwidth content," said Nick Rashby, President, AJA Video Systems. "We're strengthening our lineup of 12G-SDI workflow tools with the new OG-12GM card and OG-FiDO-TR-12G transceiver, which include wide compatibility in openGear frames."
OG-12GM is an openGear-compatible SDI transport converter that supports single-link 12G-SDI to/from quad-link 3G-SDI, two Sample Interleave (2SI) to/from Square Division (Quadrant) pixel mapping, and selectable Distribution Amplifier (1x4). It supplies detailed timing analysis for validating alignment of quad-link SDI inputs via a unique timing analyzer that helps to quickly identify possible timing issues for quad-link signals.

AJA OG-FiDO-TR-12G
Made for critical broadcast applications requiring reliable conversion, OG-12GM has openGear's high-density architecture and DashBoard support on Windows, macOS or Linux for monitoring and control over a local network or remotely.
OG-FiDO-TR-12G adds flexibility for 12G-SDI to Fibre conversion and Fibre to 12G-SDI conversion with single-link LC connectivity, enabling long cable runs up to 10km for single mode. OG-FiDO-TR-12G is compatible with all certified openGear products and supports Ross DashBoard software for convenient remote control and monitoring over a PC or local network to further simplify production workflows.
OG-12GM and OG-FiDO-TR-12G are now available through AJA's worldwide reseller network. www.aja.com