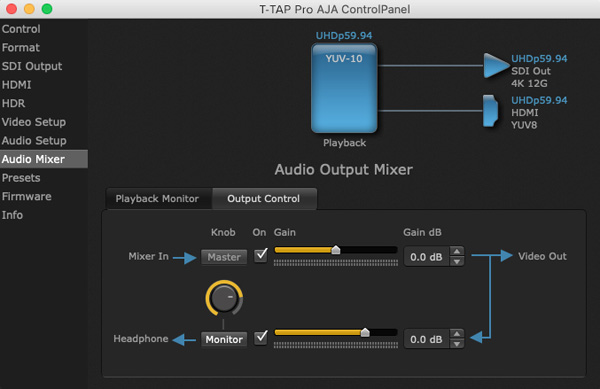 AJA T-TAP Pro is a compact, silent, portable Thunderbolt 3-connected device that simplifies 4K/UltraHD and 2K/HD/SD monitoring and output over 12G-SDI and HDMI 2.0 on compatible Mac or PC computers. The versatile T-TAP Pro supports many types of video monitoring up to 4K/UltraHD over 12G-SDI and HDMI 2.0 from any supported Thunderbolt 3-enabled Mac or PC including HDR support for high frame rate and large raster workflows.
As a monitoring and output device, T-TAP Pro suits colour grading, audio mixing, editorial and visual effects, as well as on-set monitoring and playback, making it possible for creative professionals to work efficiently from home or any location. The device is compatible with software for editorial, graphics, effects, colour and streaming, including Apple Final Cut Pro, Adobe Premiere Pro, After Effects, Audition and Character Animator, Avid Media Composer and Pro Tools, and others.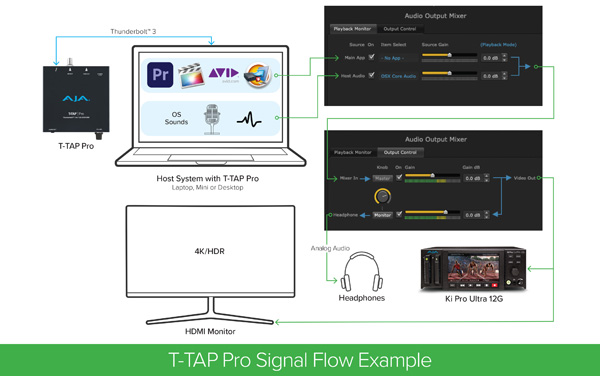 For audio workflows, T-TAP Pro has multi-channel embedded audio on SDI and HDMI, and a 3.5mm stereo analogue audio connection. As a convenient method for monitoring audio, editors or digital artists can plug in headphones directly to the device or connect to an external analogue audio mixer.
AJA technology partners, including Colorfront, have already begun work to deliver T-TAP Pro support across wisely used broadcast, post and proAV products. With T-TAP Pro support coming for Colorfront Express Dailies, Colorfront On-Set Dailies, Colorfront Transkoder and Colorfront Streaming Player, Bruno Munger, Director of Business Development, Colorfront said, "The arrival of AJA's new T-TAP Pro is very timely, delivering high quality, flexible connectivity that our customers require when using our streaming player and other systems on laptops and small desktop computers."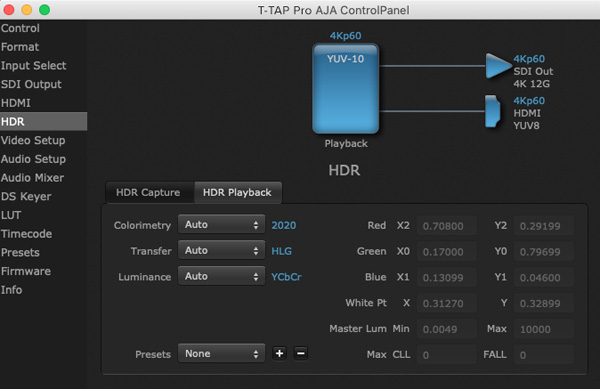 AJA Desktop Software v16
AJA Desktop Software v16 is a free update that adds new functionality to AJA's line of KONA video cards, Io capture and output hardware and T-TAP output devices. Specifically, the software supports HDR signalling over SDI, wider IP video functionality, support for the new T-TAP Pro Thunderbolt 3 (see above) and greater compatibility with recently released hardware and operating systems.

Desktop Software v16 includes compatibility updates for the new macOS, Windows and Linux operating system releases, including support for macOS 11.x Big Sur, Ubuntu 20.04 LTS, Redhat/CentOS 8 and continuing support for Windows 10 updates. Desktop Software v16 enhances and expands support for computer hardware, including certified compatibility of AJA PCIe cards and Thunderbolt devices with the 2019 Mac Pro and AJA PCIe card support for Supermicro X11DAI, X11SPA+TF and X11DPG.
For IP video workflows, v16 also increases compatibility with NMOS compliant devices by updating to NMOS 1.3 and improves troubleshooting capabilities with new LLDP support for KONA IP, Io IP and Avid Artist | DnxIP. LLDP is the vendor-neutral link layer protocol network devices use to identify themselves on LANs based mainly on wired Ethernet.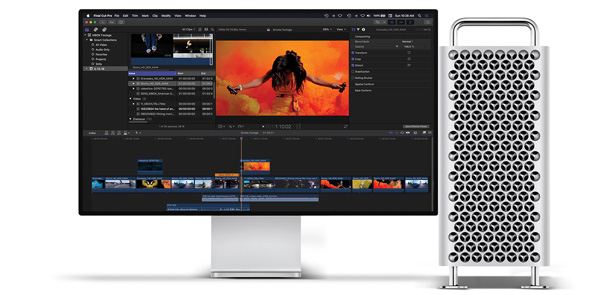 The included AJA Control Panel software has a redesigned HDR tab with controls for HDR to be signalled via both SDI and HDMI simultaneously. New HDR capabilities for AJA Control Room and AJA Control Panel include HDR metadata capture and HDR auto playback detection for ease of use in critical monitoring applications. To improve on AJA's existing 8K workflows, the v16 update also adds KONA 5 8K monitoring and output capabilities for Apple Final Cut Pro and Avid Media Composer.
The new AJA SDK v16 for OEM Developer Partners is also available, aiming to simplify encoding and 12-bit/HDR workflows. SDK v16's 12-bit workflow enhancements for KONA 5 and Corvid 44 12G include support for Colour Space Conversion and LUTs when working with 12-bit material. New KONA 5 and Corvid 44 12G 8K bit file updates give access to 3G multi-link options as well as 12G, plus new 4:2:0 planar support for encoding, saving time by enabling direct capture or output of 4:2:0 material without requiring transcoding.
Some AJA Developer Partners that have built proprietary systems and solutions for broadcast, post and AV applications using AJA T-TAP Pro, KONA 5 and KONA HDMI have started to take advantage of these new v16 features.
Drastic Technologies CTO James Brooks said, "Desktop v16, and the SDK version for developers, when integrated with our videoQC and FlowCaster products, allow transmission of full HDR signaling at 4K from anywhere in the world to a local monitor for review. Systems including KONA 5 and KONA HDMI support HDR signaling in, while those with KONA 5 and T-TAP Pro enable HDR signaling out, with auto HDR detection simplifying settings for users.
"KONA 5 and the new T-TAP Pro are a good match for our dedicated Intel NUCs [Next Unit of Computing, or tiny form factor PCs]. T-TAP Pro's extreme output capabilities make it one of the only mobile devices that can handle frame by frame, frame-accurate metadata to nearly any desired monitor."
AJA Desktop Software v16 and SDK v16 are now available as a free download from AJA's support page. www.aja.com