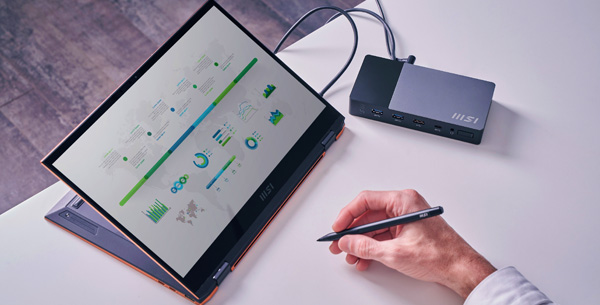 MSI's Summit E13 Flip Evo and Summit E16 Flip laptops have now been released. With them, the MSI Pen and USB-C Docking Station Gen 2 are also available now. The E1 Flip Evo was awarded Best of CES 2021 in January, and the Pen is the winner of a CES innovation award. These new devices are built for business applications.
The Summit E13 Flip Evo is a lightweight 13-inch laptop computer with a display with the classic 16:10 aspect ratio, or Golden Ratio, for efficiency and adequate reading space. The chassis has an ergonomic 360-degree hinge for people working in varying working situations, and means the laptop can also be used as a tablet. It is available with a black or white exterior.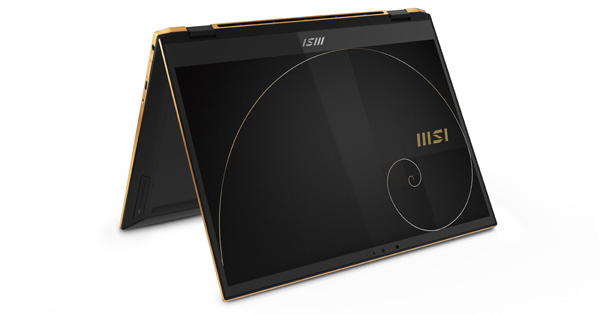 It runs on an 11th Generation Intel Core i7 processor with Intel Iris Xe graphics, giving it a performance edge of about 10% when compared to laptops in the same market. In terms of mobility, it only weighs 1.35kg and has a battery life up to 20 hours. The Summit E13 Flip Evo is among the first laptops equipped with Wi-Fi 6E to help maintain speed and stability when sharing a network with large numbers of other users.
The Summit E13 Flip Evo has Thunderbolt 4 connectivity for quickly charging devices and transfers data at 40 Gbps. It supports PCI Express NVMe drives, and is built with a PCIe Gen4 NVMe M.2 SSD for storage, increasing efficiency in fast workflows.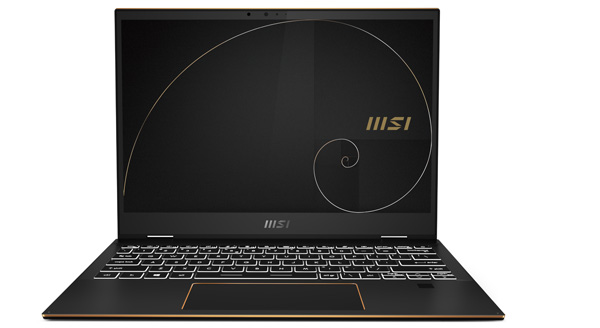 Security includes hardware-based TPM2.0, a computer chip that securely stores artifacts used to authenticate devices, including passwords, certificates or encryption keys. For protection during video conferencing, the laptop's webcam has an indicator light, on/off hotkey and a physical switch on the side. Summit E13 Flip Evo is built with MSI's AI Noise Cancellation that recognises and removes typical background noises and the Noise Reduction CAM to limit visual noise.
A larger version of E1 Flip Evo is the Summit E16 Flip, designed for a thin build with a 16-inch screen. In terms of computing features, this laptop matches the E13 but MSI says that it is built with NVIDIA graphics for heavier computing workloads, although no specific information about this is available yet. It has a thermal design MSI calls Dynamic Cooler Boost, and produces only 35dB even when the CPU is under full load.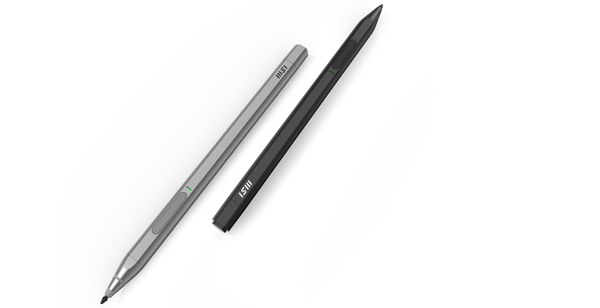 The MSI Pen is a metal stylus with proportions similar to a fountain pen and 4096 levels of pressure sensitivity. The functions of the pen button are customisable and its battery life displays on the screen. It uses MPP 2.0 protocol connectivity to the main device. MSI's USB-C Docking Station Gen2 connects up to three displays and adds five extra USB ports to the laptop. au.msi.com/Business-Productivity