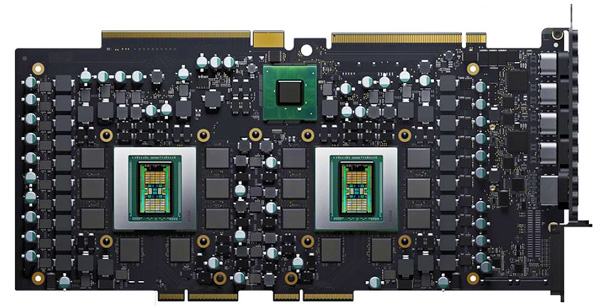 Apple has developed three new graphics card modules for Mac Pro capable of increasing the hardware's graphics performance, particularly for applications that make greater use of the GPU, such as Octane X, DaVinci Resolve, Cinema 4D and Final Cut Pro.
The new modules are based on AMD's new graphics processor, the Radeon Pro W6000-Series GPU, and comes in three variants, the Radeon Pro W6800X MPX Module, Radeon Pro W6800X Duo MPX Module and the Radeon Pro W6900X MPX Module.
Mac Pro supports two MPX Modules and when configured with two W6800X Duo cards, is capable of calculating up to 60 teraflops (trillion floating point operations/sec) of graphics performance and 128GB of memory. To support that speed, the new GPUs also use Infinity Fabric Link, AMD's high-bandwidth, low latency, direct connection between the local GPUs, that is able to achieve high speed GPU-to-GPU communications required for intense workloads.

Infinity Fabric now connects up to four GPUs (two Duo modules) at 84GB/s per link in each direction, adding up to 168GB/s bi-directional bandwidth. The resulting speed is 5x faster than the PCIe bus.
The Radeon Pro W6000-series MPX Modules each have four extra Thunderbolt 3 ports and an HDMI 2 port. Consequently, as users add more graphics capacity, they also increase their connectivity, with up to 12 Thunderbolt 3 ports. The following are performance gains Apple says have been recorded for three different softwares -
up to 84% faster performance when running Otoy Octane X renderer
up to 26% increase in frame rate for real time 3D interaction in Maxon Cinema 4D
up to 23% faster performance when using Blackmagic Design DaVinci Resolve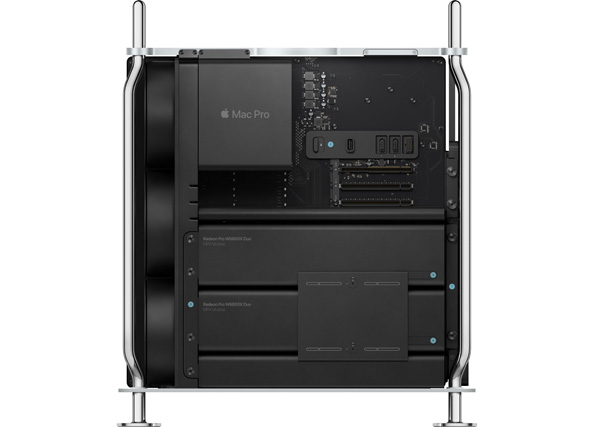 The new graphics modules will be sold both as a configure-to-order option when purchasing a new Mac Pro, or as standalone kits for existing Mac Pro customers who would like to upgrade. These new GPUs replace the AMD Vega II MPX Modules currently available with Mac Pro. The AMD Radeon Pro Vega II MPX Module and AMD Radeon Pro Vega II Duo MPX Module will no longer be available as a configurable option but will still be available as a standalone kit to existing customers. www.apple.com