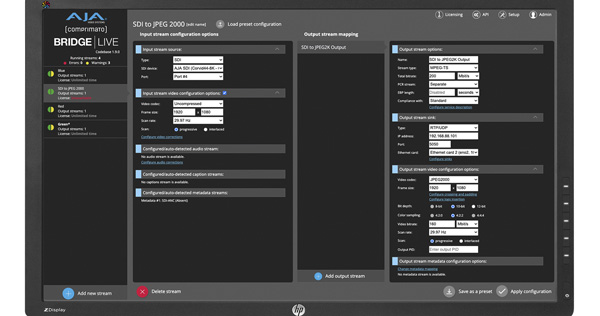 AJA BRIDGE LIVE v1.12, a new software update for AJA's multi-channel live video device for remote production, contribution, collaboration, streaming and delivery. The release features bi-directional NDI input, output and transcoding. It includes HLS output, video preview and user interface updates that make configuration simpler and faster.
BRIDGE LIVE was designed for remote production, two-way interviews, live event streaming. It handles collaborative production, multi-camera backhaul, field contribution, program return, confidence monitoring and ABR ladder profiles to hand off for OTT packaging. BRIDGE LIVE v1.12 now has significant updates.
Bi-directional NDI Support
Bi-directional NDI support means that encoding SDI inputs for NDI output to the network, and receiving NDI for SDI output, is now easier. The ability to also transcode IP Video Streams such as H.265/H.264 to NDI, or to transcode NDI Inputs to IP Video Streams, or both, opens possibilities for new workflows. For example, operators can now place BRIDGE LIVE at the edge of an NDI event or facility network, and use it to transport outbound NDI video as a streamable format, and/or return the stream to NDI for repurposing at a remote NDI production destination.


These bi-directional NDI, SDI and IP Video Streams conversions are a way of integrating remote NDI and non-NDI equipment and facilities via RTP, UDP and SRT. By interacting directly with the NDI network, BRIDGE LIVE can serve as a conduit to CDNs or other delivery mechanisms.
Users can input SDI sources and IP Video Streams into BRIDGE LIVE and encode them for sharing to common devices and software, or via remote screening to iOS and iPadOS devices, via HLS (HTTP Live Streaming protocol).
GUI and UX Updates
As support is available now for Video Preview thumbnails in the BRIDGE LIVE GUI for SDI Inputs, you can check visually for correct SDI input/content encoding, even if you are unable to 'go live' to check the content for QC. Other user experience updates are more responsive, straightforward pipeline configuration and options such as 'start detecting input' and 'set as input' buttons. A fast, alternative Factory Reset method is available as well, directly from the boot menu.
Nick Rashby, President, AJA Video Systems said, "This is our first NDI-enabled product, and we are excited about bringing the capabilities of BRIDGE LIVE to the large numbers of diverse NDI users around the world. Adding bi-directional NDI I/O and HLS output to BRIDGE LIVE means broader hardware and software integration and a simpler, lower cost alternative to deploying large teams of personnel and resources at remote locations." www.aja.com