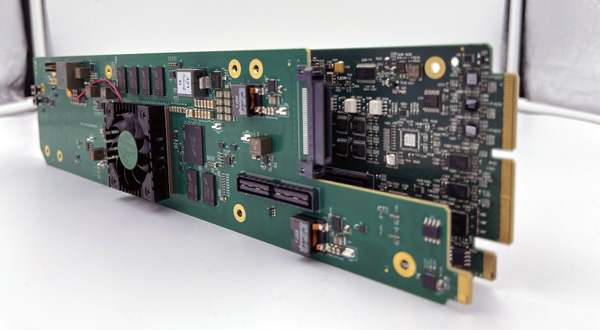 Cobalt Digital's INDIGO ST 2110 is a series of closely integrated ST 2110 hardware factory options that add native SMPTE ST-2110 support to Cobalt Digital's 9904-UDX-4K and 9905-MPx audio/video processor cards, which are openGear-based devices.
INDIGO is built with multiple 25G Ethernet interfaces that support uncompressed 4K video. Support for ST-2022-7 seamless redundancy switching is incorporated to improve network reliability, along with IS-04/IS-05 NMOS for automatic discovery and configuration. This support makes interfacing to an existing network very straightforward, as the devices are auto discovered by the network management. Earlier workflows that rely on multiple devices in the data path have tended to be error-prone and expensive.

9904-UDX-4K A/V processor card
The audio/video processing engines of the 9904 and 9905 are capable of up/down/cross conversion, audio routing, colour correction and 3D-LUT processing. The 9904 platform has support for Advanced HDR by Technicolor as well. Now, with the INDIGO ST 2110 option, the processing abilities in these cards can be made available with IP inputs and outputs, avoiding the need for external gateways. When the two cards are combined into a single package, a dense system is created that is capable of natively processing HD, 3G and 4K IP streams without forcing a compromise in quality.
"The transition from SDI to IP has been underway for a few years now," said Suzana Brady, SVP Worldwide Sales & Marketing. "In most deployments, however, this is achieved with gateways – an SDI signal is ingested and converted to an IP stream by a gateway and traverses the network before a gateway converts it back to SDI for processing – scaling, colour correction and so on. After processing, yet another gateway is used to convert the SDI to an IP stream.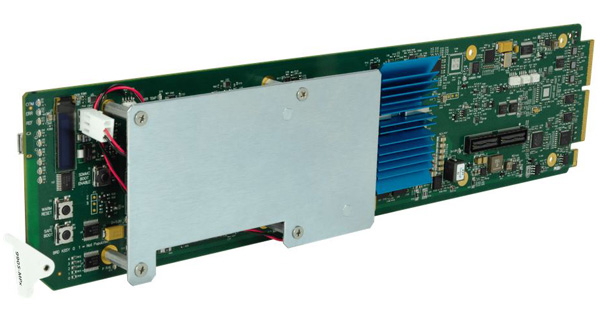 9905-MPx audio/video processor card
"Adding native ST-2110 interfaces to the audio/video processing elements makes a cost-effective, more integrated system. Putting multiple devices or processing elements in the data path, switching between IP and SDI, is no longer necessary. By processing natively over IP, the associated complexity and much of the costs are reduced significantly. The combination of INDIGO ST 2110 and Cobalt's 9904/9905 card-based processing is the basis of an effective high-density native IP processing system."
The compact openGear form factor allows the user to mix and match functions in the same chassis or achieve higher densities by using multiple cards in a platform that features hot-swappable cards and redundant power supplies. www.cobaltdigital.com