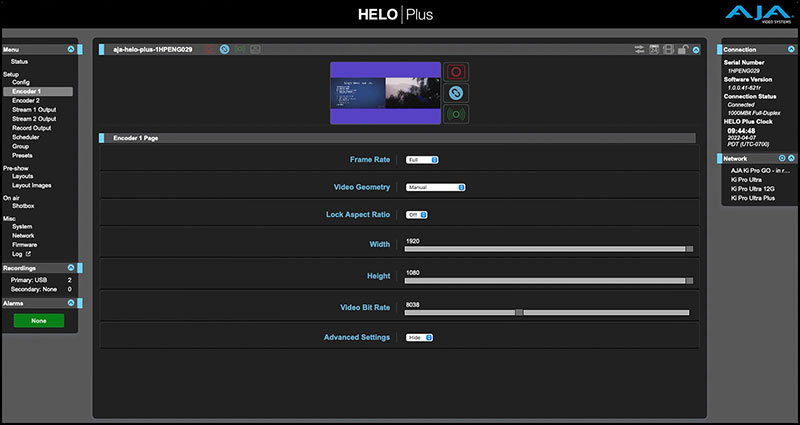 AJA's new HELO Plus H.264 streaming and recording device is portable and flexible, like the existing HELO model, but has further features based on user feedback. Its new production capabilities include dual streaming outputs and multi-input processing, SRT support, advanced encoding/decoding, improved scheduling options and device operation, and layouts and graphics insertion, among others.
The new features were designed to help users achieve higher production values, and work more cost efficiently with a smaller gear footprint. Dual streaming outputs, for example, allow users to create assets with different parameter settings per output – bit rate, GOP length, frame rate, picture geometry, b-frame cadence and so on – and feed each into one of two destinations, so that users can create assets with different parameter settings from a single input.
Users can also select either of the encoders to record to USB, SD card or NAS, and can include the output of the graphics layout compositions. A new, comprehensive Layouts feature has been developed and added to give users a range of different production options by allowing an SDI input and HDMI input to be combined into a single output stream, producing a single screen to which a graphic element overlay – video plus a key – can be added to the composite.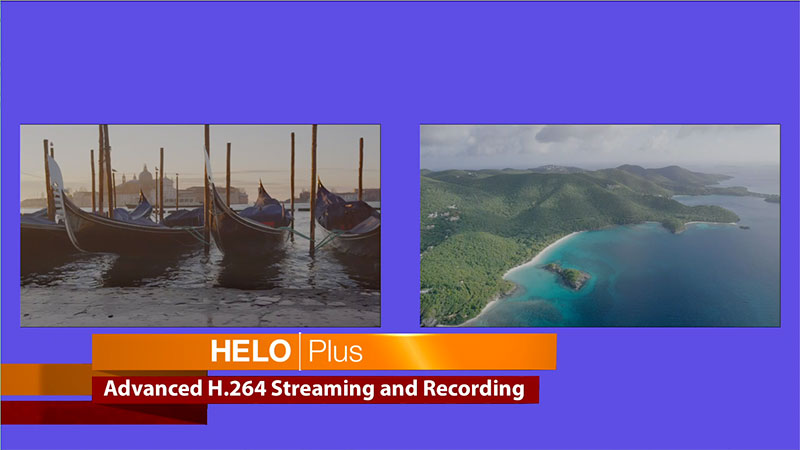 The layout can comprise up to three layers, with the option to alter each one's position in the layer stack arbitrarily to suit client requirements. As well as the layering engine, both the SDI and the HDMI layers can be downscaled and positioned anywhere in the frame – each live video source can be used in its own picture-in-picture (PiP) element.
Users can then move directly between preset layouts during a streaming session. Ten layouts are stored per preset, with 20 presets available, so that set parameters can be recalled for specific events.
A built-in graphics framestore enables storage of more than 90 images in the device's internal memory, and a built-in scheduler can be used to schedule independent recording or streaming events ahead of an event. A complement to AJA Ki Pro Ultra 12G and Ki Pro GO recorders, HELO Plus can also participate in a Ki Pro Group, acting as a follower device that starts and stops streaming and/or recording on group leader command.
Alternatively, the HELO Plus can act as the Leader and Ki Pros can be set to follow, or the HELO Plus can act as leader or follower to a group of HELO Plus devices.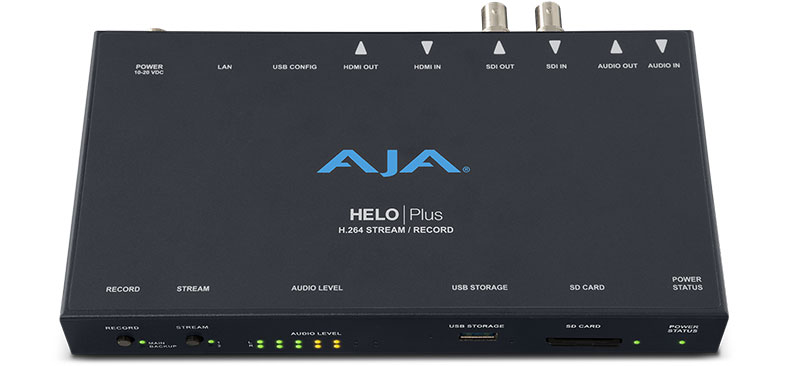 HELO Plus has a small desktop footprint. Stream and record buttons are on the front of the unit, as well as LED indicators and SD card and USB ports. Audio level meters give users feedback about incoming audio.
The device can be configured remotely on a standard web browser via the Ethernet connection, using a desktop or laptop computer. All functions of HELO Plus are accessible in the WebUI, and multiple HELO Plus devices can be controlled via a tabbed browser window. There's also the option for remote control via the system's integrated REST API.
Once set up to meet requirements, HELO Plus can also be controlled via the stream and record buttons on the front of the device, while audio level LED meters deliver feedback for monitoring. www.aja.com