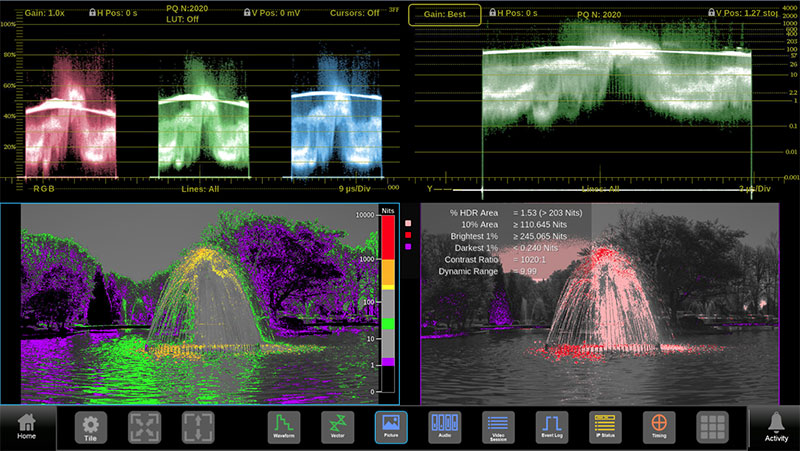 Telestream's software for the PRISM family of hybrid IP/SDI waveform monitors, now in version 3.3, has new video format support for post production applications beyond broadcast television, with faster switching of IP inputs and Dolby ED2 metadata support.

Designed to be used in video engineering, operations, live acquisition, event production and post production, PRISM has extremely flexible IP and SDI measurement functionality. It now includes specialised tools to increase its usefulness with modern wide colour gamut, high dynamic range and high-resolution formats. Its faster IP input switching, at around ½ second, means camera shading operators can make comparisons quickly and efficiently, whether they are working in an IP, SDI, or hybrid facility.
Version 3.3 now supports DCI 4K post production resolutions up to 4096x2160 and refresh rates from 23.98 to 60p for workflows ranging from broadcast to cinema. This update includes Dolby ED2 metadata decoding which is used for Dolby Atmos and guard band measurement for comprehensive audio monitoring.

Unlike most of its competitors, PRISM is a group of software-defined instruments that allow users to add new features and capabilities via software upgrades. Typically, no special hardware is needed to enable new features, making it possible to update PRISM units in the field.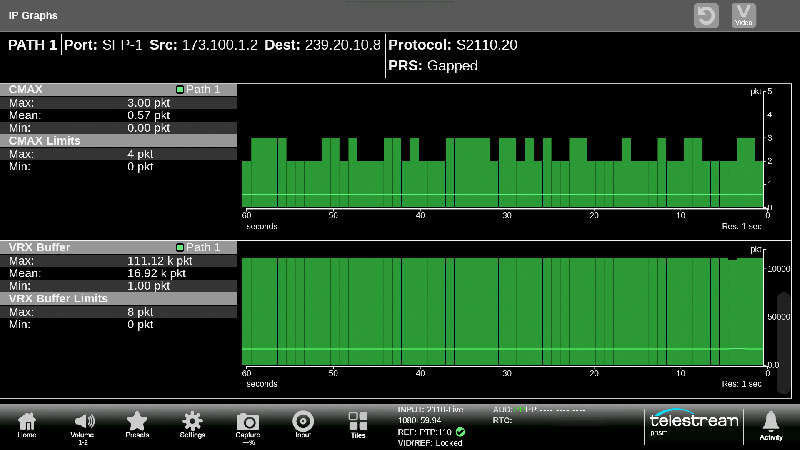 "As the dividing lines between Film and TV production blur, we are adding features to the PRISM platform to extend the format capability in SDI and IP to meet these needs for a broad range of customers doing higher-end post work," said Charlie Dunn, SVP, Video Test, Synchronization and Quality Assurance Business Unit. "Now that ST-2110 can be considered mainstream, we are adding the expected capability to measure AV-Delay, Dolby E/ED2, and enable a seamless switch so that the benefits of an IP infrastructure can be realized without compromising operations."

Specific new features include AV Delay Measurement for SDI, ST2022-6 and ST2110-20/30/31 using the AV delay test signal from Telestream Sync Pulse Generator products. A colourised RGB Parade Waveform / Stop display​ is included for ease of use and quicker operation.
A safe area display with AFD graticule​ helps users make sure that text, graphics and information like weather, headline and school closure crawls are visible on consumer's displays, irrespective of aspect ratio and production aperture size. Also, a larger floating timecode display​ makes timecode more visible, no matter how the tiles are configured. www.telestream.net