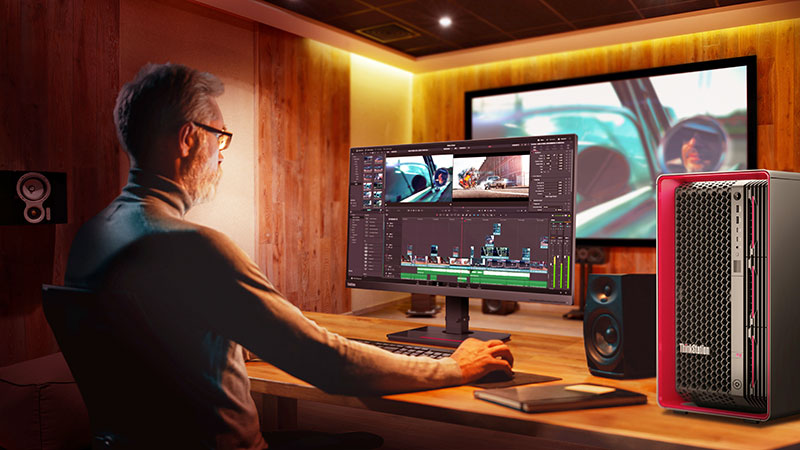 Lenovo's new ThinkStation PX, P7 and P5 desktop workstations are built with the most recent processors from Intel, with up to 120 cores, and support for NVIDIA RTX GPUs. The new workstations have new Aston Martin chassis and thermal designs, and BMC (baseboard management controller) capabilities for remote system monitoring.
Applications range from virtual reality and mixed reality experiences and virtual production, to ML/AI, data science, computer aided engineering (CAE) and photogrammetric capture. The workstations can address job-specific demands for extra power, performance and speed in a scalable way for organisations involved in hybrid working environments.
Lenovo partnered with Aston Martin, one of its customers, to co-design the ThinkStation chassis. a new tool-less design with better flexibility and ergonomics. All three of the new workstations have a modular design with front access drives for servicing and upgrades, applying elements from high-performance automobile engineering to a desktop workstation. Redesigned air baffles and larger 3D hexagonal ventilation openings, with Lenovo's existing tri-channel cooling system promoting airflow – maximum cold air intake and hot air exhaust -- result in better performance of CPUs, GPUs, memory and storage.
"The design collaboration of Lenovo's new ThinkStation chassis has been a three-year journey," said Cathal Loughnane, director of Aston Martin Partnerships. "As Lenovo workstation customers ourselves, this project was an opportunity to craft a high-performance system, giving us experience that we will use to design and develop our high-performance vehicles."
Lenovo ThinkStation PX – Desktop to Data Centre Applications
Lenovo's ThinkStation PX is at the top of the line, a dual processor workstation built to support more cores than previous generations of Lenovo workstations, with more options for expansion. Its design makes it suitable for placing either on a desktop or in a rack in data centre environments, and it can also be moved between the two.
The ThinkStation PX workstation runs on the Sapphire Rapids 4th Generation Intel Xeon Scalable processors built with up to 120 CPU cores, resulting in substantial performance gains over the earlier generation. Support for up to four dual-slot NVIDIA RTX 6000 Ada Generation GPUs is available, making the computer capable of tasks required for creative finishing, CAE simulation and similar complex workflows.
Accommodation for up to 4TB of DDR5 memory and fast bandwidth through PCIe Gen 5 lanes adds flexibility for virtualising multiple users in a hybrid workflow environment. For instance, a single workstation, installed either in a data centre or locally, could support four users, each using one GPU and sharing the CPUs. Furthermore, this workstation could serve as a render farm overnight, or be moved elsewhere temporarily and then moved back to its enterprise configuration later on.
The baseboard management controller (BMC) functions, which are more often found in servers than in desktop models, add more flexibility in this respect. When the system's physical variables exceed their limits, an administrator is notified and can act via remote control, managing several networked devices at the same time.
This workstation has a 1850W power supply unit and optional redundant power supplies.
ThinkStation P7 – Multithreaded Workloads
The new compute architecture in the ThinkStation P7 is based on the new Intel Xeon W processors, which support up to 56 cores in a single socket and, therefore, compute-intensive, multithreaded tasks. Its performance and reliability levels can carry workloads that were formerly off-loaded to servers or cloud resources. Right now, total core count is considered the most important processor measure for setting up systems with independent parallel workloads.
Like the PX, the ThinkStation P7 is also built for rack applications in desktop or data centre environments in a 4U enclosure. The chassis supports up to three dual-slot NVIDIA RTX 6000 Ada Generation GPUs, needed for practical graphics, visualisation, real-time rendering, CAE and AI performance. The ThinkStation P7 targets content creators, architects, designers, engineers and data scientists who need speed and stability for work such as automotive design, computational fluid dynamics analysis, video production and complex rendering.
ThinkStation P5 – Expansion Options
Lenovo ThinkStation P5 is a straight-up desktop workstation with new Intel Xeon W processors holding up to 24 cores, support for up to two NVIDIA RTX A6000 graphics cards and the new chassis. To enhance its performance, IT expansion options and ease of management, ThinkStation p5 has high-speed DDR5 memory and PCIe Gen 5 bandwidth. It is also optimised for architects, designers, engineers and creatives, to support solid modelling and compute-intensive tasks including BIM, complex 3D CAD, photogrammetric capture and geospatial visualisation, visual effects and edge deployments.
Lenovo's standards and testing, ThinkStation Diagnostics 2.0, ThinkShield support, upgrades to Premier Support and three-year warranty are included in the purchase of these new workstations, which will be available starting in May 2023. www.lenovo.com/thinkstations