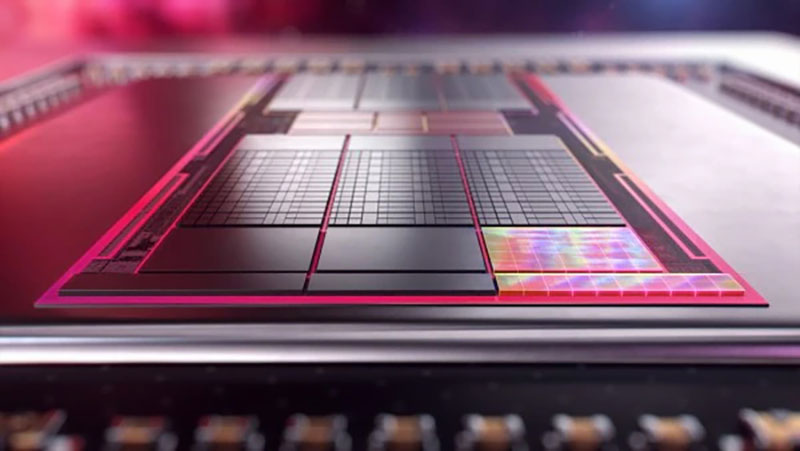 The AMD Radeon PRO W7000 Series are the first professional graphics cards built on the AMD chiplet design, and the first to include DisplayPort 2.1, which is capable of 3 times the maximum total data rate compared to DisplayPort 1.41. AMD states that the Radeon PRO W7900 graphics card delivers 1.5X faster geomean performance and supplies 1.5X more memory than AMD's previous generation cards.
AMD estimates that new, dedicated AI instructions and increased AI throughput deliver twice the performance than the previous AMD RDNA 2 architecture, and second-generation raytracing development delivers significantly higher performance than the previous generation.
With up to 48 GDDR6 memory, users can work with very large 3D models and environments, edit and layer complex timelines using the recent digital cinema camera formats, and render photorealistic, raytraced images at extremely high quality. Professional applications that can take advantage of the larger framebuffer include Adobe Premiere Pro and After Effects, Autodesk 3ds Max and Maya, Blender, Boris FX Sapphire, Dassault Systèmes SOLIDWORKS Visualize, DaVinci Resolve, Lumion, Maxon Redshift and many others.
The AMD Radeon PRO W7900 graphics card is designed for extreme workloads, with performance reaching 61 TFLOPS (FP32) peak single precision, equal to 1.5X higher geomean performance on the SPECviewperf 2020 benchmark. It includes 48GB of GDDR6 memory, which is 1.5X larger memory capacity than the 32GB available on the previous-generation graphics card.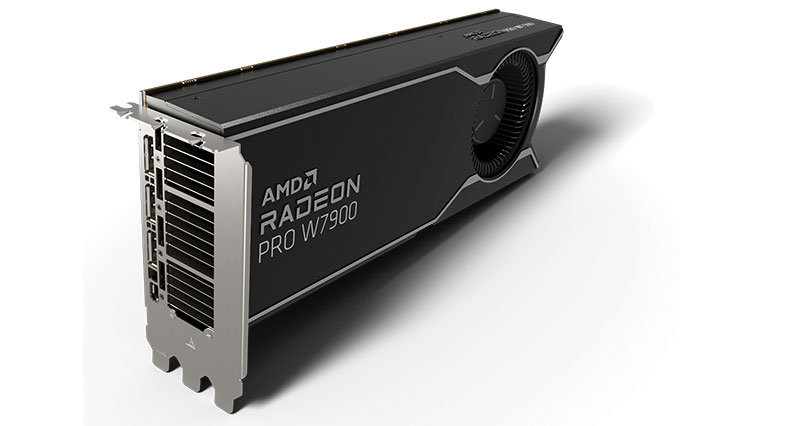 SPECviewperf software measures the 3D graphics performance of systems running under the OpenGL and Direct X application programming interfaces. The final mark SPEC gives is the geometric mean of all SPECratios. When comparing two computers using SPECratios, the geometric mean is used because it produces the same relative answer no matter which computer is used to normalise the results. While the arithmetic mean is simply an average value, the geometric mean multiplies and finds the root of values, and works even if the values have different units.
The AMD Radeon PRO W7800 graphics card was created for heavy workloads, and features 45 TFLOPS (FP32) peak single precision performance and 32GB of GDDR6 memory.
Scott Herkelman, senior vice president and general manager, Graphics Business Unit at AMD said. "The AMD Radeon PRO W7900 and W7800 Series graphics cards are built to deliver performance and reliability in professional applications, while giving colour-critical accuracy and an outstanding visual experience. The AMD Radeon PRO W7000 Series graphics cards help creators and artists tackle larger projects, render faster and create more complex models loaded with more pixels, more polygons and more textures."
Chips, Chiplets, Architecture and Engines
Regarding AMD's chiplet design, chiplets have the flexibility, economy and scalability of a modular framework, and give higher performance and greater efficiency than the previous generation chips. The design includes the new 5nm Graphics Compute Die (GCD) that provides the core GPU functionality. It also includes six new 6nm Memory Cache Die (MCD), each with second-generation AMD Infinity Cache.
The new, high-speed cache is larger and denser, keeping most of the working data for any frame on the die and saving the GPU from having to repeatedly send signals across the package to the 16GB of onboard GDDR6 memory. That fact makes Infinity Cache faster and more power-efficient compared to just increasing the bus width to the memory modules alone – the cache holds a great deal of temporal and spatial data that can be reused in subsequent frames.
By dividing chips into smaller pieces (chiplets), AMD has also changed their manufacturing economics, reducing costs enough to allow development of a range of server chips, to which they could add and remove chiplets to create variations. Doing this meant they could make several performance and pricing options available. Furthermore, working at the chiplets level meant they could reuse two of the server chiplets and design a more affordable version for desktops.

AMD RDNA 3 Architecture
The AMD Radeon PRO W7900 and PRO W7800 graphics cards are built on AMD RDNA 3 architecture, based on the new chiplet design and capable of significantly higher performance than the previous generation. The new graphics cards are developed for professional users to create and work with high-polygon count models without special provisioning, and maintain very high image fidelity and colour accuracy. They also make it possible to run graphics and compute-based applications simultaneously without disrupting workflows.
New compute units share resources between rendering, AI and raytracing to make the best use of each transistor and, according to AMD, give approximately 50% more raytracing performance per compute unit than the previous generation. AMD RDNA 3 architecture has optimisations for AEC, D&M and M&E workflows for rendering and video editing.
For users working on new multi-media experiences, dual encode/decode media engines support full AV1 encode/decode designed for high resolutions, wide colour gamut, and high-dynamic range enhancements. AV1 can raise performance and achieve higher fidelity compared to H.264, the conventional codec.
Power efficient and capable of multi-tasking performance, the new graphics cards are also the first professional workstation GPUs built with the new AMD Radiance Display Engine, achieving 12-bit HDR and full coverage of the REC2020 colour space for colour accuracy. It also supports DisplayPort 2.1, recognised for higher resolutions and up to 68 billion available colours at up to 8K 165Hz, and displays with higher refresh rate compared to AMD RDNA 2 architecture. DisplayPort 2.1 is compatible with displays and multi-monitor configuration options used to create immersive visual environments.
AMD Software
All AMD Radeon PRO workstation graphics are supported by AMD Software: PRO Edition, which displays a user interface giving access to graphics card functionality such as application optimisation, productivity and GPU-accelerated capabilities. Radeon PRO Image Boost software renders visuals higher than a display's native resolution to optimize image quality and resolution, for sharpness and clarity while you work. An optimisation tool, Radeon PRO Viewport Boost dynamically adjusts viewport resolution, optimising application framerate while balancing resolution and performance. This will boost framerates and navigation performance in certain applications.
Regarding 3rd-party application certification, AMD continues to work with professional software vendors on a comprehensive certification program to make sure AMD Radeon PRO graphics cards are built for demanding 24/7 environments and tested to meet high standards, balancing performance and stability. The list of certified applications can be found here. www.amd.com