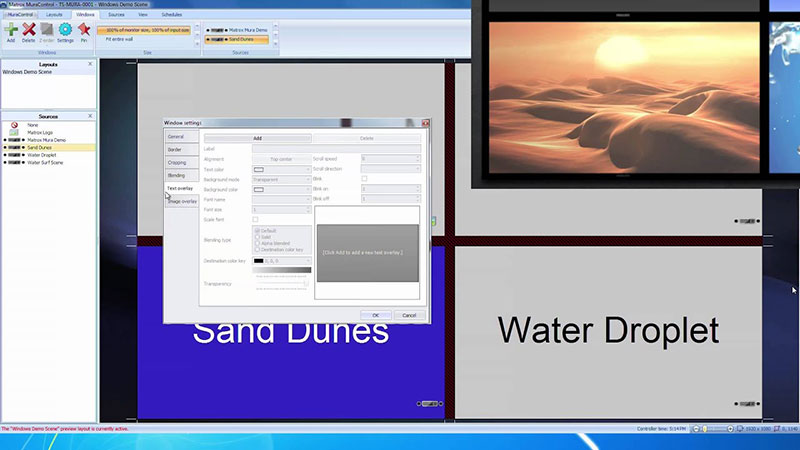 Using Matrox MuraControl video wall management software with LUMA Pro cards for video wall systems.
Matrox Video's LUMA Pro Series is a new line of graphics cards, powered by Intel Arc GPUs and engineered to power digital signage and video wall systems. It includes the low-profile LUMA A310FP and the standard-height LUMA A380P, which each support up to two 8Kp60, two 5Kp120 or four 5Kp60 DisplayPort 2.1 monitors.
They can also be combined to drive a high-density-output video wall of up to 16 synchronized 5Kp60 displays. Used with video wall software and developer tools, typical applications include control rooms, enterprises, industrial, government, military, digital signage and broadcast use cases.
OEMs, systems integrators and AV professionals can add and synchronise displays by frame-locking up to four LUMA Pro cards via board-to-board frame-lock cables. For complex installations, LUMA Pro cards support Microsoft DirectX 12, OpenGL 4.6, and OpenCL 3.0, and also Intel's oneAPI for compute tasks and the Intel Distribution of OpenVINO toolkit for AI development.
IP-based Video Walls
The LUMA Pro cards are built with GPU-based H.264 and H.265 media codec engines, which are supported by the Matrox Mura software libraries and capable of decoding of over 40 full HD streams per card. Users can design and build IP-based video walls using only LUMA Pro graphics cards, which saves space, reduces power consumption and limits hardware costs associated with video wall controllers.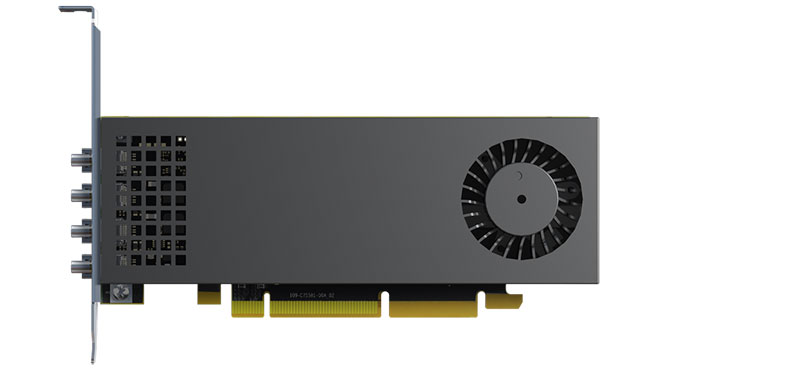 Low-profile LUMA A310FP
LUMA Pro Series graphics cards work directly with the other products in Matrox Video's display wall portfolio. System integrators can pair LUMA Pro with Matrox Mura IPX capture and IP encode/decode cards for multi-channel 4K and full HD capture with HDCP (High-bandwidth Digital Content Protection) functionality to capture and display content-protected sources – including set-top boxes, Blu-ray Disc and media players, and video game consoles. HDCP protects digital copyrighted content as it travels from devices to screens.
Extreme Dimensions
LUMA Pro can also be combined with Matrox QuadHead2Go multi-monitor controllers to create extremely large-scale configurations of up to 64 1920x1080p60 screens. LUMA Pro's built-in frame-lock capability, coupled with Joined Mode in Matrox PowerDesk software, makes it possible to create a single canvas using multiple cards that act as one. In this way, the video application can take advantage of a large display space created with multiple GPU cards.
LUMA Pro includes the robust Matrox PowerDesk desktop management software. Users can select tools ranging from stretched or independent desktops, clone mode, pivot mode, bezel management, edge overlap, joined mode and others to configure and customise multiple, complex display setups.
Meanwhile, they can manage video wall sources and layouts, either locally or remotely and in real time, in Matrox MuraControl video wall management software. Matrox Video's video wall APIs, SDKs and libraries are also available for developers and AV installers interested in creating custom control functions and applications.



Standard-height LUMA A380P
Life Cycle
All LUMA Pro cards have a life cycle of seven years, with dedicated customer support. Manufacturers that use LUMA Pro cards in their own products can reliably sell their products for some years without needing to alter or recertify their systems. Moreover, LUMA Pro cards themselves carry a three-year warranty, with the option to extend it.
"These are interesting times for video wall systems, driven by the rising customer demand for exciting visual experiences," said Daniel Collin, senior product manager at Matrox Video. "LUMA Pro Series is the result of collaboration with Intel, leading to a range of video wall features integrated into the graphics card including robust media streaming decoding capabilities and board-to-board framelock." www.matrox.com