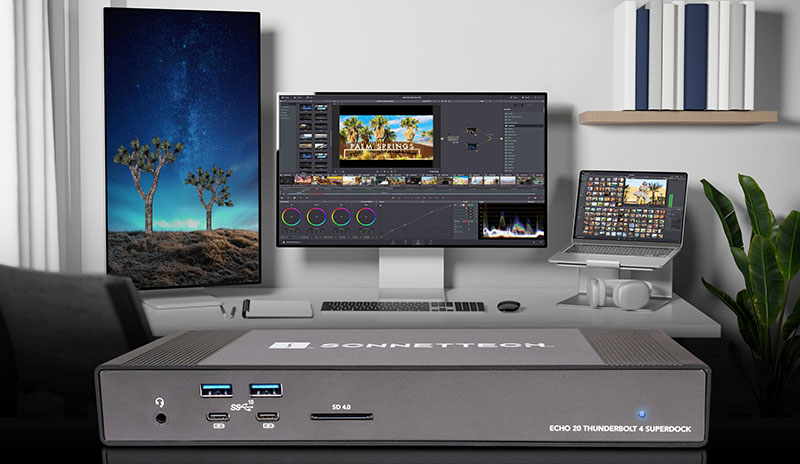 Sonnet Technologies Echo 20 Thunderbolt 4 SuperDock is the most recent model in the company's Echo family of docking stations. The Echo 20 has three Thunderbolt 4 ports, one internal M.2 NVMe SSD socket, four USB 3.2 Gen 2 (10Gbps) Type-C Charging ports, four USB 3.2 Gen 2 (10Gbps) Type A ports, one HDMI 2.1 port, one 2.5 Gigabit Ethernet (RJ45) port, one 3.5 mm combo audio port, two analogue line level output jacks, one 3.5 mm microphone jack, and one SD 4.0 card slot. The Sonnet dock is compatible with Apple M series Mac computers, Thunderbolt 3 Intel Mac computers, Thunderbolt 4 and USB4 Windows computers, late-model Thunderbolt 3 Windows computers, Thunderbolt 4 and USB4 Chromebook computers and M series iPad Pro tablets.

Thunderbolt docking stations enable users to conveniently connect their computer peripherals - such as storage devices, input devices, headphones and so on - to a convenient central point instead of directly to their computer. The Sonnet Echo 20 Thunderbolt 4 SuperDock connects all of those peripheral devices, including an HDMI monitor, through a single Thunderbolt cable, which can also charge laptop computers with up to 100 watts of power. The Echo 20 also supports the installation of one M.2 NVMe SSD inside the case. The Echo dock supports connecting one 8K or two 6K monitors - subject to the computer's display support.
Many recent laptop computers include fewer peripheral ports and port types than those of the past, some with as few as two ports, with one sometimes also used for charging, thus limiting the number of devices that can be plugged in directly. The Echo 20 Thunderbolt 4 SuperDock bypasses these limitations by making up to 20 connections, charging the computer, supporting fast wired network connectivity, and reading SD memory cards. With its mix of peripheral ports, the Echo dock connects a wide array of devices and supports high-performance peripherals with ease.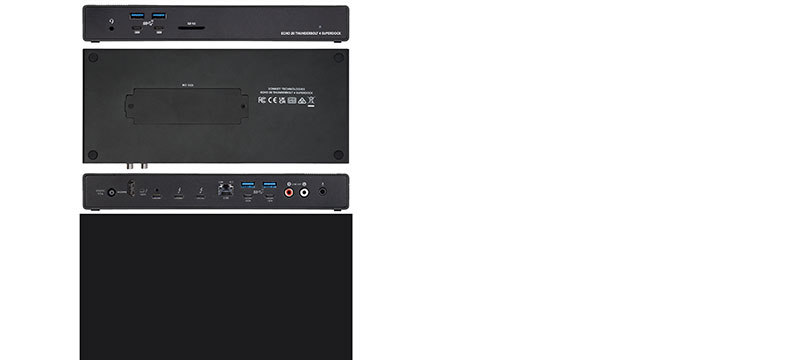 The Echo 20 Thunderbolt 4 SuperDock includes a built-in M.2 NVMe SSD socket that enables users to install up to 8TB of storage without connecting an external storage device to the Echo dock or to the computer. With data transfers up to 800 MB/s, the internal storage has many uses, including media storage and Time Machine (macOS) backups.
Its HDMI 2.1 Port connects an 8K @60Hz HDMI display directly with no adapter required, and the 2.5Gb Ethernet Port delivers faster data transfers over existing cabling when connected to a compatible switch or NAS, 2.5GbE connectivity – with no adapter needed. It is also backward-compatible with a Gigabit Ethernet infrastructure.
The eight USB 3.2 Gen 2 (10Gbps) Ports include two each USB-A and USB-C ports on both the front and the back panels. The Sonnet dock's eight USB 3 ports boost power to ensure that bus-powered SSDs with higher peak power requirements mount and operate reliably. The USB-C ports support the Type-C Charging spec, enabling the dock to charge devices even when the computer is off, sleeping or disconnected.
Audio I/O Ports include a 3.5 mm TRRS headset jack on the front panel, plus a 3.5 mm microphone jack on the back panel. Separate left and right channel RCA output jacks give line level output to powered speakers or an amplifier and avoid clipping and distortion that can occur when using a headphone jack as the source.
The Rear Panel Computer interface/Charging (Thunderbolt 4) Port is placed on the back panel fulfills a frequent customer request allowing easier cable management.
Two Thunderbolt 4 Peripheral Ports support both Thunderbolt and USB peripherals - including displays - and supply up to 15 watts power each. When used with self-powered Thunderbolt devices, the ports support up to five devices via daisy chain connection.

Like Sonnet Thunderbolt-to-PCIe card expansion systems, the Echo 20 dock includes a threaded nut to secure the included Sonnet ThunderLok 4 Thunderbolt connector retainer clip that prevents accidental cable disconnections.
The Echo 20 Thunderbolt 4 SuperDock (part number ECHO-DK20-T4) is available now. https://www.sonnettech.com/