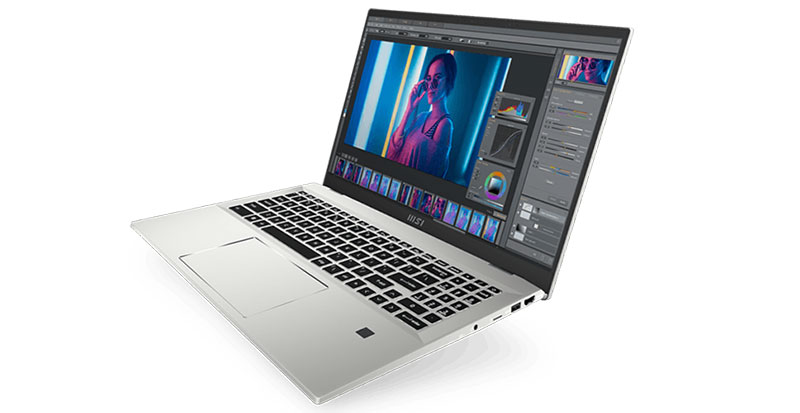 MSI's Prestige 16 Studio A13V laptop is a compact 16-in model built to combine content creation specifications with business features. Designed to suit people that work between locations, it weighs just over 2kg and includes NVMe SSD PCIe Gen4 storage. It has a long-lasting, fast-charging battery and Wi-Fi 6E network speed to extend the ability to work from anywhere.
The Prestige 16 Studio runs on CPUs up to the most recent 13th Gen Intel Core i7 processor, with 14 cores and running at 5.0GHz (5 billion cycles/sec) maximum turbo frequency without overclocking.
NVIDIA RTX Graphics
For graphics, the laptops are NVIDIA Studio-validated for content creation, built for GPUs up to the GeForce RTX 4060 with 8GB of GDDR6-type high-bandwidth RAM. These cards feature hardware accelerations for video, AI and 3D editing with ray tracing. Beyond the GPUs themselves, NVIDIA Studio validation indicates the computers are pre-installed with Studio Drivers that are tested and optimised for Adobe Creative Cloud suite, Autodesk Maya, Blender, Blackmagic Davinci Resolve, OBS, Unity and many other content creation applications.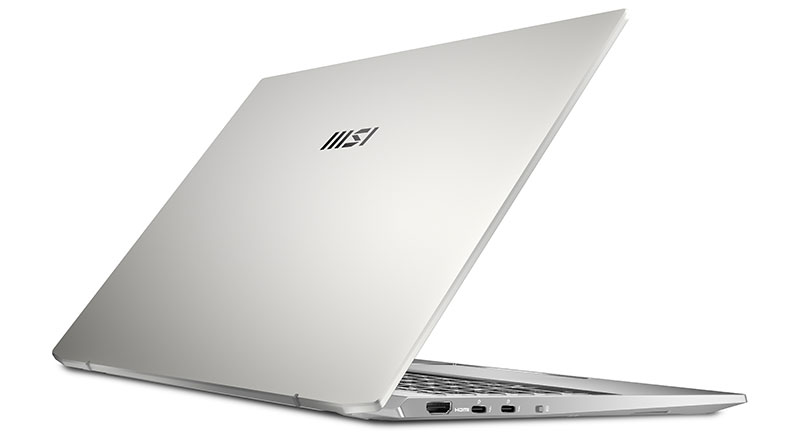 NVIDIA Studio computers are also pre-loaded with tools including NVIDIA Omniverse, a realtime collaboration platform for 3D artists who want to work across applications and use AI tools together; NVIDIA Canvas, used to turn the user's brushstrokes into landscape images for backgrounds and concepts; and NVIDIA Broadcast that upgrades standard webcams and microphones to serve as professional grade smart devices.
Display Calibration and Colour Accuracy
The Prestige 16 Studio has a True Pixel Mini LED display with a 16:10 aspect ratio and 1,000 nits of brightness capable of displaying 100% of the DCI-P3 colour gamut. MSI displays labelled with the True Pixel and True Color designations have undergone factory inspection and calibration before and after laptop assembly.
First, each display panel is physically examined in the factory and given a basic Pass, Tunable and Fail classification. The panels rated as Pass or Tunable are kept for assembly and calibrated on the production line with the Portrait Displays professional Calman calibrator. Doing this makes sure the laptops start out with very accurate colour reproduction rated at Delta-E < 2 – that is, showing a variation less than human eyes can detect.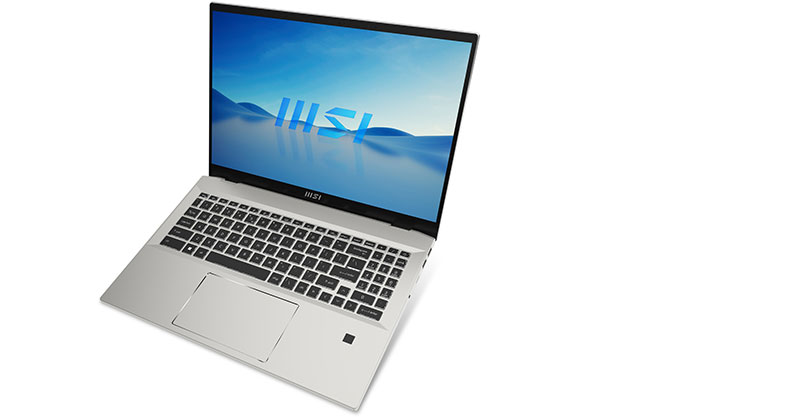 The calibrated profiles resulting from this step in the factory will be input into the laptops' storage partition. On powering up, the built-in True Color app will automatically apply the profiles to the displays. Besides producing accurate colour, the True Color app also allows users to switch between different colour spaces or re-calibrate the display with commonly used calibrators, for convenience, meanwhile maintaining accuracy.
Mini LED
The Prestige 16 Studio's Mini LED display system uses a smaller LED chip to produce the same brightness as a larger chip, but allows finer control of lighting levels. Mini LED devices are built with many smaller diodes, each of which can emit a range of different colours instead of a single colour, making up every subpixel individually. This design results in images with more vivid colours, and the smaller size of the chip supports a higher density of LEDs – which ultimately increases the amount of light produced by each unit.
It also allows manufacturers to reduce costs by reducing the amount of material used in their manufacturing, and to make products that are thinner, lighter and more portable than before. Note, however, that Mini LED uses a transmissive approach to displaying light, and should be viewed within a fairly limited viewing angle to see the picture clearly.
Cool, Protected
The laptop's Dynamic Cooler Booster cooling design focusses on dissipating heat from the CPU and GPU while maintaining background noise at less than 35dB. The MSI Center optimization software now uses AI Smart Auto, which will automatically adjust systems settings depending on the user's every day tasks, although further manual adjustment is available as well.
Users can secure access to the laptop via password protection, or use the IR FHD webcam or fingerprint alternatives if they need password-free access. For connectivity, mic-in/headphone-out audio jack, microSD Card Reader, two Type-C USB3.2 ports (including one DisplayPort with PD3.1 charging), one Type-A USB3.2 port, DC-in power connector and a HDMI 2.1 port are built into the chassis.
To find where to buy MSI gear, visit au.msi.com