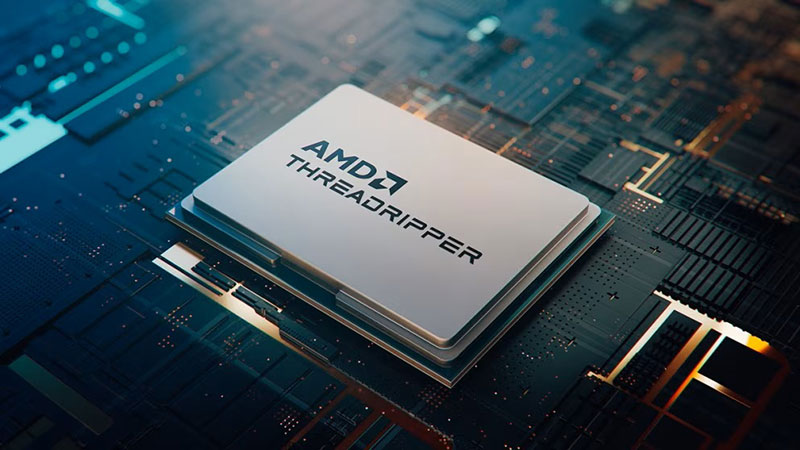 The new AMD Ryzen Threadripper PRO 7000 WX-Series for workstations is built with multi-core performance and Zen 4 architecture, with enterprise-level security and management features to suit modern businesses. Models in this series have up to 96 cores and 192 processing threads of performance. AMD's new processors will be available later this year to systems integrator partners, developer customers and through OEM partners, including Dell Technologies, HP and Lenovo.
AMD is also making their Ryzen Threadripper 7000 Series processors available again for desktop computers for the first time since 2020. Also built on AMD Zen 4 architecture, the Ryzen Threadripper 7980X processor at the top of this series places a very high level of computing power into desktop machines – 48 PCIe 5.0 lanes, 64 cores and 128 threads for efficient processing.
AMD Ryzen Threadripper PRO Processors for Workstations
The AMD Ryzen Threadripper PRO 7000 WX-Series processors for the workstation market are built on the TSMC 5nm process with Zen 4-generation architecture, preparing it to support professional software applications and complex multitasking workloads.
For multithreaded workloads, Threadripper PRO processor models go up to 96 cores and 192 threads, suitable for complex simulations, generative design, rendering and software compilation tasks. Performance gains of two or more times faster have been recorded in software like render software Chaos V-Ray. The 7000 WX-Series processors also bring up to 384MB of L3 cache, plus eight channels for DDR5 memory for applications that need high memory capacity and bandwidth.
Launching through OEM and systems integrator partners, these processors are supported by AMD's ongoing collaboration with ISV partners to optimize performance across various workloads. They also include a complete set of modern business functions such as security features, management tools and enterprise-grade stability to ensure robust performance in varied situations.
Dell Technologies notes that in response to the growth of AI and generative AI, they have been working with AMD to expand their portfolio of AI-ready workstations with the release of the Precision 7875 Tower. Also, before the end of the year, quarter, Lenovo will announce a new tower workstation with AMD Ryzen Threadripper PRO 7000 WX-Series processors.

AMD Ryzen Threadripper 7000 Series Processors for Desktop
The AMD Ryzen Threadripper 7000 Series are also making Threadripper hardware available to the desktop market again, with what AMD says are the highest clock speeds achievable on a Threadripper processor. Also using the TSMC 5nm process and Zen 4 architecture, the Threadripper 7000 Series is built for effective I/O for desktop applications with up to 48 PCIe Gen 5.0 lanes for graphics, storage and other functions.
Exceeding the memory bandwidth of typical dual-channel desktop systems, the quad-channel DDR5 memory controller on Ryzen Threadripper 7000 Series processors can support intensive workflows.

Among the graphics options for Threadripper and Threadripper PRO-powered workstations are the AMD Radeon PRO W7000 Series workstation graphics cards built on the AMD RDNA 3 architecture. They feature feature 8GB of high-speed GDDR6 memory to support data-intensive tasks and ray-traced rendering.
Workstations from manufacturers including Dell Technologies, HP and Lenovo, as well as systems integrators using the new AMD Ryzen Threadripper PRO 7000 WX-Series processors are expected to be available by the end of 2023. Desktop platforms using AMD Ryzen Threadripper 7000 Series processors will be available from systems integrators by the end of 2023. Finally, the new AMD Ryzen Threadripper 7000 Series and some of the Ryzen Threadripper PRO 7000 WX-Series processors will be available from DIY retailers starting on 21 November. www.amd.com