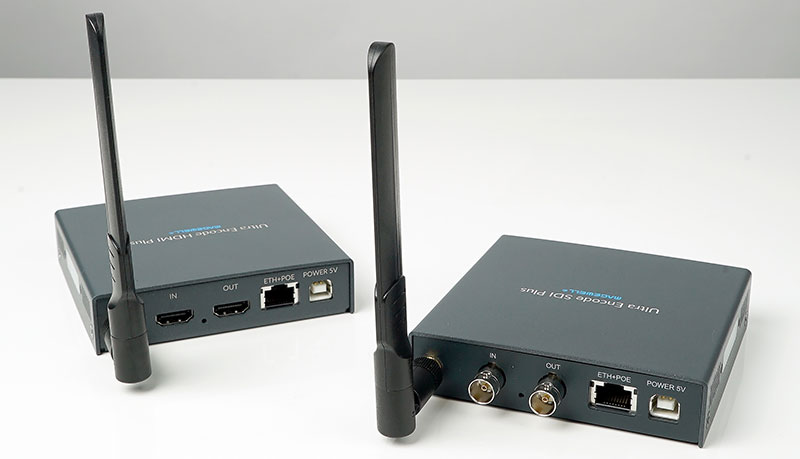 Magewell has expanded its Ultra Encode lineup of live media encoders with two new models for applications ranging from live streaming and remote contribution to IP-based production and distribution. The Ultra Encode HDMI Plus and Ultra Encode SDI Plus are compact and capable of simultaneous multi-protocol streaming, file-based recording, NDI HX3 support, 4K encoding at 30 fps, with Power over Ethernet support and features for live production.
"Some users are looking for the higher bitrates, expanded formats, recording capabilities and multi-protocol simultaneous streaming of the existing Ultra Encode AIO model, but in a more compact, camera-mountable form factor," said James Liu, VP of Engineering at Magewell. "The new Ultra Encode Plus models fit into the middle of the product line to meet these needs."
The Ultra Encode HDMI Plus can encode at resolutions up to 4096x2160 (4K) at 30 fps from its HDMI interface, while the Ultra Encode SDI Plus encodes up to 4K at 30fps from the device's 6G-SDI input. Both models support multiple video encoding formats and codecs – including H.264, H.265 (HEVC), NDI HX2 and NDI HX3 – and a wide range of streaming protocols including RTMP, RTMPS, SRT, RTSP, RTP, HLS and TVU's ISSP (Inverse Statmux) technology.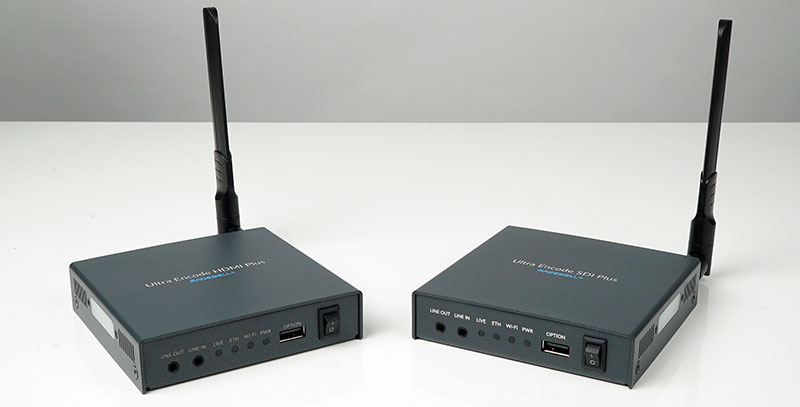 Video can be encoded at bitrates up to 32Mbps (62Mbps for NDI HX3), and up to eight channels of audio can be encoded in AAC format. Two concurrent encoding profiles with distinct combinations of resolution, frame rate and bitrate can be specified. Configurable presets are available for streaming to YouTube Live (via RTMP or HLS), Facebook Live, Twitch, the Wowza Video platform (using RTMP or SRT) or custom targets.
Ultra Encode Plus models can stream to up to six different target destinations simultaneously, and include the ability to stream concurrently in multiple protocols. Inputs can also be recorded as files the device's internal storage, an external USB-connected drive or networked storage.
Ultra Encode Plus's compact, camera-mountable metal chassis measures 106.6mm by 106.2mm (4.2 inches square) with a height of 25mm (1 inch). Integrated tally lights indicate program or preview usage of NDI HX outputs in live production environments. The devices have loop-through connections as well as line-level analogue audio input and output, and can be powered via PoE (Power over Ethernet) or the included power adaptor. The encoders feature both built-in Wi-Fi network connectivity and an RJ-45 Gigabit Ethernet port.
Like all of the Ultra Encode models, Ultra Encode Plus devices can be configured, monitored and controlled through a browser-based web interface. Centralised remote management and control of multiple units is available through the Control Hub software. As well as manual control, scheduled streaming and recording are also available through the web UI, and HTTP-based APIs are available for systems integrators and third-party developers to incorporate Ultra Encode Plus into their devices and systems.
Ultra Encode HDMI Plus and Ultra Encode SDI Plus are available immediately through resellers and will be among the company's demonstrations at ISE 2024, taking place 30 January to 2 February 2024 in Barcelona. www.magewell.com