Blackmagic Design's New Hardware Builds Up 4K Camera Workflows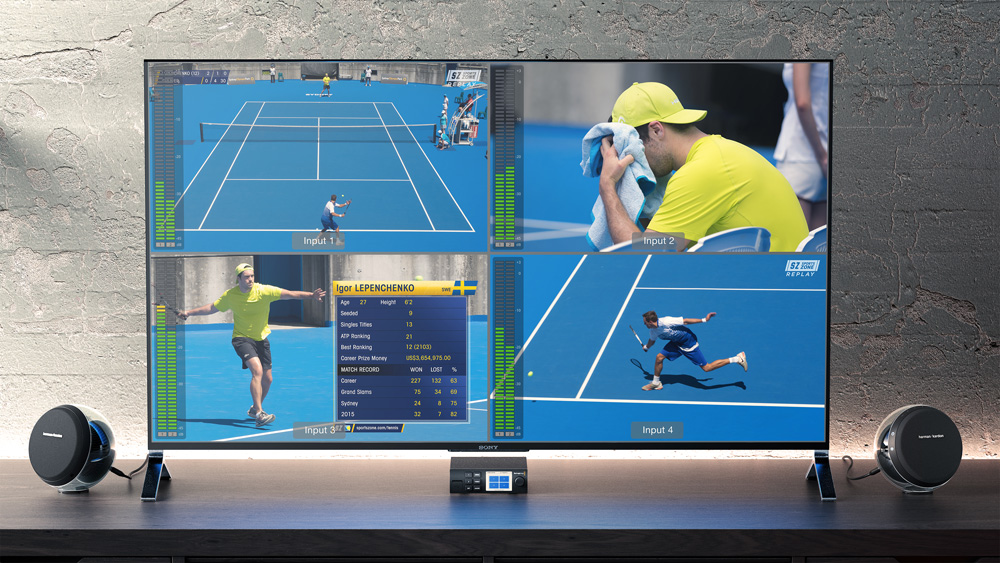 Blackmagic Design's president Dan May spoke to Digital Media World while we were at NAB 2016, and told us about some of the major hardware releases among the company's numerous announcements at the Show. All four of these products – the Duplicator 4K, URSA Studio Viewfinder, Video Assist 4K and MultiView 4K – work in Blackmagic 4K camera workflows.
Duplicator 4K – Fast UHD Content
The new Blackmagic Duplicator 4K is used to record Ultra HD content files onto inexpensive SD cards for distribution to customers as soon as an event is finished. It has 25 built-in SD card recorders, multi rate 12G-SDI connections and a real-time H.265 encoder. At a time when viewers have a limited range of material to view on 4K televisions and Windows 10 computers, Blackmagic Duplicator 4K is a fast way to deliver Ultra HD content and monetize events captured live. Applications include selling concert, sports, conference and educational videos to fans and customers.

The built-in real-time H.265 hardware encodes UHD video at frame rates up to 2160p60 as small files with data rates low enough to playback from standard SD card media. A one hour program can fit onto an 8GB SD card. With a USB adapter, the SD cards can be plugged directly into most consumer UHD televisions for immediate playback of the video.
The 25 recorders are sized to fit into a single rack unit. The front panel controls for record, stop, lck, append, menu and remote are designed with illuminated buttons. The lock button prevents accidental interruption of recording during an event, and the append record button combines recordings from different parts of an event into a single file.

The multiple-rate 12G-SDI connections can record all SD, HD and Ultra HD formats up to 2160p60. For larger events, multiple duplicators can be stacked using the SDI loop thru and RS-422 deck control. An optical fibre SFP socket can be used to add an optional SMPTE compatible SDI module when working in larger venues with long distances between equipment. The Duplicator 4K is available now.
URSA Studio Viewfinder – Studio Functions for URSA Mini
Blackmagic's new high resolution 7-in URSA Studio Viewfinder with a number of variable tension mounting points, tally and external controls, adds professional studio camera functionality to the URSA Mini when it is used for prolonged periods on location, for example, at live events.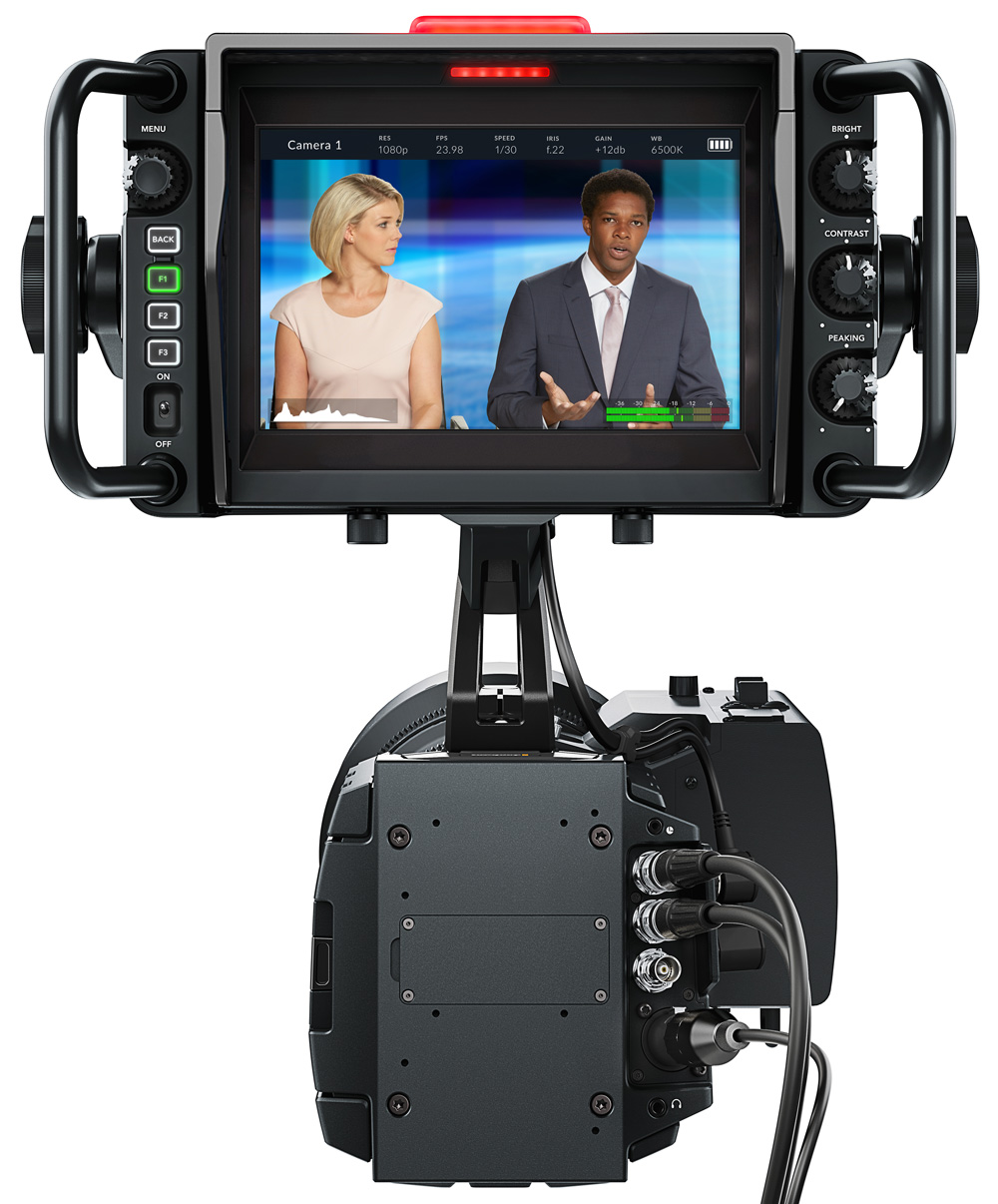 It has a durable all-metal design and an articulated arm to raise, lower and move the viewfinder forward and backward. The base of the viewfinder has a standard V-lock bracket for mounting and detaching the monitor to the URSA Mini handle so it can be set up and repositioned. Variable tension mounting points can be set for optimum resistance to allow panning and tilting as required, while the camera operator uses the large handles to move the camera independently of the viewfinder itself. In this way, the operator can look directly into the viewfinder and the camera can move to follow the action.
The large RGB tally light on the rear of the monitor shows red when the camera is on-air and orange for ISO recording. It comes with customizable clip-on numbers to help identify the camera from up to 20 feet away. To assist when shooting a live event, a physical dial and knobs and buttons quickly adjust brightness, contrast and peaking, and three customizable function buttons are available for zoom, false colour, edge focus detection, loading 3D LUTs and so on.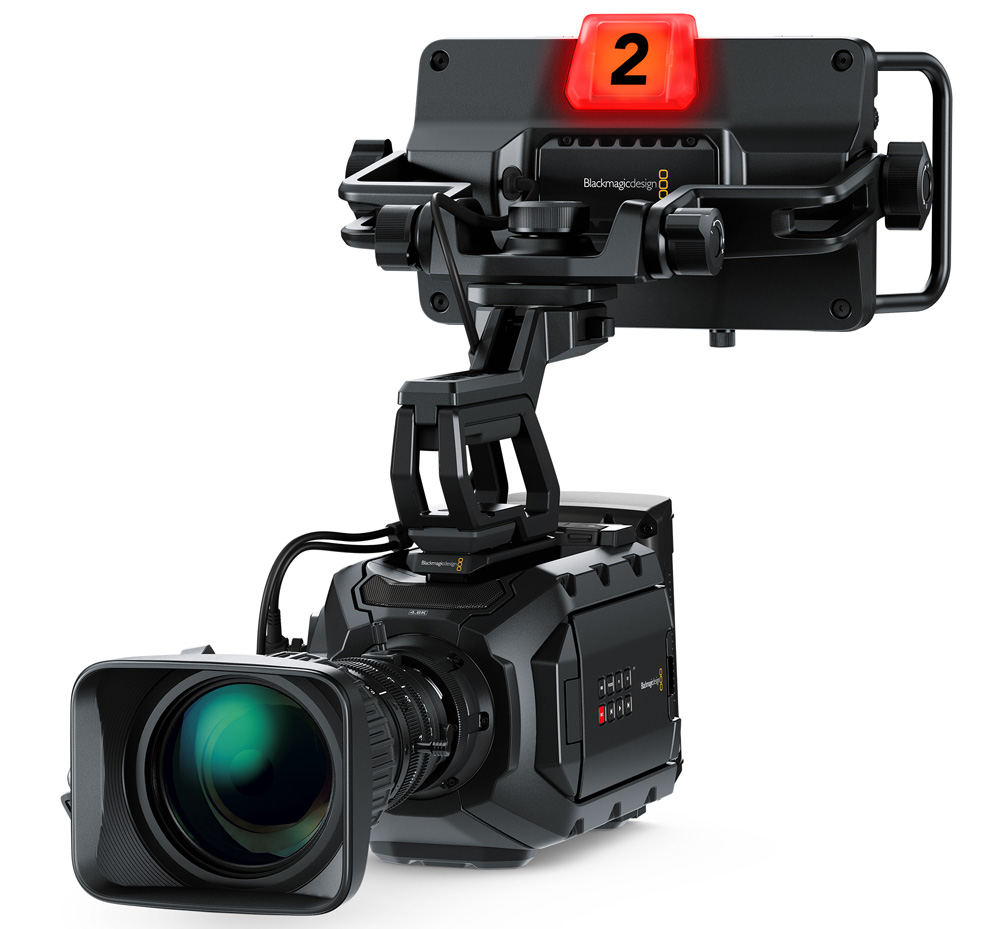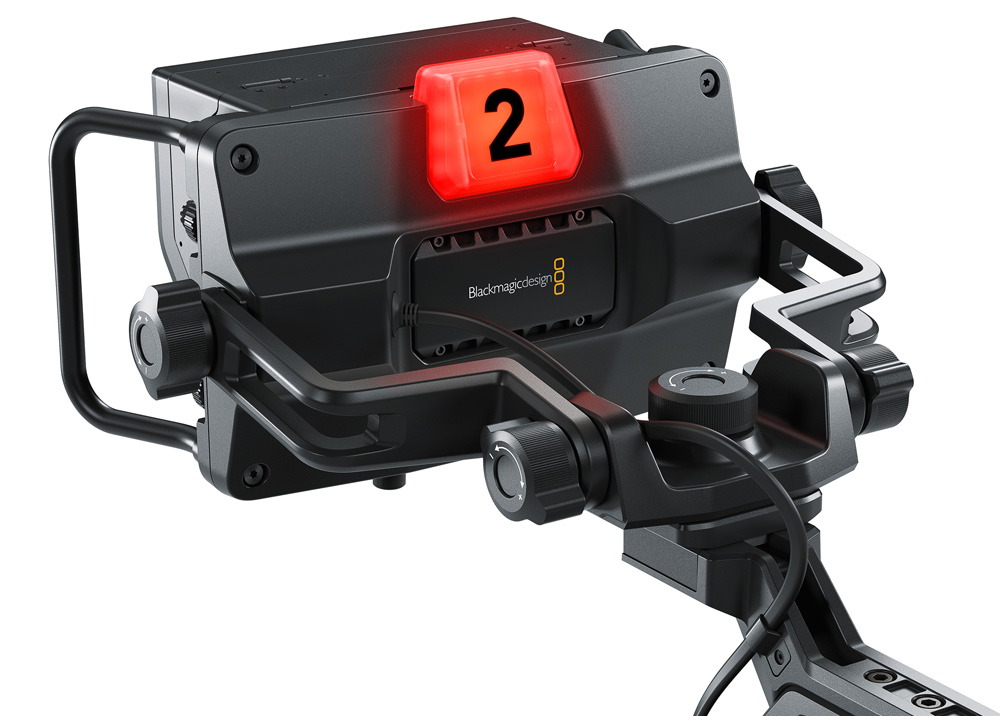 The viewfinder also displays frame guides to show the location of lower thirds, graphics, logos or tickers to assist composition. As well as built-in camera HDTV, 4:3, 2.4:1, 2.39:1, 1.85:1 and thirds frame guides, users can create up to three black or white custom cursors with variable height, width and position in order to match the location of all graphics to apply live or during later broadcast. When attached to URSA Mini, the camera sends information via the SDI connection to the viewfinder such as recording status, camera settings and battery life while shooting.
Video Assist 4K – High Resolution Recorder/Monitor
Blackmagic Video Assist 4K is a portable combined 7 inch monitor and video recorder that can be used to record from and monitor SDI or HDMI cameras. The high resolution monitor is designed for checking focus and framing, and the two high speed recorders for continuous HD and UHD recording. It has two XLR microphone inputs for audio recording, a built-in speaker and other functions.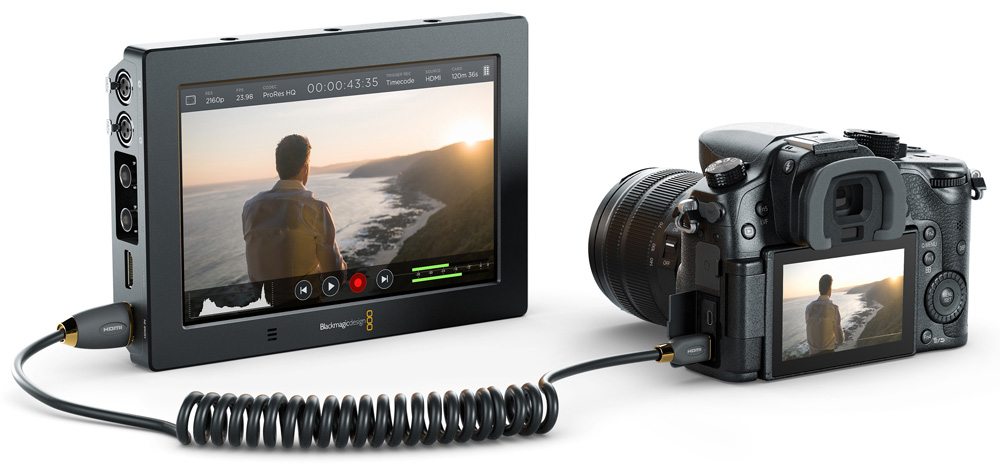 The Blackmagic Video Assist 4K works with most camera types from older tape based camcorders to DSLRs to the recent digital film cameras. Its two built-in UHS-II recorders are fast enough to record Ultra HD video up to 2160p30 on widely available, inexpensive SD cards. Files are saved as broadcast quality 10-bit 4:2:2 video in either ProRes or
DNxHD formats, making them compatible with editing software to start editing immediately without having to transcode or convert files.
Recording can be triggered to start and stop using LANC or over HDMI or SDI from the camera, and relayed automatically between the two recorders for extended work. The newer cards are compatible with existing SD card readers so they can be mounted directly on a computer for cloning and backup using DaVinci Resolve, which is included.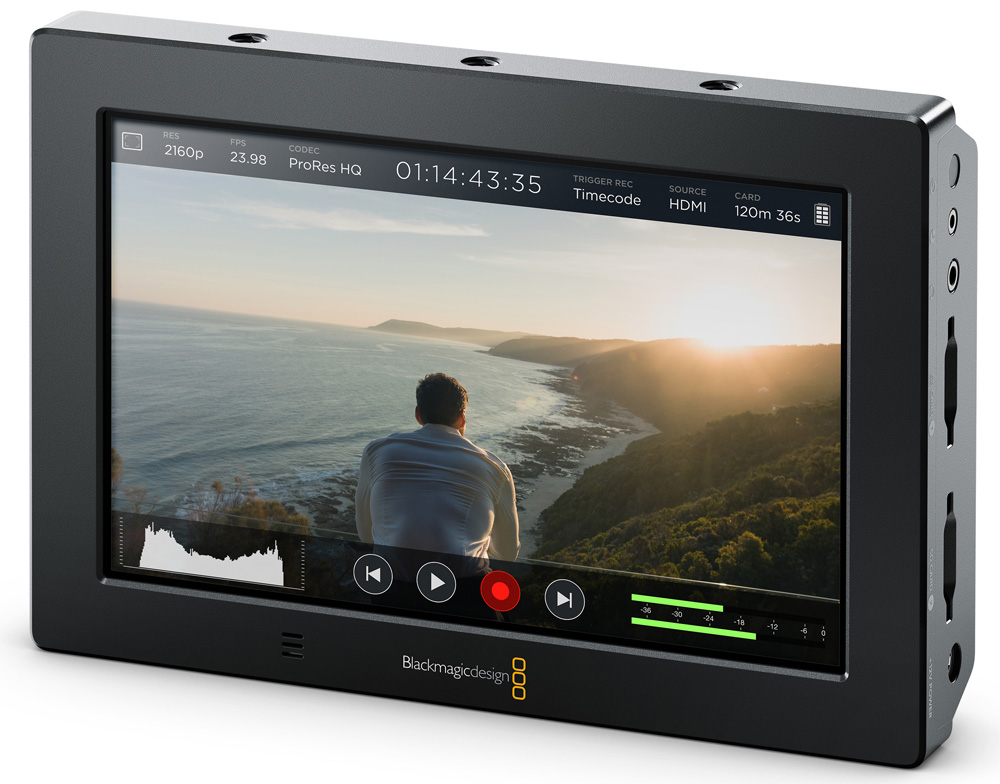 The two mini XLR inputs have 48V of phantom power, supporting external microphones and preventing problems with auto gain controls on DLSR cameras, and maintain a low electrical noise floor of 128dBV. Sound is recorded into the same file as the video to keep AV sync between separate audio and video files.
The 1920 x 1200, 16:9 monitor is a very bright touchscreen with a 135º viewing angle and heads up display overlay showing the current input frame rate, histogram, audio meters, timecode and other stats. It has two hot-swappable standard LP-E6 battery slots for power, and can be powered using the 12V DC input. The batteries are discharged serially, using only one at a time, but re-charges in parallel. Video Assist 4K is available now.
MultiView 4 – Independent, Simultaneous SDI Video Sources
The Blackmagic MultiView 4 monitors four independent SDI video sources simultaneously on a single display in combinations of SD, HD and Ultra HD formats and frame rates.

The four inputs, with separate loop through outputs, are compatible with existing SD, HD and Ultra HD equipment up to 2160p30. The automatic frame re-synchronization supports video standards and frame rates including referenced or non-referenced NTSC, PAL, 720p, 1080i, 1080p and Ultra HD up to 2160p30, on the same display. When the MultiView 4 is used with an Ultra HD monitor, four full resolution1080 HD views from cameras, decks, switchers, routers and feeds without scaling are displayed for use in live production, on set, in control rooms or any place with limited space for extra monitors.

Designed for plug and play, users can connect sources and see a standard 2x2 layout on an HD or Ultra HD television and, using the included Ethernet remote control software, turn on audio meters, choose which audio to output and create custom labels. MultiView 4 is also compatible with the controls on the optional Teranex Mini Smart Panel. It can be powered via the AC connection or power-over-Ethernet and, at one-third rack space, is small enough to use in fly away cases, outside broadcast vehicles, in equipment racks or on a desktop. Blackmagic MultiView 4 is available now. www.blackmagicdesign.com