AJA FS4 Frame Sync & Converter Supports 4K/UHD & 2K Workflows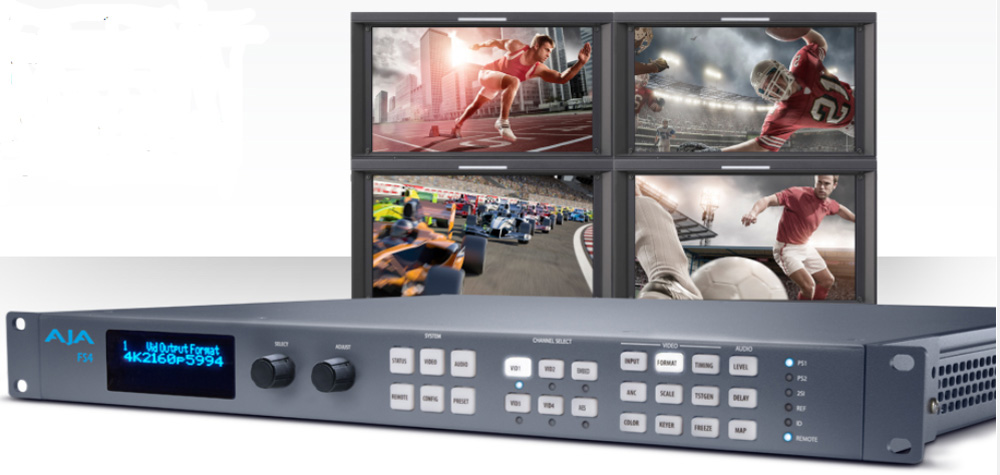 AJA's FS4 frame sync and converter, now shipping after its introduction at NAB 2016, supports 4K, UltraHD, 2K, HD and SD workflows. Its purpose is to allow greater video frame sync and conversion flexibility in broadcast and ProAV environments. Inside a 1RU chassis, FS4 has a single-channel mode for 4K/UltraHD processing and up, down and cross-conversion to or from 2K, HD or SD, and a four-channel mode for multi-channel density that supports four 2K, HD or SD channels of simultaneous conversion and processing.
The 272x208 matrix of audio processing I/O means FS4 can support audio feeds ranging from discrete AES to MADI and embedded SDI audio, where each audio input can carry out sample-rate conversion.

The input/output options for 4K/UltraHD range from Quad 1.5G and Dual 3G to Quad 3G, 6G and 12G over various SDI and optional Fibre connections. It is built with SMPTE 2SI I/O support, making it compatible with a large number of different 4K/UltraHD devices. It performs SD/SD aspect ratio conversions and HD/HD cross-conversion - 720p or 1080i.
Efficient power consumption and the 1RU frame size and make it suitable for OB trucks, and post production or broadcast studio settings. It has a simple menu structure and access to functions via front panel buttons, and a web-based UI to set up control over a LAN or across the web. The US MSRP is approximately $5,000. www.aja.com