Placebo Live at RAK Studios
James Tonkin from Hangman Studios with director Charlie Target Adams shot and produced a one-hour long live studio session of Placebo's new album at the famous recording venue RAK Studios in London. The performance was recorded in May 2013 and is now included as bonus material on the band's recently released seventh album, 'Loud Like Love'.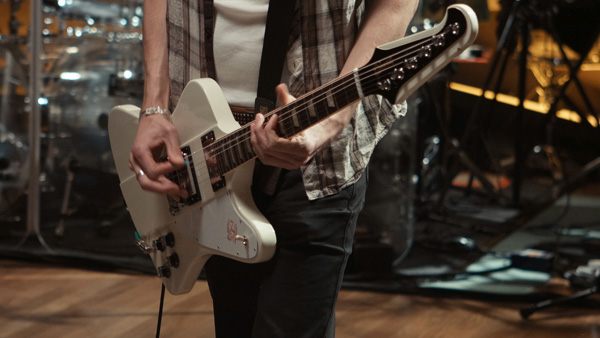 Eight Cameras
The project incorporated eight cameras shooting from fixed positions, five of which were Blackmagic Cinema Cameras. Its wide dynamic range, compact size and the ability to record straight to ProRes attracted James. "For me, capturing ProRes Log files at 24fps works very well for live shoots like the one with Placebo," said James. "When Charlie and I went through tests from previous shoots he could see the strength in shooting this way and preserving all 13 stops of latitude from the camera.
"Shooting with the REC 709 would have limited our flexibility in post and produced more saturated images with much more contrast. Knowing that we could shoot and create a look inside the camera - that is, controlling exposure and contrast ratios - was an advantage for us because we had to film the whole session uninterrupted, with no opportunity to stop and re-set the cameras. We planned as much as we could in advance and then simply went with it on the day."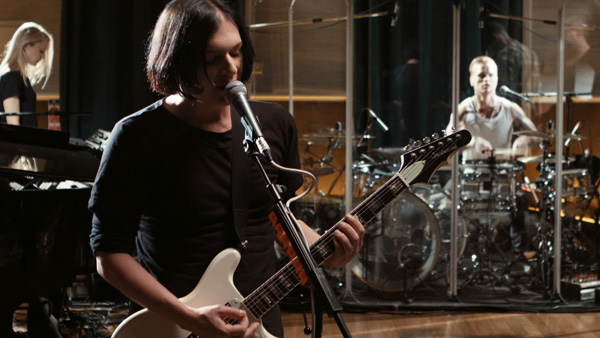 Four EF mount and one MFT mount Blackmagic Cinema Cameras were used, recording straight to their internal SSD recorders. Because log files look flat and dull before grading in post, the cameras operators monitored their work in REC 709 colour space for a clearer idea of how the footage would look to audiences. The other three cameras were a RED Scarlett, recording onto RED Mags, plus a Sony FS-100 and FS-700, recording to SD cards.
Classic Looks
Placebo's management wanted the production to be a straightforward representation of how the band would play behind closed doors. The aim was to give the performance a stripped back look that felt natural on camera. Charlie and James carefully planned the look and the shoot set-up, passing the particular requirements on to the DP Sam Brown. James also wanted to retain the existing qualities of RAK Studios, a famous recording location.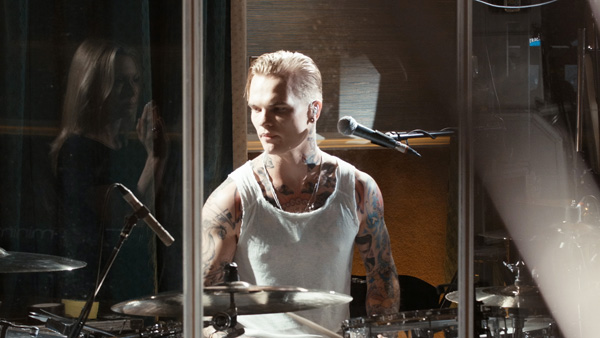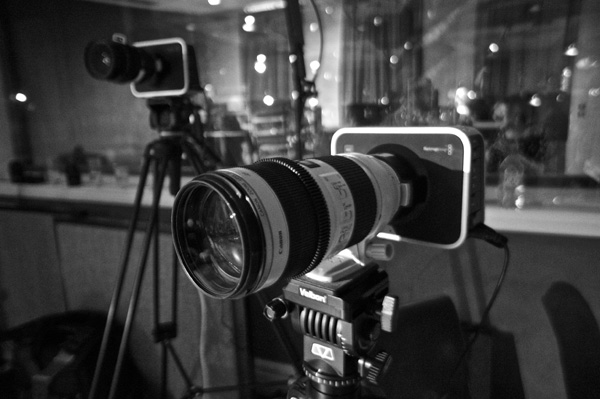 "The studio is a recognized venue with a timeless, classic look that we wanted to keep in the images and the handling of the shoot," he explained. "We weren't going for any dramatic lighting or fancy set design. To allow the band to play with as few distractions as possible, the camera positions were essentially fixed, so we placed the cameras on tracks and sliders to allow us to pan and add movement and spontaneity. Working in a confined space like RAK required us to determine the most effective camera angles – and the right number – so that the session would feel coherent, well covered and dynamic.
"These requirements dictated my lens selection to some extent because, as beautiful as Primes are, they wouldn't give us enough flexibility to get the shots we needed when working from fixed positions. Instead, we chose Canon zooms, the 24-70 and 70-200 from the L-series."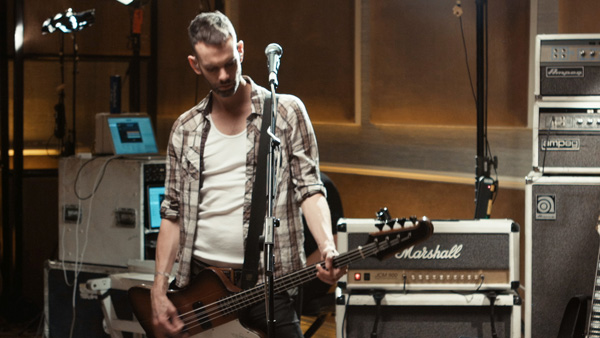 Neutral Starting Point
Treating this as a live shoot was one of the most challenging aspects of the project for James. "You didn't necessarily know what you had captured until it was all shot," he said. "The simplicity of the settings and menu structure in the Blackmagic Cinema Camera really worked to our advantage. It allowed me to quickly set up the cameras and ensured everything we shot looked the same, especially since the band actually performed their set straight through three times on the day, all of which we recorded. For that reason, the camera became much easier to deal with in the grade because you had a neutral starting point on all of the footage."
Post production involved an edit in Final Cut Pro by editor Tom Hall, followed by colour correction and the grade in Blackmagic DaVinci Resolve. James said, "The RED Scarlett footage intercut very well with the Blackmagic images. The camera recorded RAW r3d files directly onto the RED Mags. This grades easily and in Resolve I actually made a RED LOG format to fit better with the Blackmagic files and start both formats from a log starting point.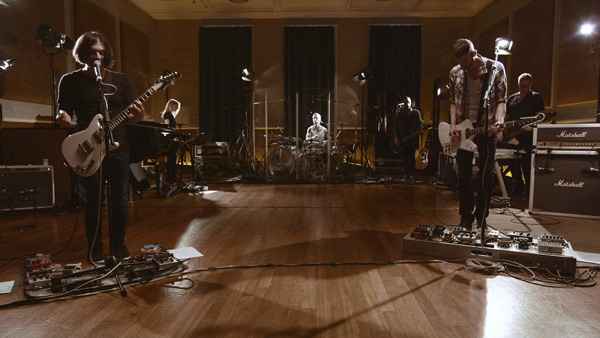 "The FS-100 and FS-700, on the other hand, both record compressed 8 bit AVCHD to SD cards. These cameras where the hardest to match up, of course, as they natively recorded into a REC 709 space and inherently looked very different to the log look from the other two cameras. I value being able to shoot RAW or flat and use any type of camera during a shoot for specific purposes, such as a RED Epic for slow motion and the Blackmagic Pocket camera for its very compact size, and then intercut them later.
"Having these options is important to me because it means I can tweak the looks up to the last minute in post. Being involved in both the filming and grading of the content has a definite advantage. You have a better understanding of what you can correct in post, or how best to shoot some things and what lighting ratios will allow you to push and pull things in the grade." www.hangmanstudios.com www.blackmagicdesign.com