Rodeo FX Uncovers 'Fantastic Beasts' and How to Build Them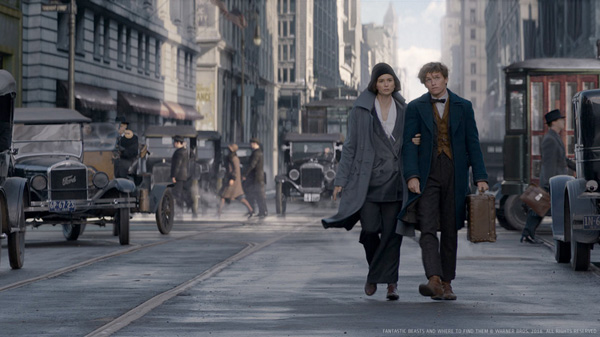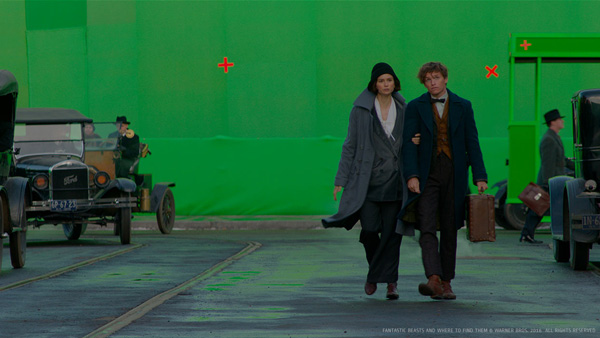 Rodeo FX worked on 126 visual effects shots for 'Fantastic Beasts and Where to Find Them'. The work included environments around New York City in the 1920s, the magical reconstruction of a destroyed room, and set extensions for MACUSA, the story's elaborate wizards' headquarters. But most important for the Rodeo FX team was creating and working on a number of the magical creatures the movie is named for.
It was an unusual chance to further develop the creature pipeline and expertise they had started the year before when they took on a series of shots of fully digital hippos and crocodiles for 'The Legend of Tarzan'.
Directed by David Yates, who directed four of the Harry Potter movies, 'Fantastic Beasts' also takes place in Harry Potter's universe, although within a new location and era. When a wizard, Newt Scamander, loses his magical suitcase full of enchanted creatures during a visit to New York, he and his friends must chase them down, try to recapture them and return them to their world through his magic case.
Out of the Jungle
"The team had done such a great job on 'Tarzan' that Warner Bros. welcomed our bid for 'Fantastic Beasts'," said Arnaud Brisebois, VFX supervisor at Rodeo FX. "Recognizing our capabilities, the studio approached us again for this film." Digital Media World had a chance to speak to Arnaud and Mikaël Damant-Sirois, CG Supervisor for the project.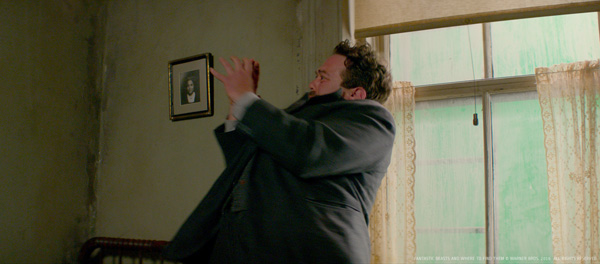 'Tarzan' had been an exciting opportunity to combine their team's technical skill with artistic ability. With a brief calling for realism at a level resembling a documentary, for that film they put time into learning about movement and locomotion, and about using deformation and custom deformers with muscles to achieve naturalistic movement. They worked on different mesh types to control these looks, skeleton-muscle effects and improving their rigging.
The rigs were tested through animation cycles based on reference footage of all kinds of movement the real-life animals would make, sometimes causing textures and shapes to be strenuously deformed while maintaining a realistic look. As well as building the skeletons and muscle rigs, their work involved skin, hair and scales for the animals. Across these features, each individual animal was varied to create contrast in texturing, shading and distinctive markings.
While the creatures in 'Fantastic Beasts' were nothing like any animal you'll see in a documentary, the production still wanted them to look real to the audience, and so 'Tarzan' proved to be good groundwork for them. They now had proprietary software and a creature development workflow in place.
A New World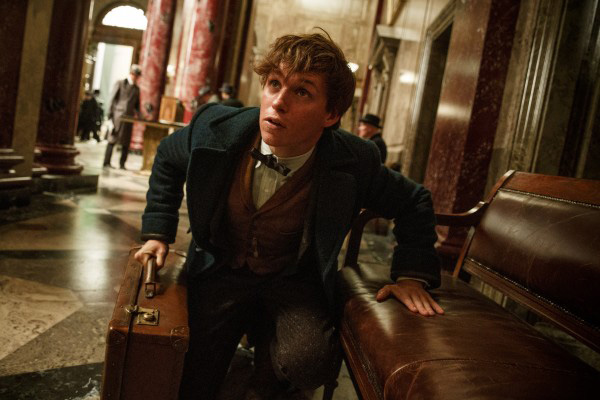 The creatures for the new film depend more on the Potterworld aesthetic and conventions, of course, and less on nature. Lots of original design was passed on from the Art Department, so that the entire production was using one master reference. However, the need to give the animals behaviours and movement achievable on screen forced some practical design changes. The Rodeo FX team only had nine months to get all 12 of the extremely diverse creatures they were assigned shot-ready, and only five or six months up to the point of shading. Therefore animation development and refinement had to continue on through to the end.
'The way we handled our creatures had to be different from the way the vendors with just one or two major characters to work on," Arnaud said. "We didn't have a long development period in pre-production that would allow a long series of iterations, for example, before getting the models and rigs much closer to completion. We also hadn't had extended visits to the sets where they would appear. Occasionally all the animals appeared in a shot simultaneously, and some only appeared once or twice, but each time was important."
The Mooncalf creature was an example of this challenge and also of the client relationship they maintained while they worked. The production really liked the endearing concept art sketches, but transferring the look intact to a rigged, screen-ready creature represented quite a development leap. Furthermore, because Newt Scamander also had a herd of Mooncalves in his suitcase that was released during his New York visit, they needed to find an animation style that could be translated into something manageable as the basis of movement for a number of creatures at once.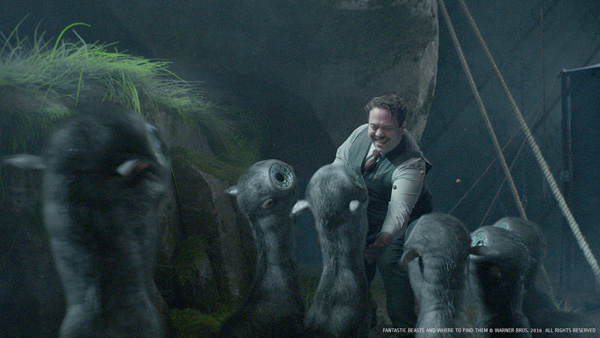 Modular Rigs
Creatures like these called for the development of other in-house tools, and further refinement of the ones they had. The team needed to be very resourceful. Streamlining their modelling and rigging processes was critical because of the number of creatures they had to build and the short timeframe. This resulted in new ways to rig creatures using modules. A modular approach allowed faster, more flexible rig builds, with riggers working from existing set-ups for different body parts and without having to re-build any new creature from scratch," said Arnaud.
On the modelling side, the practice they had gained in mesh deformation from Tarzan was useful to help them cope when changes to the animation of a shot required a different topology – again, to avoid having to go back and rebuild creatures. "We built proprietary shot finaling tools to propagate shot-based sculpts to any new animation update – using a difference based data extraction method to isolate changes between meshes," he said. "Our artists are very enthusiastic about writing proprietary code to solve problems as they work - in fact, the development team is made up of artists working among the production teams – they are close to the problems they are solving."
One new area to develop was their hair and fur systems. The Tarzan creatures were hippos and crocodiles whereas many of the new creatures in 'Fantastic Beasts' are furry, feathered or use the hair system in special ways. The manticore, for instance – a dangerous lion-bodied creature with a scorpion's stinger in its tail – is a vicious animal and so instead of giving it a shaggy mane, the artists generated hair that looks more like spines or quills.
Making Magic
Environments are the kind of work Rodeo FX have perhaps been better known for in past projects, but 'Fantastic Beasts' brought some new environmental challenges as well. After the beasts escape from Newt's suitcase, they destroy the flat of one of the main characters, Jacob, and an alleyway outside it. Newt rebuilds the scenes using magic.
For Rodeo FX, magic meant creating the reconstruction action with more interesting, deliberate effects than a straightforward reversal of a destruction simulation. Control was the key to the sequence because Newt needed to seem to be in control, and timing was also important. Production supplied the team with scans and images of a clean set, and of a wrecked environment full of debris, dust and flying rubble for reference.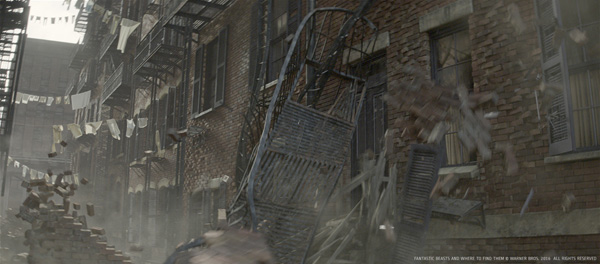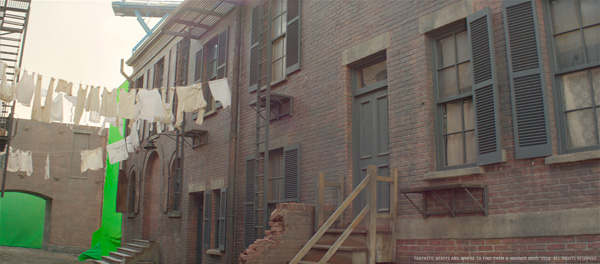 "We received only a few shots," Arnaud said. "Partly because of that, and also to keep enough control over every broken asset individually, defining its trajectory and velocity as the room is reassembled, we decided to literally re-architect the flat with authentic period construction techniques and materials – brickwork, structural wood, wall and window design, even the clock. From there, we could break it up again ourselves and animate the reconstruction in a way that precisely suited the production, and had a choice for each moment whether to use hand animation or a simulation."
New York and Beyond
Rodeo FX created set extensions of New York City street scenes, interiors and exteriors of the elegant Woolworth Building and a full digital MACUSA environment. Production supplied comprehensive, detailed scans of the sets built and locations used for all of these places so that the team could re-create full environments digitally, allowing completely invisible extensions. The scans included everything present during the shoot – people, props as well as the buildings.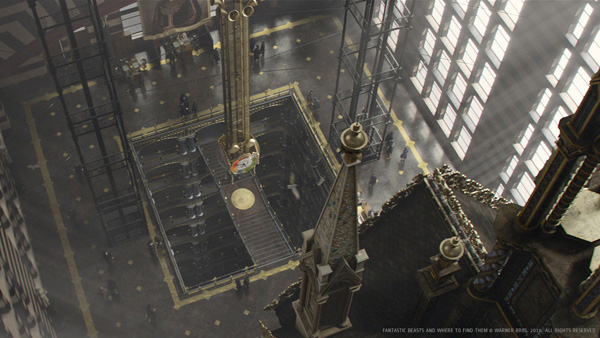 "The sets were full of authentic props that were important to the production, and we also received separate reference for many props, so these became part of the environments," said Arnaud. "As well as building sets out into the distance, we took over some camera moves to extend shots where no set existed – such as pulling UP where it hadn't been possible to take the camera or build the set."
The image here [above] looks down from high above, deep into the lower floors of the MACUSA building. The advantage for the production in each case was flexibility, affording them options in terms of establishing shots around the main sets of New York. www.rodeofx.com
Words: Adriene Hurst
Images © Warner Bros 2016