SPOV Looks Inside 'Doctor Strange'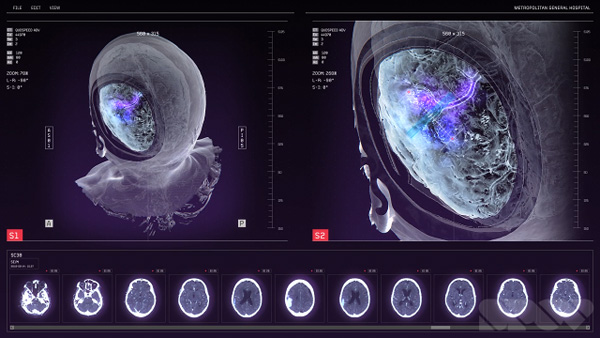 Among the many arresting looks on show in Marvel's most recent film 'Doctor Strange' was some that were surprisingly down-to-earth - a series of highly realistic, accurate but always intriguing screen graphics and visualizations of the medical procedures that feature in the story. SPOV design studio in London was approached by Art Director Alan Payne, to design and animate the screens.
Digital Media World had a chance to speak to founder and creative director Allen Leitch about the project, who explained that Alan Payne's brief called more for 'science fact' than science fiction, as SPOV's work appears in the conventional, real-world part of the story during Stephen Strange's life as a neurosurgeon in a hospital, before his adventures into magic and alternate dimensions begin.
Authentic by Design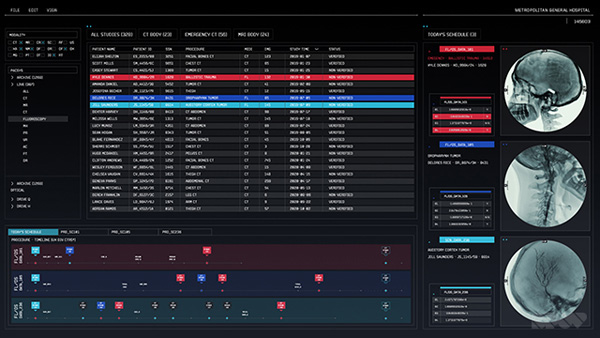 The art department also supplied them with a lot of the reference they needed for looks – ultrasound output, X-ray images and MRI scans. SPOV sourced some PACS screens as well, as samples of the standard Picture Archiving and Communication System that medical staff use to compile databases of all kinds of data.
Allen also mentioned that his team's approach to this project has a lot to do with the fact that SPOV is a design company, first and foremost. Projects typically start with pens and pencils on paper, and then shift to digital tools. He said, "The artists are designers, who learn to use whatever tools they need, with whatever techniques are required, to get the desired results. Concepts aren't divorced from their designs, but integrated into them.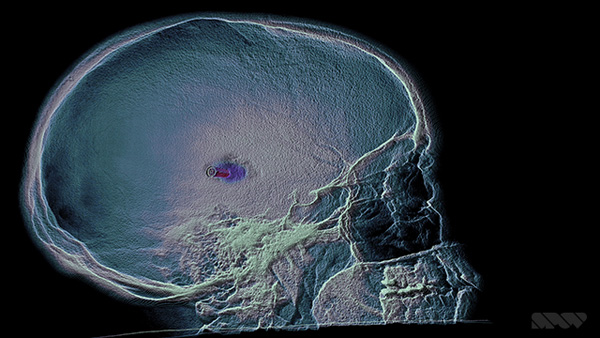 "The work, motion or otherwise, is based on engaging still images. The workflow and process of completing a project is composed not so much of digital artists carrying out specific tasks, as a team of all-rounders concerned with turning out images as full compositions. Sometimes we'll hire freelancers who do have specific 3D skills to get a project done, but overall we take a design approach." The SPOV team for this Marvel project comprised creative lead Miles Christensen, designers Paul Hunt, Julio Dean and Adam Roche, and producer Emma Middlemiss.
Achieving the authenticity required in their brief meant following through on all details in a genuine way, so that everything fit in and would satisfy the fans and geeks. The small details, colours, textures, views and bits of text aren't added gratuitously for effect, but appear as they would on real imagery for screens in a hospital. "Actually, we had a secret advantage in that our former studio manager at that time was preparing to be a nurse. She would look over our work and tell us what looked out of place or was missing – just what we needed to help sell the images," said Allen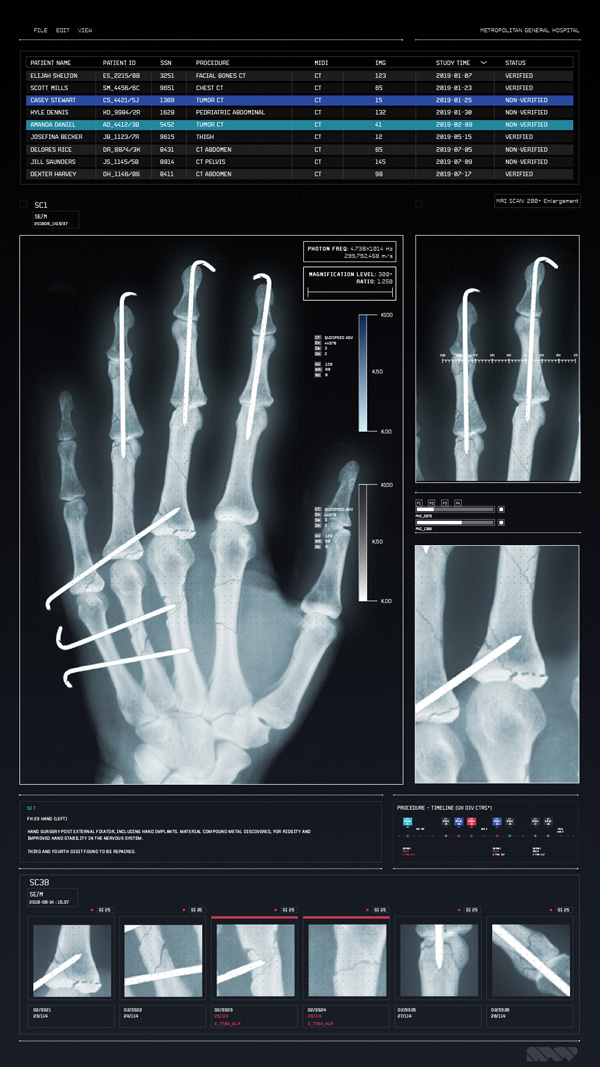 Strange Beauty
Nevertheless, instead of looking creepy or frightening, the results are strangely beautiful and pull the viewer toward the inner world of brains, bones and blood vessels. This look is no accident. SPOV's main pipeline is based on Cinema 4D used together with After Effects for compositing – tools SPOV has used for years on nearly all projects and which nearly all of their artists are very familiar with.
Allen said, "For some of the artists here, Cinema 4D plus Creative Cloud software, mainly After Effects, sometimes Photoshop, are the means to create nearly anything. Over time, some have developed skills in 3D software like Maya, or ZBrush as a dedicated sculpting tool. But on 'Doctor Strange', although we needed diverse 3D effects, textures and modelling, only Cinema 4D and After Effects were used for everything, including a huge amount of detailed sculpting on some of the assets. We also successfully pushed Cinema's Proximal Shader to create a smooth, adjustable ghosted effect.

"We could use soft, controllable Boolean operations for the ghosting of hard surfaces. In addition we could render out and animate a black-and-white map precisely determining the cut away areas. Passes were rendered and exported from Cinema 4D, and then layered up in After Effects for compositing." A nice example of how this looks in the film is in the images above and at the top of this article, showing a portion of the skull cut away to reveal the brain inside.
Live On Set
Deliverables were determined by the fact that the images were not composited into plates as elements for VFX shots. Instead, they were played back on set inside the monitoring devices and consoles used as props, and shot as part of the plate. On-set supervisor Mark Jordan from Compuhire Computer & Video Playback organised the playback. "Because we have worked with Mark's team before on similar projects, we knew how to set up the workflow to output the formats they need - a mixture of QuickTime movies, image sequences supplied as tiffs and/or gifs, and stills. Their remit is making our files function on set as required by the director - our part is making it look convincing and move in a believable manner."

Looking authentic and attractive in isolation is one thing, but Allen is especially pleased with the way the images look in the movie – not just on darkened sets where they glow against a black background but also in fully lit scenes where they integrate completely into the everyday world of the hospital. "Cinema 4D's tools don't get in the way of the creative process," he reflected. "It helps us quickly identify the most efficient route to achieve the result we're seeking – from revolutionary flying vehicles or fantastic game characters, to something as real as an X-ray or MRI scan – and to cut down on iteration time." www.spov.tv
Words: Adriene Hurst
Images: courtesy of SPOV