Territory Studio Creates at the Crossroads – Story and Design in Motion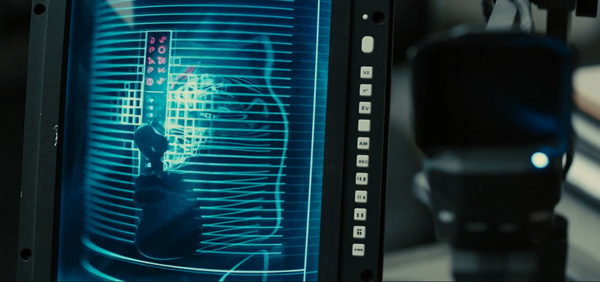 Screen graphics for 'Blade Runner 2049' trailer
Territory Studio creates motion design, visual effects and digital experiences. They are based in London with a further studio in San Francisco. Both teams are devoted to craft and story, applying a designer's eye to problem solving, and most of their artists are experienced in narrative design for film, games and brands. As well as advertising, games and branding, they have several specialities including titles design and digital experiences. Above all perhaps, they are known for creating original screen content and UI design for feature films to support film narrative and performance, delivering for on-set and post production uses.

The creative team at Territory Studio loves working at the crossroads of story, design and technology. The blend of these three interests and sets of skills is what excites founder and Executive Creative Director David Sheldon-Hicks and the artists on his team about every new project they start. By taking nothing for granted and always questioning their tools, ideas and process, the result is something new and interesting, every time. Not surprisingly, creating original work takes effort.

"Allowing time for research and exploration, finding new tools and playing with ideas is often a luxury, so we try to make it a continued part of our ethos and culture," David said. Peter Eszenyi, Creative Lead and VFX Supervisor, approaches the brief on a project in a similar spirit, with a focus on the narrative and the client's vision. "We then start with a blank slate, and try to come up with something new, something that was never done before," he said.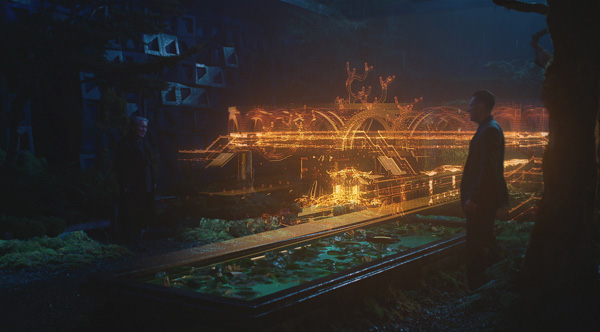 UI and holographic concepts, 'Ghost in the Shell', courtesy of Territory Studio and Paramount Pictures

"Depending on the brief, our R&D can be very practical, like looking at military UI for 'American Assassin', or incredibly experimental as for 'Blade Runner 2049', even a bit of both, as in 'Ghost In The Shell'. Then we focus on the constraints, how much time we have and what the budget looks like. The last phase is putting all these together and rolling out the idea into production in the most efficient way."

The company cultivates relationships with Adobe, MAXON, Red Giant, HitFilm and many others to continuously communicate about and keep up with new tools and ideas. "It may not actually turn into a commercial project, but David finds this interaction with people outside their field very inspiring. "Moving to photography and projection and then resampling through Cinema 4D, for example, allowed us to not only find a new technique but a new way of looking at things - a new lens to explore and hopefully offer up some new work to the director," he said.
Meeting of Two Cultures
Inherent to an R&D approach is iteration and managing versions, and trying to both harness and take advantage of these processes has become a significant exploration at Territory Studio. Peter and his team created a pipeline based on Shotgun that ties into Cinema 4D and the other creation tools they use, and makes their workflows more efficient and streamlined. But integrating Shotgun with Cinema 4D hasn't just been a case of buying a license, installing it and carrying on. It is a bespoke set-up that has represented a complete shift for the company.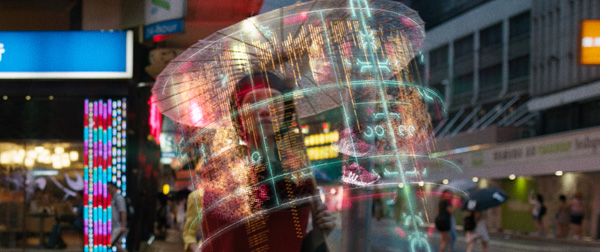 UI and holographic concepts, 'Ghost in the Shell', courtesy of Territory Studio and Paramount Pictures

David commented, "Just over 2 years ago we started to push ourselves into the meeting place of motion design and VFX. We were trying to combine classic motion design toolsets of Cinema 4D and After Effects with Nuke and Houdini. Not only was there work to do in joining up the files and tools across teams, but there was also a meeting of two different work cultures. We're still working out both!

"It's fascinating and maybe we'll never completely solve some of the challenges but it's that meeting of systems and tech that makes Territory unusual. We literally set up a team of coders and pipeline TDs to figure out how to manage all the assets, track incomings and outgoings and all the software integration across multiple platforms for a multitude of different types of pipeline and project. It's been immense! The team is not only adapting Cinema 4D to new roles, but constantly thinking about improvements and innovations."
Textured Looks
David has his insider's view of what makes Territory Studio different, but for those on the outside who see what they produce on screen, it's the looks. A major aspect of those looks are textures, thoroughly integrated with the design and purpose of each asset and always interesting and original. Peter said, "At Territory, we create our own design concepts and the search for the perfect texture takes us on some interesting journeys.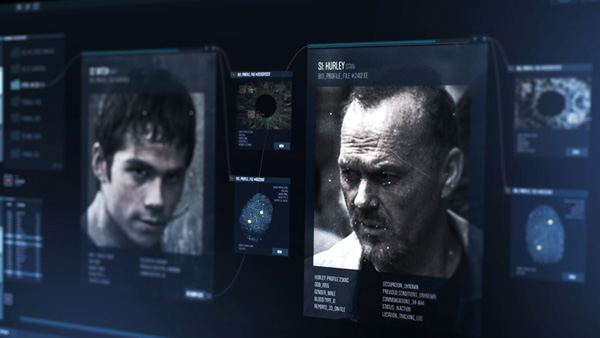 UI, 'American Assassin

"On 'Blade Runner 2049', we even took photographs or pictures of references and then painted over them in Photoshop. We use third party render engines as well as the native Cinema 4D engines to combine these textural building blocks into something that answers the brief. We like to use Sketch and Toon and combine those renders with particle passes and various shaders and textures to create a unique look."

Marti Romances, the creative director at Territory Studio in San Francisco notes that the artists can be quite creative when searching for the right textures, mixing an immense number of layers for different materials and different render engines. "While much of our process is grounded in Cinema 4D," he said, "some of them are baked textures coming from other processes achieved with other software, or mixing in real life textures. When creating an art piece for Dolby Gallery, we wanted to render gigantic rocks. One artist went to San Francisco to capture images and general photometry of rocks on Baker Beach up there, which speaks volumes about how far some artists take their craft."
Looks, Plug-ins and Renderers
Of course, a familiar source of fresh looks is plug-ins and combinations of renderers. Insydium X-Particles is a very widely used plug-in for Cinema 4D, and Territory also uses in-house custom scripts and plug-ins they have created, plus Arnold, V-Ray and Redshift render engines.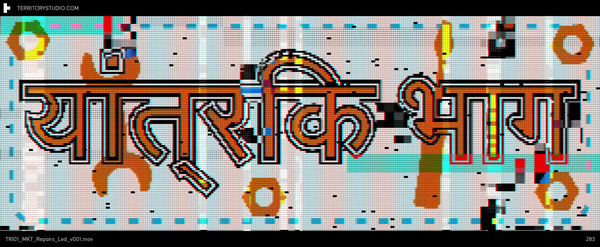 Market set screen graphics, 'Blade Runner 2049'
"The team over at X-Particles have continued to innovate and push themselves - they're kindred spirits. A lot of the work we do at Territory is trying to find ways to create a schematic look – that is, a diagrammatic representation - without defaulting to a wireframe, or structural level, every time. X-particles gives us an incredible toolset to achieve that. We are also very friendly with Red Giant, who have been great supporters over the years. A lot of their plugins help us move our visuals away from the technical and more into the organic or optical space. Taking technology and making it feel real, used and imperfect is often something film directors are looking for, and Red Giant's plug-ins are great when layered up to achieve this."

Marti mentioned other tools like Render Elements to organise render passes, or tools to switch from Illustrator to vector values inside of C4D. Other plug-ins help with tasks such as camera tracking, baking Thinking Particles set-ups or small functions like Advanced Atom Array, Magic Solo and so on.

Certainly, some engines render faster or in a more interesting fashion. Technical passes can be used creatively and when they are creating projects that aren't necessarily photo-realistic, the team tries to combine these to achieve a different look. Happy accidents happen, too - having a lot of layers to play with in After Effects means opening up aesthetic options and they want to allow for that. They may even switch renderers after they get sign-off, just to have a pipeline ready solution when farming out sequences or passes. "Most of the time when it's about producing styleframes, it's up to the artists and what they feel more comfortable with," said Marti.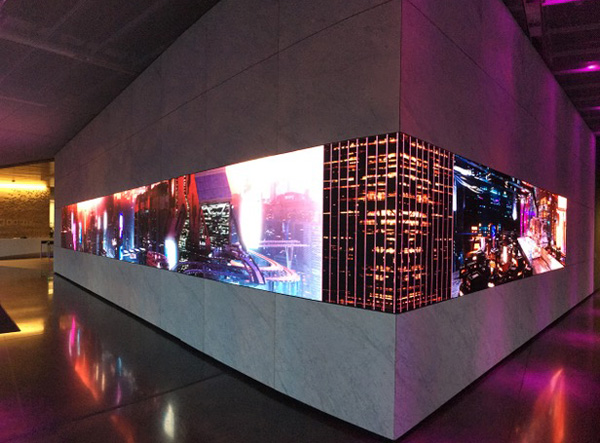 Dolby Art Series, San Francisco
Designing to Animate
The motion in Territory's graphics stands out, looking as though it comes from inside the assets instead of being laid on top. The requirements of the director and production designer/art director are always foremost in the animators' minds, while their graphics effects are there to move the story forward, and to emphasize a certain narrative necessity. "We always try to get those beats right first, and then we try to fill the visual and artistic gaps with unique animations that tie into the larger picture in terms of what story we are telling in the shot or sequence," Peter said. "These animations are something that we are really proud of – in quite a lot of cases, they feel so fused into the production design and VFX that they often go unnoticed.

David recalled the time when motion graphics started up in the UK, and possibly in the US as well, when it was an still an undefined medium, and said, "Graphic design companies were employing VFX studios to animate their work. It wasn't great! I remember seeing work that was wonderfully designed and fantastically animated, but it fell flat because essentially the two weren't working at the same time. They were animating stills, not moments in time. Designing with choreography and motion in mind is a mysterious art that takes years to perfect.

He noted that the industry often doesn't expect an animator to design, or a designer to animate. But Territory will go a long way to avoid sacrificing design for great emotional movement and, likewise, movement choreography for great graphic design and composition. Both have equal importance. "In that respect our motion designers will art direct and concept, but also see their work through to final animated delivery, although that hybrid role is being challenged by the compositing, simulation and character animation skillsets we're bringing into the studio," he said.

Cityscape installation courtesy of Territory Studio San Francisco and Dolby® Gallery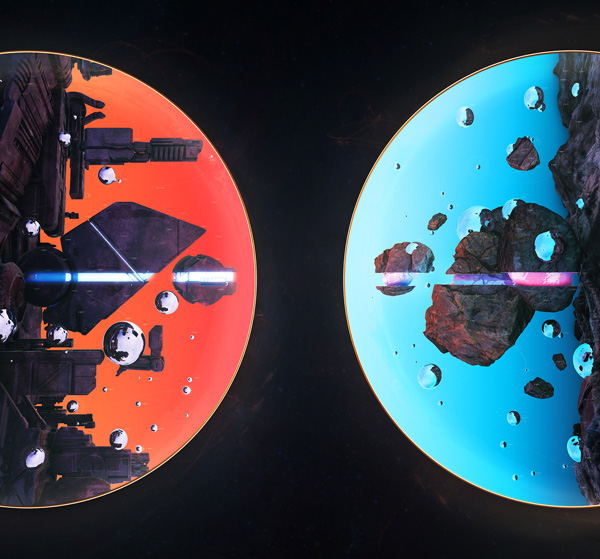 'Orchestrated Reality' by Territory Studio San Francisco for Dolby Art Series 2017
Their roots as motion graphics designers has meant that the work many of them did before working on films was purely motion graphics for brands or games - logo animations, cutscenes or explainer videos - that needed to catch the eye. The approach was always to start with the motion elements, which influences the design and style of their projects. "Once you start with motion and animation in mind and have better understanding about all the factors involved, then you get to play with all the ingredients of what could be a new way to represent a moment, visualise some data and get the audience's attention."
Blade Runner 2049
Recalling that screen content and UI design for films is a speciality at Territory, one of their more recent film projects of this type was story specific screen graphics and concepts for on-set and post that appear throughout 'Blade Runner 2049'.

Peter and colleague creative director Andrew Popplestone took their lead from the director Denis Villeneuve and Supervising Art Director Paul Inglis. When they discussed the film's themes, it was critical to understand the idea of progression, how technology should look and feel in context and how the actors would relate to it.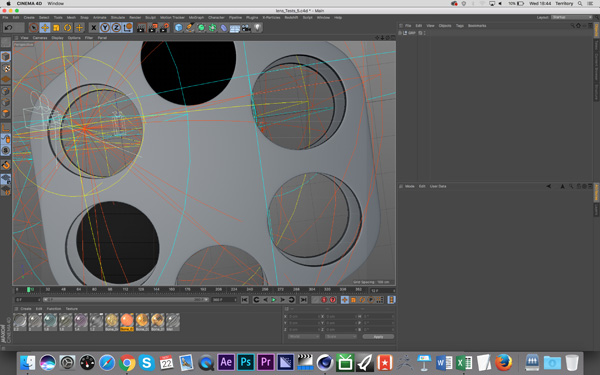 Inside the morgue, 'Blade Runner 2049'

"Villeneuve did not want the design direction of the technology in this filmto directly reference the original 1982 Blade Runner," Peter said. "Rather, his directive was to 'reinvent' computer technology and give it distinct organic, abstract, optical and physical qualities that felt like the same world 30 years later but could aptly represent the scale and impact of the 'Blackout'. In the story, this event destroyed digital capability and data files and basically made digital technology unusable – all key story elements in the film."
Video Vision
The team was responsible for over 100 original screens across 15 sets on various narrative sequences. Screen graphics elements included video, optical effects and projections, produced from concept stage to production, and their application and production was quite varied. For example, some were created so that they could be played out on the set and shot live with the actors; some were done entirely in-house, other shared with other VFX vendors working on the film.

With an open creative brief, the Territory creative team started to think about how computer graphics display technology would function and look in this new world without relying on liquid crystal displays, analogue and cathode-ray tube systems.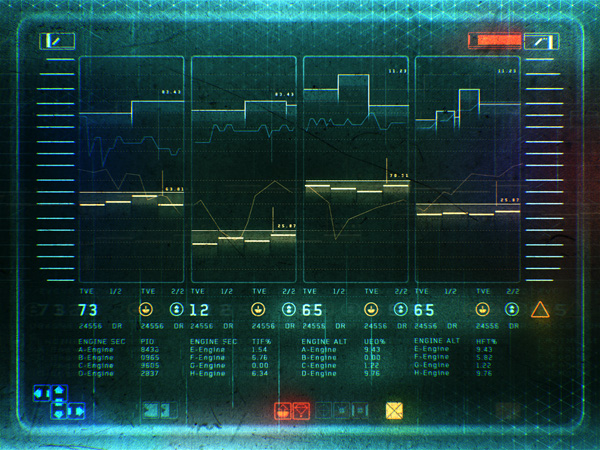 Spinner UI , 'Blade Runner 2049'

"We initially researched and experimented with alternatives to replace LED screen bioluminescence and actually avoided CG," Peter said. "This was a joyful part of the screen content creation process when we combined physical macrophotography like old-style lenses and projectors, photogrammetry and graphic techniques along with concepts from the art department to play around with texture and structure. This work led to the development of some interesting low-res organic meshes and unexpected visual references.

These elements were imported into Cinema 4D, where they explored lights, texture, materials, objects, noise and model creation. Because the production intended to avoid using green screen elements on set, they created screens to match story beats, which the actors could then use on set for information or to perform naturally against a live sequence of images.
More Textural Reference
In a scene inside a morgue, lead character Officer K is scanning bones, for which Territory created a 3D model of a female pelvic bone and used numerous shading, reflectance, materials and flexible layering options in the software to texture imagery and built a lens system with specific optical qualities that was animated to show bone tissue in increasing magnification and abstraction, in order to show a futuristic type of electron microscopy.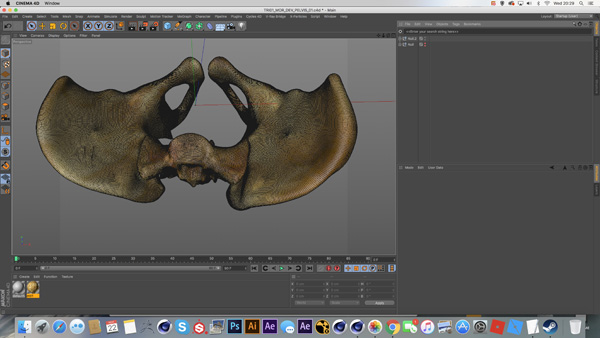 Pelvic bone, 'Blade Runner 2049'

As a replicant himself, K is subjected to a routine LAPD baseline test, an updated version of the original Voight-Kampff machine that scans the optic nerve. Voight-Kampff is a polygraph-like machine the Blade Runners use to test whether individuals are replicants or not, measuring respiration, heart rate, eye movement and so on in response to emotionally provocative questions. "In this case, the team used Cinema 4D's textural references to show not only an iris, as in the original film, but also the view through the optic nerve, suggesting neural activity in the replicant," Peter said. "We achieved the right sort of organic look by modelling grapefruit flesh.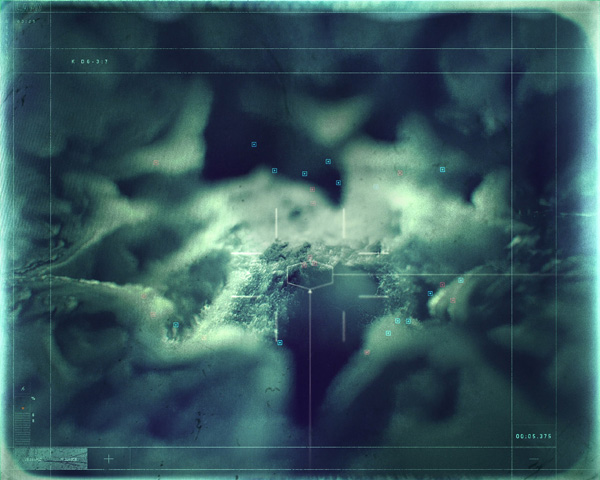 Voight-Kampff baseline test, 'Blade Runner 2049'

"After we create the models, we prepare the UV maps and then in Photoshop we start layering up various elements, some base colour, noises, grunge maps and so on. On the pelvis we needed to create specific scratches on locations agreed with the art department to help tell the story of the scalpel markers on the bone pointing to surgery that was performed on the person the bone belonged to. The other substantial part of the texturing process for this sequence was done on the lenses themselves. Again, we used various noise and grunge textures, smudge layers and similar, and mapped them onto the surfaces of the lenses we modelled. This, combined with the various optical and refractive qualities, helped to create the looks Denis wanted."
Spinner Special
Officer K's dilapidated Spinner vehicle features a set of displays for navigation that blend details of monitors used for geography, communication, scanning and surveillance. Cinema 4D and X-Particles were used to create screen burn, ghosting, glitching and colour degradation. The organic, chaotic results in the textural effects helps the audience understand that, due to his low status, K is managing with outdated equipment.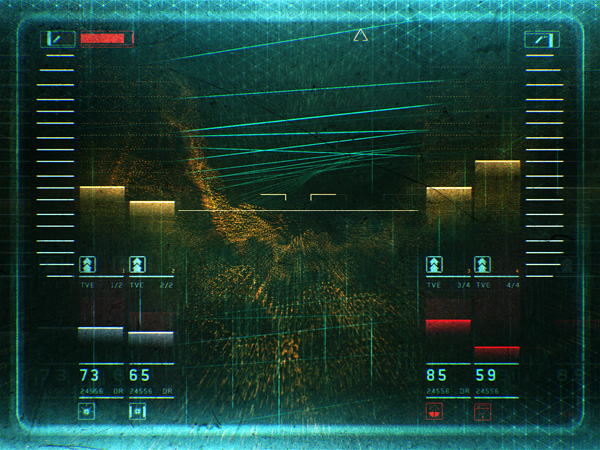 Spinner UI, 'Blade Runner 2049'
"We rendered various passes through X-Particles and offset them to create some of the ghosting effects. Other degradation was created with textures and noises. These screens were all used on set. The art department created a few different versions of K's spinner and these were all equipped with working displays and monitors on which the content was played back by the on-set playback provider," said Peter.

"We also crafted fly-through animations of the particle landscape, reduced down to their essential elements, that were roughly based on the shots or scene requirements that were put onto the screen, rendered out and processed through After Effects.

"Initially we modelled some rough versions of the various environments based on concept art and briefs by the art department. Later in the process we received models from production, so we could build better versions of the environments. We used the geometry to emit particles from, and animated a camera to match the movements of the Spinner."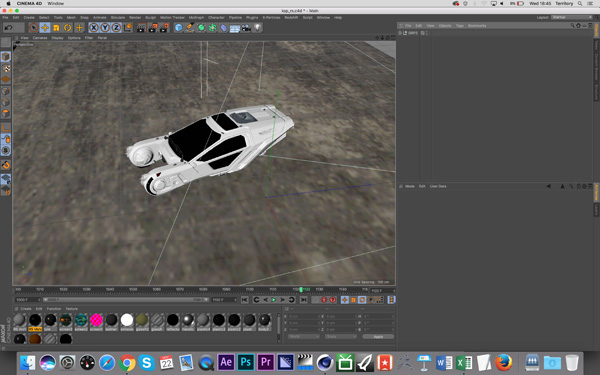 Spinner, 'Blade Runner 2049'
Again, numerous passes and AOVs were rendered, and then taken into After Effects where colour tweaks, noise layers and the grunge layers used for the Spinner screens were added. They also played with masks and transfer modes to create interesting combinations of these layers while maintaining the narrative beats the story required.
Picture Perfect
UI and screen graphics prepared to shoot on-set in-camera, and those made for post teams at other vendors to use, come with equal advantages and challenges, according to David. "On-set is exciting because we're often very close to the script and performance, tying in with storybeats and directly supporting the action, narrative and world building. But we're never entirely sure which screens will be shot and from where," he said.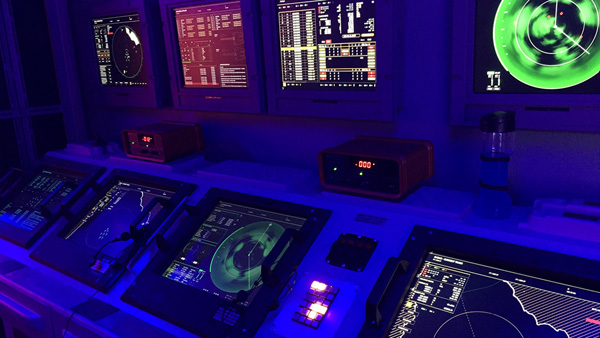 On set screen graphics, 'American Assassin'

For example, a screen they expected to appear in the background can end up being shot in full frame, and the reverse can happen just as often. So every screen has to look close-up perfect, and while that's extremely demanding, it's also rewarding when they see their work in-shot in the final edit.

In contrast, the VFX-style graphics made for post aren't constrained by real world physics and devices, and delivery enables more time on design and animation. But it can lack a real-world connection with the actor's performance. "If an actor has no real physical guide as to where to look or interact, they create movements and performances that feel right at the time. When we then see the shot in post we have to design and animate around that specific performance, which can often be quite tricky and requires close collaboration between vendors to feel integrated." territorystudio.com