Director Anatoly Ivanov explored the world of a well-known Russian Techno DJ for his first full-length documentary, titled 'Kvadrat'.
---
The DJ's Journey
French/Russian directorAnatoly Ivanovexplored the world of a well-known Russian Techno DJ for his first full-length documentary, titled'Kvadrat', completed in the middle of 2013. Before starting on the project in 2011, he had been working as a still photographer until his friends suggested he try working in video as well.
After experimenting for a time and making a 30-minute short film, Anatoly met DJ Andrey Pushkarev, a well-known DJ from DeepMix.ru who agreed to become the subject of his first documentary. The two began working together on the project in early 2011 and spent the next two and a half years on pre-production, production and post.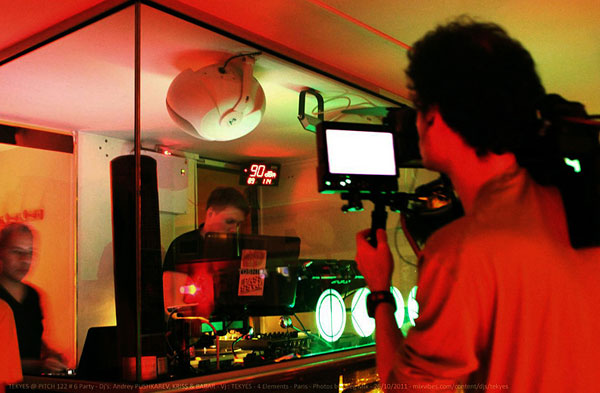 'Kvadrat' shows the realities of working life as a techno DJ, following Andrey on a typical tour through Switzerland, France, Hungary, Romania and Russia. Shot as a combined road-movie and music video, the film illustrates to the viewer not only the lively, colourful atmosphere of techno night clubs, but the lesser known, somewhat harsher side of the DJ profession - weeks of track selection, lengthy travel and a difficult schedule. The film omits typical documentary elements such as interviews, a narrative voice-over, facts and figures. The visuals and the techno music replace those elements, leaving the detailed interpretation to the viewer.
City to City
Anatoly Ivanov's job was to follow the DJ from city to city, country to country and all venues, which included boarding and shooting on multiple aircraft and inside hotel rooms and subways. From starting work on 'Kvadrat' in February 2011, he spent six months on pre-production, writing a rough script, sourcing funds, building a team of non-professionals, and assembling cinema gear – of which he had no prior experience. The 10-month production period – Andrey's tour – involved 55 days of principal photography, followed by twelve months of post-production.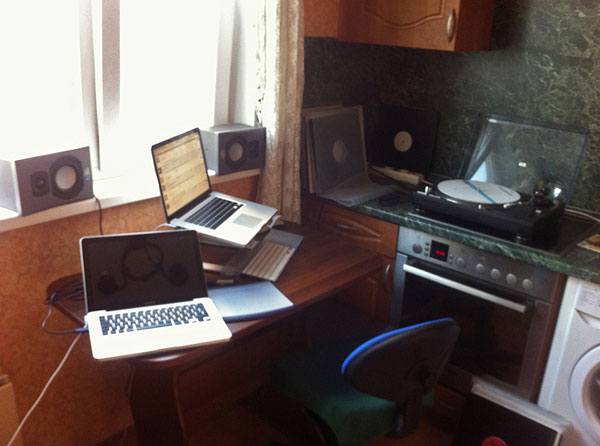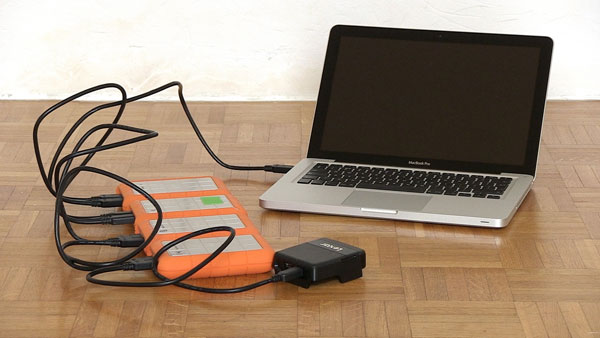 "For 'Kvadrat', I needed to be able to carry all the cinema gearonme in a backpack, and still be able to shoot super-35, 24 fps, adjustable depth of field, cinema tonal range and detail video, but at ISO 2500 – 3200," said Anatoly. "Basically, I had to shoot and carry the gear at the same time, often running from one boarding gate to another."
His gear included the Canon 1D Mark IV DSLR camera with just two lenses, the Canon EF 24-105 mm f/4 L IS and Canon EF 70-200 mm f/2,8 L IS II and a Marshall V-LCD70XP-HDMIPT 7-inch LCD Monitor. Audio was captured with the Zoom H4n and Zoom H1 recorders. All gear had to be powered from a single source. For light weight and long life, especially in places where recharging wasn't always an option, he used Anton/Bauer DIONIC HC and HCX batteries and the TWIN 60-watt two-position charger.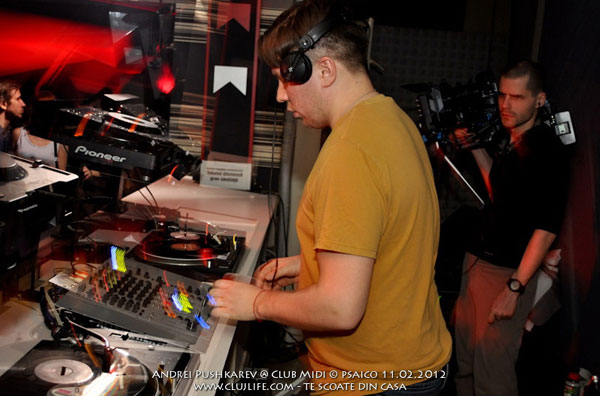 Anatoly recorded the video and audio onto Lexar Pro 32Gb cards in CF, SDHC and microSDHC varieties. The data was then transferred through a Lexar CF Firewire 800 card reader and built-in SD reader onto his 13-inch MacBook Pro. "We started shooting in August 2011 and at that time, it was the fastest, lightest machine available. While on the shoot we stored the material in three places - the MacBook Pro internal drive, and one full copy of all video and audio on each of two LaCie Rugged Triple 1 Tb 5400 rpm drives, connected through Firewire 800. I decided to daisy-chain the two discs and the card reader through Firewire 800 to avoid USB trouble. The Macs at that time had no USB 3.0."
Storage Blues and Hot Pixels
At the start, 2 terabytes of storage seemed like more than enough, but unfortunately he ran out of space after shooting for several weeks in Russia. The discs were extremely difficult to buy in that capacity in France or Switzerland and could not be found at all in Moscow. Eventually they did source extra drives, fortunately, because later on, when Anatoly tried to convert all of the Canon H.264 1080p .mov files into ProRes 422 .mov, storage space again became a challenge. In the end he shot a total of 62 hours of footage, which he and Andrey stored and carried on 10 external 1 Tb LaCie drives.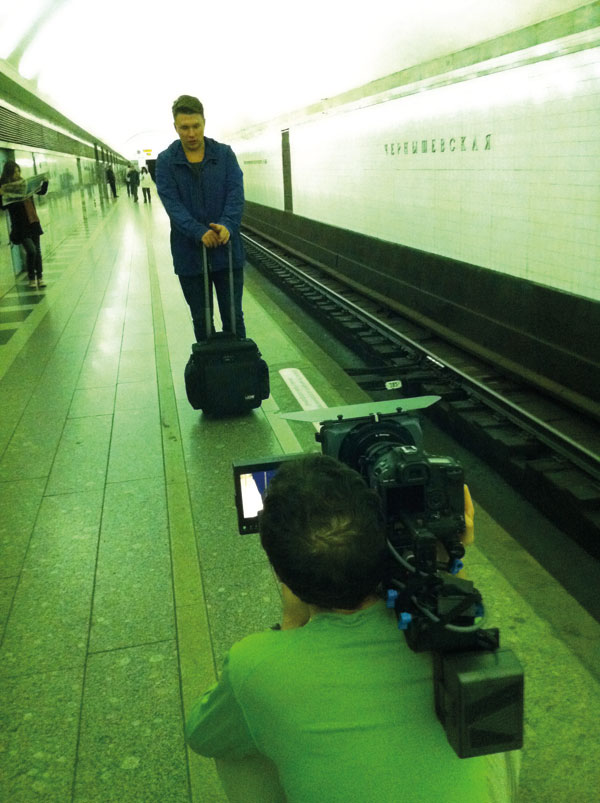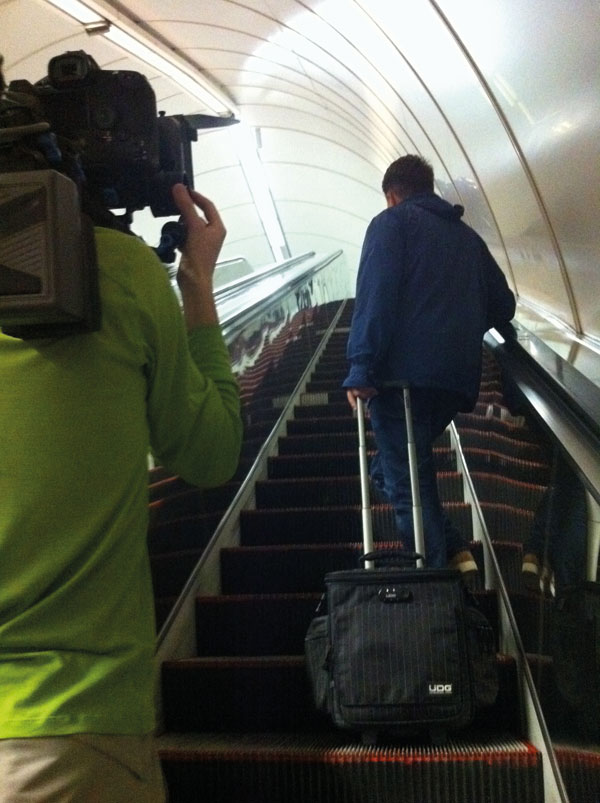 Anatoly reviewed dailies while travelling and completed all of the post production himself. He did not attempt to make a genuine first cut while still on the move. However, when they considered just how many hours Andrey spent on flights between venues an interesting gap in the footage became apparent – flight scenes. Because the airlines had been firmly opposed to any filming during the flights, he made a 19-minute 'preview-cut' to convince them of the validity of the project, which he showed to AirFrance, KLM, Alitalia, Lufthansa and others, and managed to negotiate the in-flight scenes in the film. Nevertheless, the real editing did not occur until production was behind them and Anatoly was back at his home in Geneva.
While Anatoly's 13-inch MacBook Pro was light and portable, reviewing dailies on the small screen obscured a critical problem. "I missed the appearance of a hot pixel on the Canon 1D, because I was checking visually down-sampled files to play back," he said. "It finally became so large that I spotted it on my outboard Marshall 7" monitor. The final cut of the film contained almost 23 minutes of video with hot pixels, which had to be removed by hand, frame by frame, in Photoshop. At 24 fps, this task cost me a huge amount of time and frustration."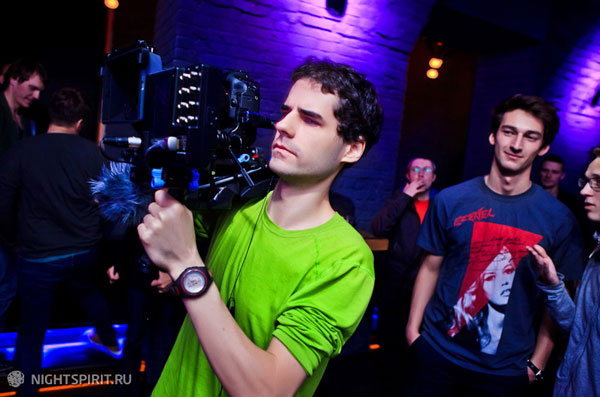 Deep Techno
The edit was completed in Final Cut Pro X. It was the sound element of the project that influenced his choice. "'Kvadrat' is extremely tied-in to music, of course - deep techno is in fact the main character. When I tried working with music tracks at around 120 beats per minute in Avid or Premiere, I found I could not shuffle them around easily enough. Final Cut Pro X's use of interconnected clips allowed me to iterate much faster, preserving what I liked and re-working what I didn't," Anatoly explained.
"I did all the editing myself - video, on-location sound, ADR, music and titles design. I was using Final Cut Pro X for video and as much sound editing as possible, and Adobe After Effects for colour work, clean-up and working on the hot pixels footage after repairs in Photoshop. I used Ableton Live for the music editing because it proved to work best for loop-based music, with Adobe Audition for spectral repair. Adobe Illustrator handled the logo and titles design.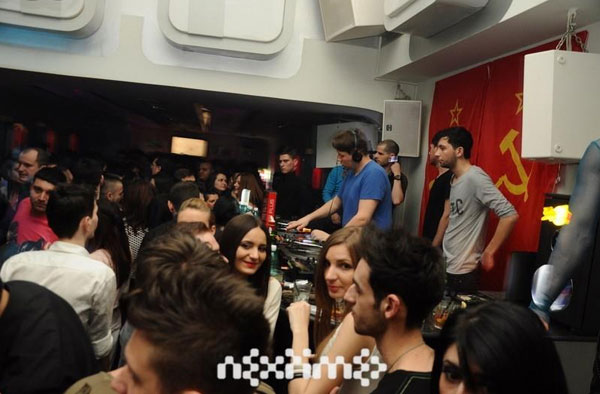 "Colour is very important to me. I've always loved colour, but I don't have a classical approach to it. That is, I don't aim for neutral greys, white whites, black blacks, S-log and so on, and don't consciously grade for looks. Instead, first of all, I choose the places where I shoot very carefully. On 'Kvadrat', out of 10 months of production, the camera was rolling only 55 days. The rest of the time was spent looking for places and convincing people to let us shoot there.
"But if you think Andrey always chose flights arriving just at sunset, checks into the perfect seat on the correct side of the plane at the optimal row number to land with a stunning view through the window - well, he does now, after working on this film. Now that I'm building a full-size production team, a location manager will be extremely important.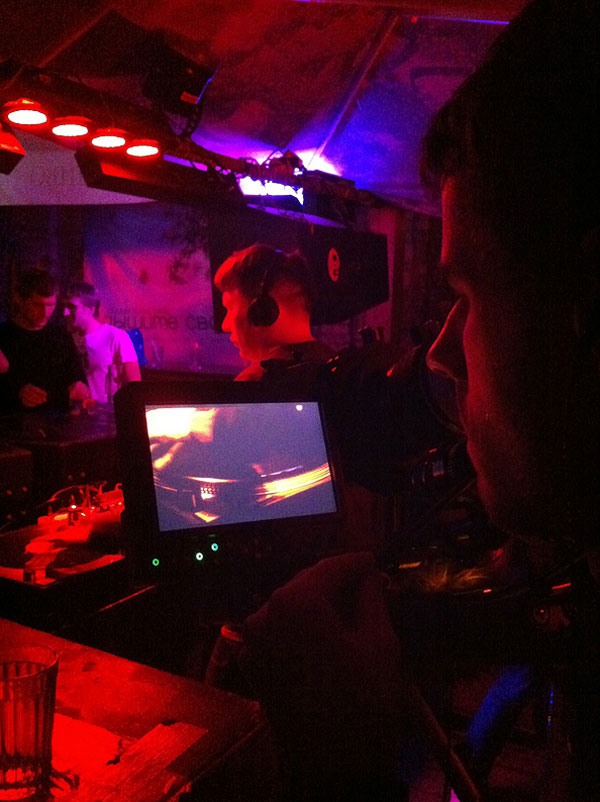 Colour Settings and Light
"I also prefer to modify the camera default colour settings, even when I shoot RAW, so that I get the needed colour already in-camera - burned-in, in the case of Canon H.264, or virtually, in the case of RAW. I also tweak the colour temperature and tint in-camera on-set, but not for neutrality. Most often I'm trying to force the camera to see the way my eyes see the colours."
Anatoly avoids using additional lighting at shooting locations. If the lighting is not quite right, he'll either wait for it to change, or simply change the location. In 'Kvadrat', some scene lighting was totally improvised. For example, in the opening scene we see overhead incandescent light coming from a kitchen mixed with neon greens, which he added by opening the door to the bathroom. In a Moscow taxi, the humid atmosphere created so much condensation that he could not shoot anything looking outside, so he placed the camera low and let the street lamps flow over the condensation, going out to 6400 ISO.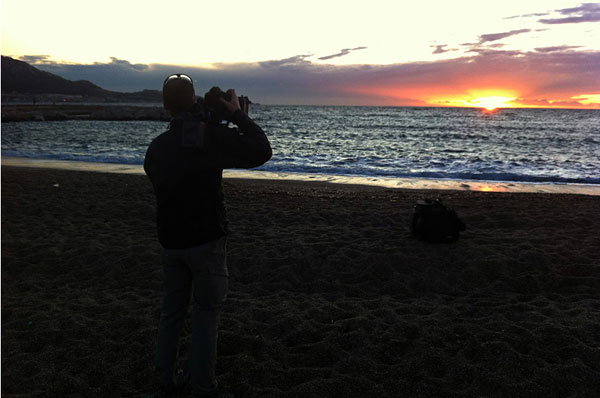 Nevertheless, in post he ensures a measured exposure and colour flow from scene to scene in After Effects, doing it at this stage because he can rotoscope precise shapes and make subtle and hopefully unnoticeable adjustments. "My preference will always be to pay attention to the sun, moon or artificial lighting already in place. For me, real textures and looks are already so full of interesting colour that I rarely need to light or grade very heavily in post," he said.
"One of the many reasons I chose to first shoot a documentary instead of a fiction feature was to be able to shoot a lot. Without any experience in shooting motion pictures, I thought it was the best way to quickly transfer my 14 years of still photography into the cinema world. Fortunately, the plan worked. I'm working on three features – two fiction and one documentary - currently location scouting, testing gear and assembling a dream team. www.anatolyivanov.com
You can watch a full-length, 720p version of 'Kvadrat'here.