Union VFX Rolls Back the Years for 'Stan & Ollie'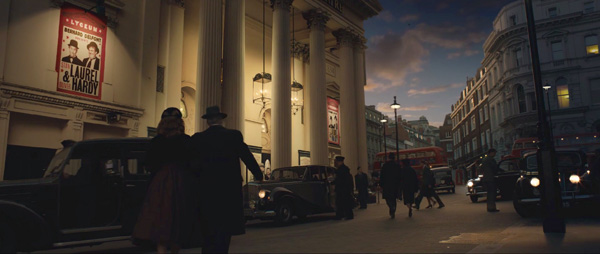 In this shot, Union VFX needed to change the lighting, sky, signage and many period details.
Laurel and Hardy was one of the world's greatest comedy teams, but at the start of the 1950s with their Hollywood glory days behind them, their future as performers seemed uncertain. The recent film 'Stan & Ollie' follows their story as they launch a music hall tour of Britain in 1953. Despite their doubts, their talent and charm shine through for their fans, and the tour becomes a hit.
Nevertheless, Stan and Ollie can't entirely turn away from Laurel and Hardy's presence and past trials. Aware that they may be approaching their swan song as Oliver's health begins to fail, they rediscover how much they mean to each other.
The visual effects team at Union VFX were engaged to help place characters and locations in the 1930s and 1950s as well as build up the crowds of enthusiastic fans as their tour gathered momentum. Union's VFX Supervisor Adam Gascoyne said, "Director Jon S Baird and Production Designer John Paul Kelly provided us with a very clear vision and we're very proud of the results. The project has deservedly received critical acclaim and it was great to be a part of this special film."
The page you are looking is not published
Union VFX has a history of impressive invisible effects work for period movies and has developed a sound methodology and library of reference photography. Union's VFX Supervisor Adam Gascoyne said, "We made sure we had lots of research and period photographic reference. Also, some time before this film, we had worked on 'Suffragette' and 'The Guernsey Literary and Potato Peel Pie Society', both of which contained shots of London in the 1940s and '50s, like 'Stan & Ollie'. John Kelly, the production designer, helped further by supplying us with great references and concept work, and we all teamed up to work on location feasibility tests."
Sense of Place
Union's central London location itself was very handy as well, allowing them to nip out to Trafalgar Square, Piccadilly and similar locations to take photos that they used to build 3D assets. Adam described the skill required to make present day, accessible locations work for stories, 'creating a view that doesn't exist' in real life.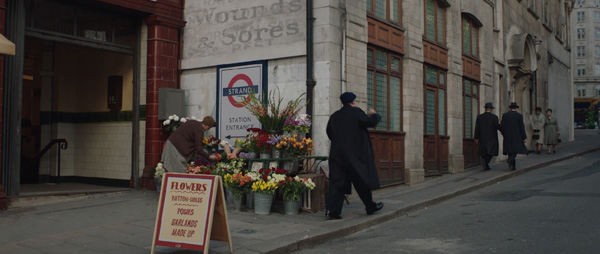 "When looking at possible locations you try and imagine the famous elements of the place you are trying to recreate and how they would fit into the locations available," he said. "It's not always possible to recreate the most famous aspect of a view such as Piccadilly Circus, so instead you try to picture it from different angles. This method helps to make the location sit 'quietly' in the back of a shot without becoming the main attraction, so the viewer subconsciously thinks they are somewhere familiar although the shoot has taken place at a completely different place."
They worked on the film from pre-production to delivery, which entailed one to two months of onset work, preparation and building of assets, plus a further two months once the project moved into post production, when they completed 50 VFX shots.
Walking the Walk
In the film's opening scene, Laurel and Hardy walk from their dressing room across the lot onto the set of 'Way Out West' at the studios of their producer Hal Roach in Hollywood, at the height of their popularity. This complex 6,800 frame sequence featured lots of movement in front of the camera and required Union's team to stitch together three very different locations to make the journey from their dressing room to the sound stage look straightforward and natural.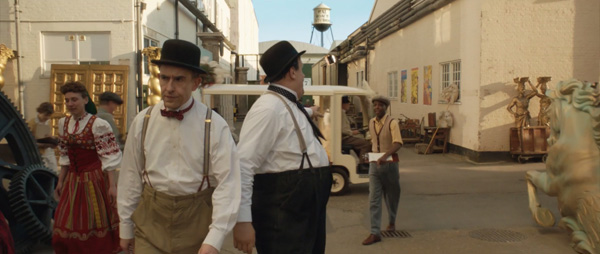 The dressing room was shot on location at Eltham Palace in Greenwich, the Hal Roach Studio lot was filmed at Pinewood after the locations department organised to have the Stormtroopers and Raptor cages removed from shot, and the sound stage was recorded at Twickenham Studios.
Union needed to do a fair amount of onset supervision for this sequence to prepare the sets for photography, especially placing tracking markers their team in post. "The tracking was used both to place the CG elements within the shots and to help seam the different locations together," Adam said. "We added elements such as the Hollywood Hills in the background, covered in typical vegetation, contemporary CG cars and building exteriors, water towers and so on to help create the illusion of being in Los Angeles. We also recreated and added a digital matte painting of the original Hal Roach Studio building, based on old photographs.
"We followed the artists walking through the three different locations while trying to repeat the camera moves as much as possible. Then we took these plates and re-built the sections where the transitions were needed, warping the plates to match as well as possible and then matching up the backgrounds so they appear to be walking in a continuous path between the transforming locations."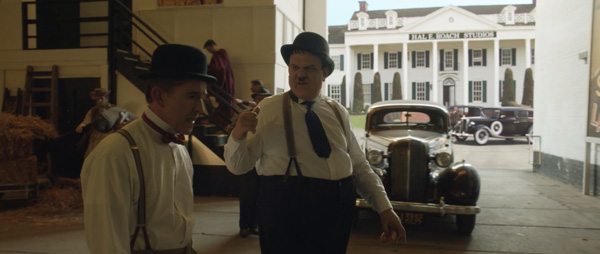 The Hal Roach Studio building in the background is Union's work.
Transition Details
When seaming together the plates, it helped to add CG sections of walls or doors to effectively 'glue' the different locations together invisibly in Nuke during compositing. Bluescreens were used wherever possible to minimise the amount of rotoscoping they had to do, and they would shoot vehicles and crowd elements in costume so that once they had extended the set, it could be populated with appropriate elements that matched the feel of the film.
Because most of the transitions happen as the two actors move from an exterior to an interior, they were usually able to use natural or set lighting. Wherever they needed to smooth out the lighting transition, they graded within Nuke using alpha channels, either rotoscoping or using luma keys of the existing light to lift or decrease the lighting.
The camera movement did pose special challenges, mainly when they tried to add elements to the shots. Adam said, "We approach this kind of situation by camera tracking the shots so that any camera movement can be replicated. We then rotoscope any elements that cross over the areas where we want to place the new elements. The complexity escalates with the number of moving objects or actions. For example, if the actors are standing still or objects remain static, it's relatively quick to cut them out, but if they are doing star jumps or something active, more time is required to get a good, close cutout."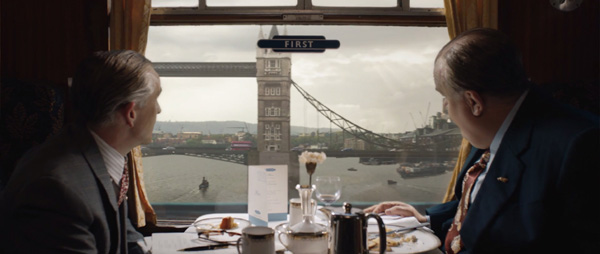 The greenscreen behind this set window was replaced with the Tower Bridge shot.
On the Road
Much of Union's work was devoted to returning Stan and Ollie's British tour locations to the 1950s. With a clear brief and accompanying concept artwork from the production designer, they used a combination of 2.5 and 3D approaches with Maya to model, Photoshop for matte painting and projecting everything in Nuke.
"Our research work, amassing period photographic reference of signs and similar elements, paid off and helped us build a set of assets based on the props used on set, which we could then use to dress the exteriors," Adam said. "We would decide whether to go with a 2.5D or 3D approach by looking at the lighting requirements and the camera movement.
"When re-lighting elements - for example, a building - it's essential for the light to hit the faces of the building in the right way. This requires some, if not all, of it to be modelled in CG, in this case Maya. If the camera is moving and revealing parallax within the architecture, this parallax effect also requires some 3D modelling. However, if we either have a good source for photography of the real building in the correct lighting, or don't have to deal with a camera move, then we would approach this shot with a 2D matte painting.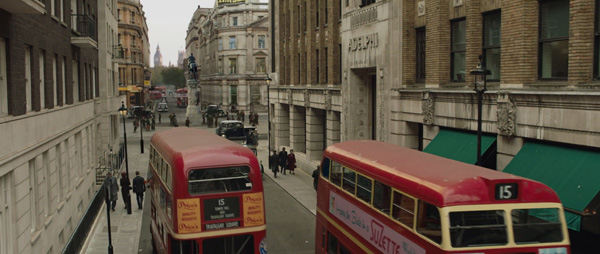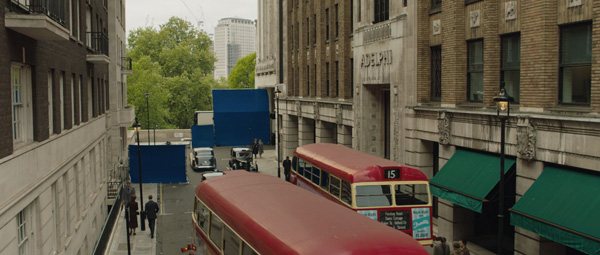 Sell-out Crowds
As their tour progressed, the pair became 'hot tickets', playing to sell-out audiences. To fill the theatre seats, Union had access to 100 extras that they filmed in different parts of The Hackney Empire - a theatre in London originally built as a music hall in 1901 - that doubled for the Lyceum Theatre in Covent Garden where the performances actually took place. The artists then tiled the audience in Nuke, along with a small group of sprites animated in Golaem.
"We chose Golaem for the sprites because it's really well set up to deal very quickly with crowd and crowd behaviours. Once you've fed in your assets it gives you good results in a short turnaround," said Adam. "We successfully used a similar tiling technique with 350 extras on location in Bristol Harbour to recreate Ollie and Stan's arrival at Cobh Harbour in Cork, Ireland. We filmed at the harbourside in Bristol as a stand-in set, and then used a matte painting to transform our plates into a believable Cobh Harbour location.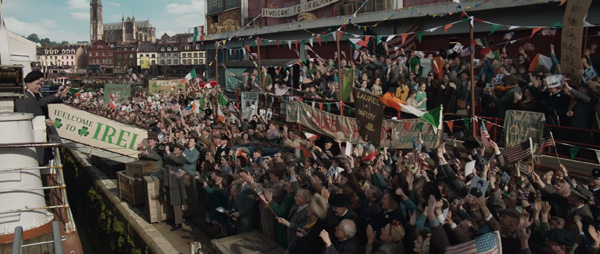 Cobh Harbour sequence
"We didn't have an exact brief for this particular scene, but I found this quote from Laurel that helped us capture the atmosphere - 'The docks were swarming with many thousands of people. It's a strange, strange thing our popularity had lasted so long. You'd think people would forget, but they don't. The love and affection we found that day at Cobh was simply unbelievable.'"
The Balmoral
Their journey to Cobh on a vintage ship involved creating CG water in Houdini to supply the wake, spray and interaction with the real boat filmed for the sequence, The Balmoral in Bristol Harbour. "The Balmoral was selected due to its period correctness and accessible location. It's also a working boat, which afforded the production a lot of flexibility," Adam said.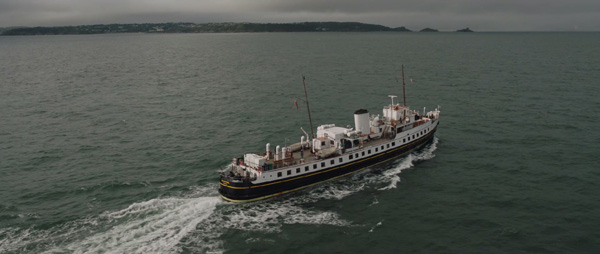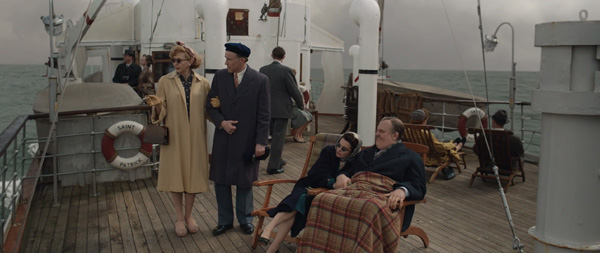 "Extra live action footage was filmed from drones, so that all together we had quite a few options to work with – shots captured on and above the boat, both at sea and moored at Bristol Harbour. That meant we were able to use this real boat in all our shots. For the shots on the open sea we only needed to add some CG water to give its movement the necessary momentum.
Way Out West
Among the many greenscreen shots the project involved, perhaps the most memorable for the team was recreating the actors' very famous, well-loved 'Way out West' dance routine. "The original version had been filmed in front of a rear projection screen and, miraculously, the production managed to track down the original film footage, providing us with two pieces of the original backdrop as reference," said Adam.
"The 'Stan & Ollie' cast were shot in front of a greenscreen, and the original footage was keyed in to replace it. In other words, we composited the original footage into a greenscreen, instead of back projecting it as per the original." www.unionvfx.com
Words: Adriene Hurst
Images © Sony Pictures Classic