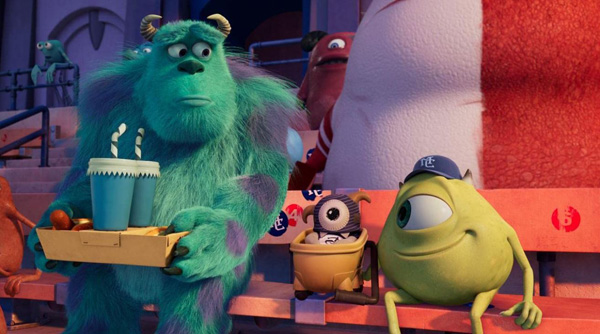 'Monsters at Work' Image Courtesy of Disney Television Animation
Animation director and story artist Stephen Anderson has worked in animation for 30 years. Steve is one of the supervising directors on the new animated series 'Monsters At Work'. Produced by Disney Television Animation, the series is inspired by the world of Disney and Pixar's Academy Award-winning movie 'Monsters, Inc.' and premiered on Disney+ in early July 2021.
Steve has previously worked with Walt Disney Animation Studios in many roles. His credits include 'Tarzan', 'Brother Bear' and 'The Emperor's New Groove', for which he earned an Annie Award nomination for storyboarding. The first feature film he directed was 'Meet the Robinsons'.
His initial directorial experience led to directing a revival of 'Winnie the Pooh', working with John Cleese. For this project, he won another Annie Award nomination in writing and directing. Some other credits include 'Bolt', 'Tangled', 'Wreck-It Ralph', 'Zootopia', 'Moana' and 'Frozen' 1 and 2, working as a story artist on all of these and even as a voice actor on a few, as well.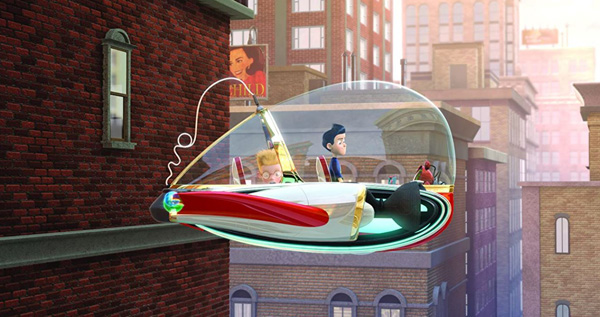 'Meet the Robinsons'
As a director, Steve aims to create films that elicit strong emotional responses in an audience, relying on the characters and how they communicate emotion to carry the story. He talked to Digital Media World about his career and particular approach to writing, developing and directing stories for animation.
From Stories to Emotions to Animation
He described the job of directing as collaborative, because working with production teams and making sure that everyone involved is telling the same story is critical. In effect, Steve steers the ship. "From the beginning, we identify exactly who the characters are and where they are headed in the story," he said. "Meanwhile, I'm always looking for new ideas. The story and characters are not set in stone early on, and as the leader I need to eliminate hesitation and fears from the animation team to make space for any of their contributions."
At first, in the early stages of his career, Steve had really wanted to be an animator. He started with cel animation and enjoyed the craft of creating animated tories in that way. But over time he also felt attracted to the development of the story arc and wanted to spend more time focussing on that side of projects.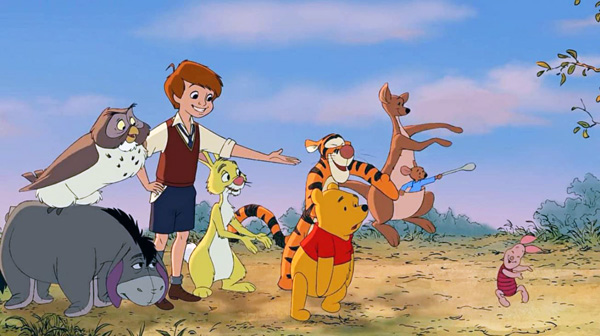 'Winnie the Pooh'
He said, "That focus led to learning how to create storyboards for animation, and working as a storyboard artist. Storyboarding is a visual language of its own and, when it's used well, is a great means of communication."
For this reason, storyboarding is a crucial step in producing animation with an emotional heart. "Emotion depends less on a story's words than on the characters' physical performances. Animators need to show and communicate emotion visually, and part of communicating is developing consistency within each character. Consistency lets the audience become familiar with how that character expresses different emotions," said Steve.
Physical Expression
"There's also a physical side to an animator's work that ultimately comes through in his or her characters. Animators are typically performers – by acting out their characters' scenes, they find where the physical tensions occur in the performances and deliver those into the animation."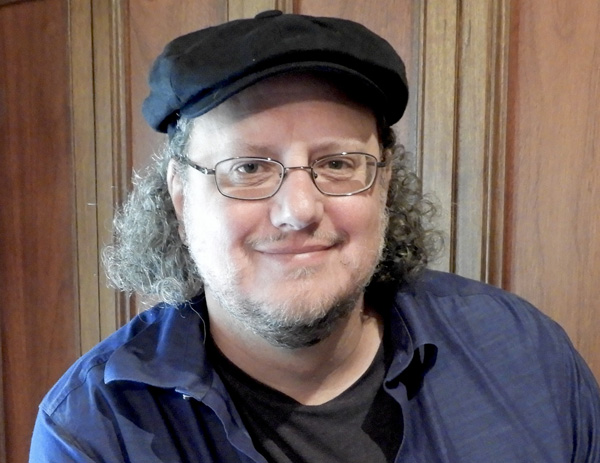 Stephen Anderson
After so much experience across diverse productions, Steve has gained an understanding of what makes a particular story a good choice for animation. He recommends first considering the fact that animation gives a filmmaker a lot of freedom to express ideas and concepts visually, through expressive characters and the animation style adopted for the production. Stories that benefit from this type of treatment make better animation candidates.
Also, go straight to your target. "Put your idea in front of different kinds of people as soon as possible – especially kids, who tend to give you their honest opinion more readily than older people," he said.
The Bigger Story
Steve has learned that, in terms of story development, key differences exist between making animated TV series and making feature films, mainly to do with time. A feature film story has basically the entire production time to develop, longer to iterate, and therefore your film has time to evolve. For a TV episode on a short production cycle, you'll typically have less time to iterate and, therefore, the idea that you start with will most likely turn into the story that is produced.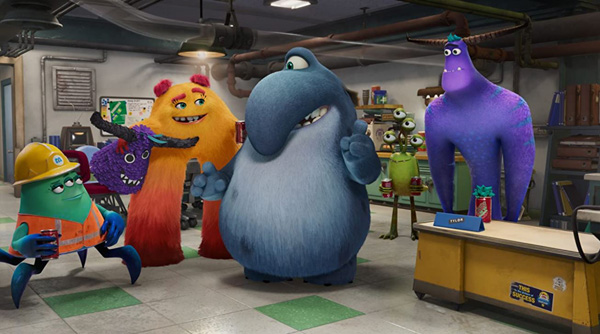 'Monsters at Work' Image Courtesy of Disney Television Animation
Nevertheless, a TV series does give a production the time and opportunity to continue evolving a larger, overarching story that holds all the episodes together – a 'world problem'. "This was one reason we chose to move the 'Monsters at Work' world into a series, instead of another film," said Steve. "Over the course of the show, we could explore our wider idea of Scare Power vs Laugh Power – a world problem. Meanwhile, for each episode we were also developing emotional, character-based, inner stories alongside that bigger idea, as well as introducing some new characters.
"Although in TV you'll see less of a difference between where you start and what you end up with, evolution happens during any and every second you have on your production. Whatever time you have, you make it better. In fact, for some movies, where you begin is COMPLETELY different. I don't recall the details but I've heard that the Pixar movie 'Up' started out totally different from what hit cinemas. The first iteration had an old man with balloons, but that was about it."
New Friends
Steve and the production team have been working on 'Monsters at Work' over the last three years. While the audience has come back to see their friends from the Scare Floor, they are meeting new friends and seeing new environments as well. "We had a lot of freedom when creating the new cast members and I ended up with two favourites. Fritz, the MIFT (Monsters Incorporated Facilities Team) manager and Duncan, the four-eyed guy," he said.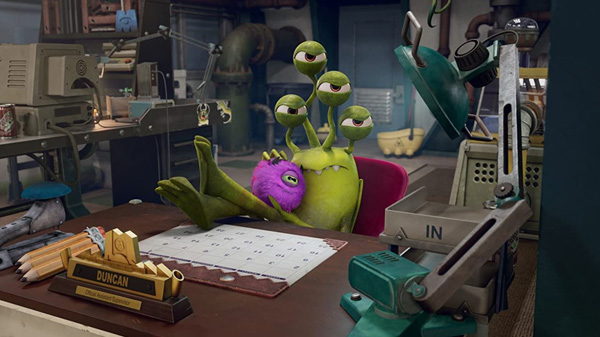 'Monsters at Work' Image Courtesy of Disney Television Animation
"I tend to gravitate toward characters in a cast that are empathetic and that's how I felt about Fritz. Also, I like characters that have obsessions. Fritz is a lover of Drooler Cooler (the Monsters equivalent of Coke) and all of its ephemera. I suppose Duncan falls into that category, too, obsessed with becoming middle management. What I also like about Duncan is that he has a softer side that we see come out in later episodes. He may be a jerk but he's not a villain."
The technological changes occurring since Steve's early days of using cel animation have changed the physical experience for animators, but comparing the different toolsets isn't a matter of saying one is better than the other. "Even though the tools have changed, the fundamentals of storytelling and performance have not," he said. "Regardless of whether one's technique is analogue or digital, one still must know how to use animation to communicate. I wouldn't say that the new tools are better than the old tools at reaching an audience through a story. They are just different, less tactile perhaps."
Diving In
Steve's work has continued to include learning and expanding his production experience. On his first feature film, 'Meet the Robinsons', he had a chance to work with the composer of the music for the project, Danny Elfman. He said, "Working with composers is really exciting and gives you yet another tool to tell your story. Music makes such a huge impact on an audience, and working with Danny had an unexpected impact on my work as well.
'Monsters at Work' Image Courtesy of Disney Television Animation
"Part of my journey as a director – and this is just my personal goal – is to become simpler in how I give direction. I started out trying to talk with Danny about every little detail that we could put into the score but instead, he wisely said, 'Why don't we decide where you want music and then I'll write something and you can react to it?' That approach was perfectly right.
"He taught me the value of just diving in, trying something and then iterating from there, rather than talking at great length about something that doesn't exist yet, talking in hypotheticals. So I've tried to adopt that into my process in all phases of development and production. Therefore with our composer Dominic Lewis on 'Monsters at Work,' I just worked at being simple and clear with direction up front, giving us all room to play and discover."