Cinematographer Shane Hurlbut, ASC, talks about cameras and what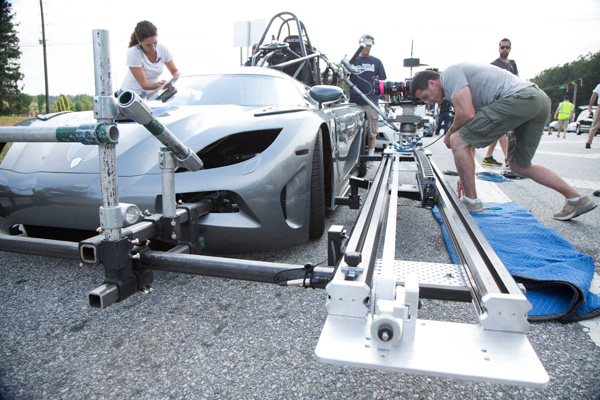 he has been learning from his experiences shooting and lighting for
feature films, working both on film and digitally.
---
Shane Hurlbut ASC Captures Movie Action, Light and Looks
Cinematographer Shane Hurlbut, ASC, visited Sydney in August to give a presentation for Canon on using Canon DSLRs and theEOS C500on recent feature film projects. He took time to talk to Digital Media World about cameras and what he has learned from his experiences shooting and lighting for feature films, working both on film and digitally.
Creative Risk
Shane started his career working as a gaffer for cinemtographers and photographers including Joseph Yacoe, Daniel Pearl, ASC, Kevin Kerslake and Herb Ritts, all of whom influenced his use of lighting and encouraged him to become 'a creative risk taker'. His first projects as cinematographer came in 1995 with music videos for The Rolling Stones, Nirvana and Smashing Pumpkins, followed by commercial work.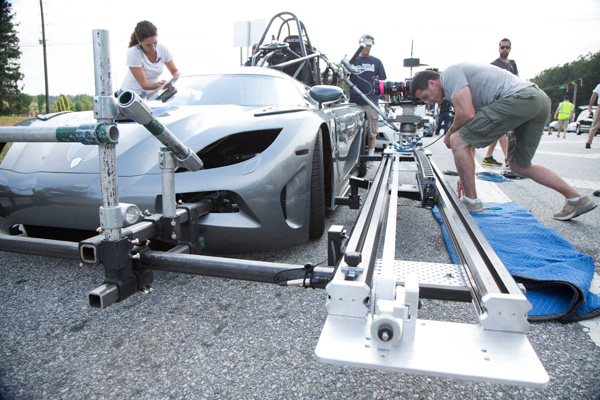 His first feature film was 'The Rat Pack' in 1998, earning him recognition from the American Society of Cinematographers. He shot 17 more movies over the next 10 years including 'Terminator: Salvation', 'We Are Marshall', 'The Greatest Game Ever Played' and 'Drumline', all on film. However, working with director Scott Waugh on 'Act of Valor', released in 2012, lead to unconventional use of Canon DSLR cameras to capture some of the film's most intense action sequences in challenging locations and conditions.
The director pushed the crew to capture as much of such scenes as possible in-camera, wanting his cameras, in effect, to experience as well as record the real story themselves. Shane saw the Canon 5D, 7D and 1D, all used on the project, as the cameras to help them do this. In the edit, this footage was combined with footage shot on film. 'Act of Valor' was followed by 'Deadfall', another project shot both on film and digitally, again on DSLRs.
Hybrid Approach
When he and Scott Waugh worked together again on 'Need for Speed', released earlier in 2014, he shot the movie entirely digitally on the Canon C500 and the ALEXA. His latest project 'Fathers & Daughters', now in post, was recorded on the C500 and RED Epic.
Shane considers that a hybrid approach and process to shooting projects means he can always choose the combination that gives the director exactly what he is looking for. "I enjoy blending many sensors with a seamless feel that gets very close to the look of 35mm motion picture film stock," he said. "As director of 'Need for Speed', Scott Waugh knew we needed a camera system that could be small, nimble and easily configured to deliver maximum impact.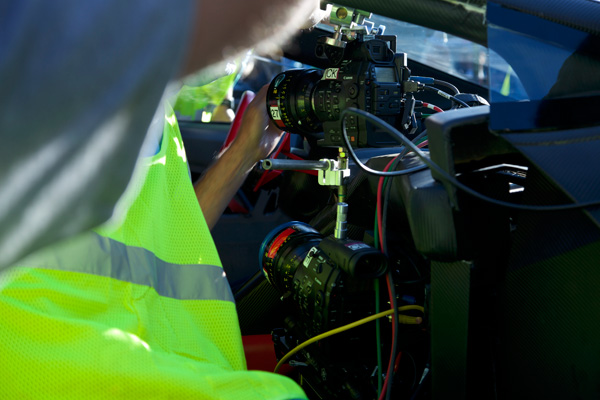 "The Canon C500 became that camera, through extensive tests that we did with multiple sensors. The C500 was chosen because it had the look and feel of what Scotty wanted for that movie. He wanted it to feel real, alive and contemporary. We learned so much by testing that many digital formats."

Shane owns a Canon 5D MK III, MK II and a 7D, along with a series of Canon zooms and primes, and uses these as his scouting camera package. He said, "Owning cameras in this day and age is a dicey proposition. Every few months, a new camera system is released - it is exhausting to keep up with. I have always rented because I want to stay at the edge of the latest developments and not be held back by an investment that I feel compelled to pay off. I always allow the storyline of the project, and a discussion with every director, determine the camera choice."
Out in the Light
Becoming a DP after his early work as a gaffer, Shane emphasises that understanding light values is critical for cinematography. "The only way to train is with a light meter. It is essential on film production, but has gone by the wayside with digital because what you see is what you get. I rely on field monitors much more now in this digital age. I still light by eye, as I did with film, then go in just to check myself with the light meter.
"The right monitor and the correct false colour readings for exposure are now essential tools. I prefer a small, low impact format so that I am not off in a big black tent somewhere. My lighting monitors are on the set, with the director viewing them simultaneously, so that we are in complete sync when discussing the look and feel of the film."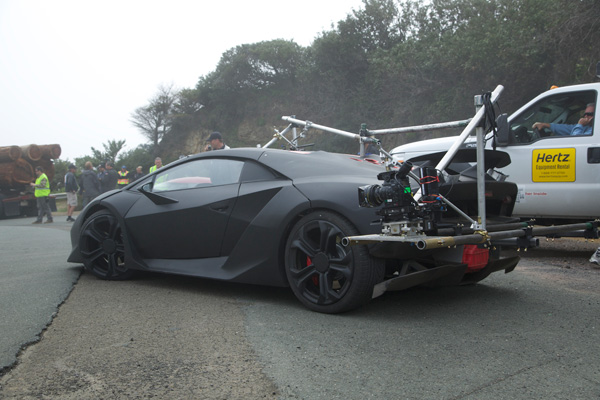 Pre-shoot tests for 'Need for Speed' and 'Fathers & Daughters' included lenses, starting with Panavision Primo Primes that Shane said have "always been my go-to lenses. I have shot eight features on the Primo's, six pictures on Cooke's S4s and four movies with the Zeiss Ultra Primes from the 1960s."
He explained, "We chose the Cookes on 'Need for Speed' because of the budget – and it was a good decision. I have always liked the Cooke look. I also learned so much about the Cookes from the 'Fathers & Daughters' lens test. I think they are one of the most perfect lens choices available. However, they need to add more blades to combat the digital sensor stop sign patterns in the bokeh. We also found that the Canon Cinema Zooms cut very well with the Cookes."
More Cameras, More Lenses
They shot with so many different lenses for 'Need for Speed' because of all the different camera formats they were using, which was daunting. Their kit included 15 Canon C500s, four ARRI Alexa Plus, 11 Canon 1DCs and 20 Go Pro Hero 3 cameras. The subsequent lens choices included Canon Cinema and Lightweight Zooms, an Angenieux Optimo Zoom, three sets of Cooke S4 primes, Zeiss ZEs, Leica Rs and R21s, Canon L series lenses and the GoPro Hero 3 Fisheye.
Shane explained the motivation behind equipment choices like these. "I always ask a director about their vision and any preferences for the mood, tone and style of camera and lighting emotion," he said. "Once I have these references and the big idea, I am off and running. For example, Scotty wanted 'Need For Speed' to feel real, because the majority of the stunts deliberately avoided using CGI.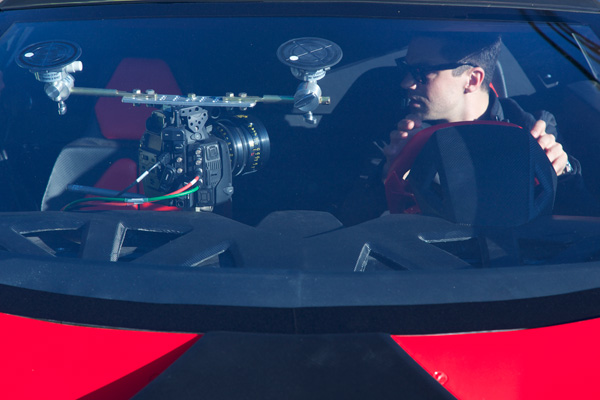 "We selected the C500 because Scotty felt it was the most realistic looking image. He wanted the camera to feel alive, visceral and immersive. That meant turning to many small form factor sensors to get these unique angles and embed the viewer at 180mph. He wanted the look to feel contemporary and current. We chose the Cooke S4's to deliver that beautiful reality look.
Mother Nature
"On 'Need for Speed', I knew we had an impossible schedule so my lighting had to be very simple and was restricted by where we could place lights. I tried to set myself up for success by using the power of the digital sensor to bring out car interiors. To achieve this, I had to swap out all of the tinted glass in the super cars to hand made clear glass. This enabled us to use what Mother Nature provided for the key light in the car and ramped up our speed exponentially.
"Also, shooting with 28 cameras at one time made this an even trickier process, so my team and I embraced it by attempting to shoot at the right place at the right time. However, that was thrown to the curb with Atlanta weather. We could not count on anything the weatherman said! On 'Father and Daughters', on the other hand, I really had the ability to light. The director, Gabriele Muccino, was very inspiring. He wanted this film to have a very unique look with the character's specific camera emotion driving the story.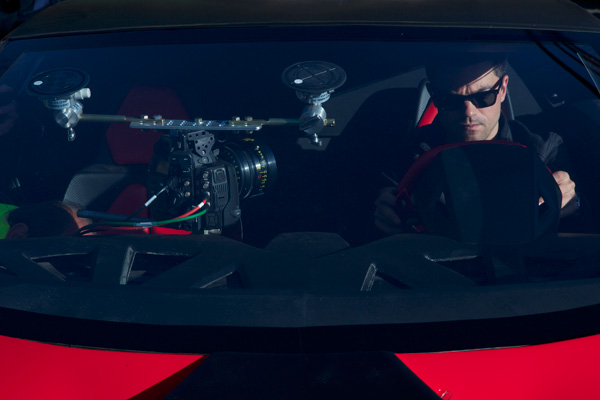 Invisible Camera
"He wanted the camera to feel invisible and for the emotions of our extremely talented actors to be the focus, and this meant lighting for three cameras at all times. While I had shot with two cameras many times and was very confident about making it look and feel as though we were shooting with a single camera, I had only shot with three on a couple of occasions. That was on 'Deadfall', 'Act of Valor' and 'Need for Speed'. This really challenged me to think of light and camera blocking in a way that felt real and unrehearsed. Simultaneously, it was tailored to deliver the 3-camera coverage for the emotions and felt like I was shooting with just one.
"On 'Need for Speed', I really got to experience the Alexa cross-cut side-by-side with the C500. During colour correction, it became apparent when we came to an Alexa shot because more time was necessary to adjust the image. With the C500, it fell in exactly where we wanted it to with minimal tweaks.
"What I learned from this is that the Alexa's S Log file is so flat that it can miss subtle colours, where the Canon Log file took subtle colours that the Alexa didn't see and energized them. That energy with colours is very similar to 35mm film. You can choose to give those subtle colours energy or not, but you have the option. Going on set with the new digital sensors gives me a new level of fearlessness. I had it when I shot film, but now I have even more confidence to jump off the cliff on a daily basis." www.hurlbutvisuals.com