Richard Anderson's experience as a concept artist spans games, feature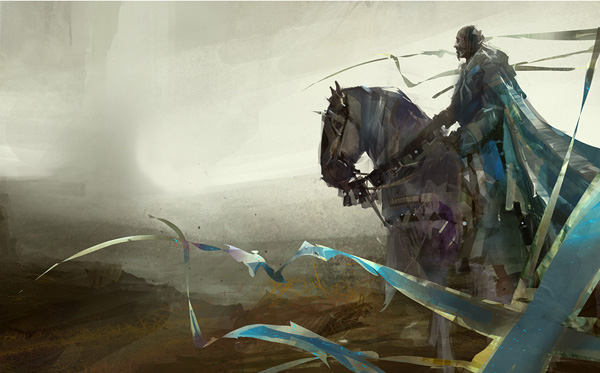 film pre-production and visual effects. Here, he talks about building his
career within this competitive industry.
---
Concept Artist Richard Anderson Brings Studios' Visions to the Screen
Industry Workshops' first 3-day event for visual effects artists was held in London 29-31 August, presenting technical and artistic aspects of concept art and illustration through insights from artists including Levente Peterffy, Richard Anderson, Nadia Mogilev and others. Industry Workshops events are intended as a venue where VXF artists can share different approaches. This first event organised workshops and lectures on traditional sketching, concept art, digital matte painting and life drawing, and included portfolio review and recruitment by MPC.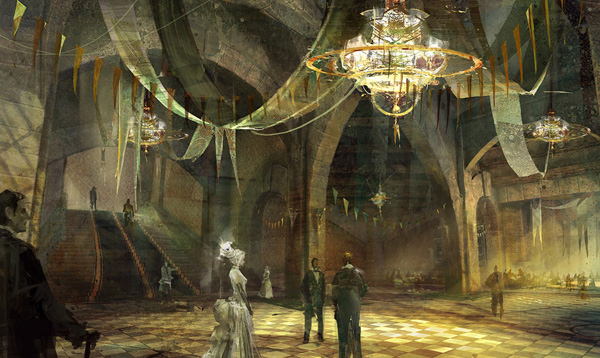 Digital Media World had a chance to speak with concept artistRichard Anderson, currently working atRocksteady Studios. Richard has also worked atArenaNetgames studio and on several feature films including 'Prometheus', 'World War Z', 'Edge of Tomorrow' and 'Guardians of The Galaxy'. He talked about developing his career and making his way in the competitive world of concept art. He also shared a few tips and techniques along the way.
Training Up, Branching Out
Richard's arts training began in 2000 at the Art Institute of Seattle, a two year art school. Unsure what to concentrate on as a career, he was at first encouraged to study animation but soon realized he should focus on his drawing as a professional skill. After his studies he found work in Seattle in 2003 as a 3D artist at ArenaNet, the game developers responsible for the'Guild Wars'franchise. Still only 21, this position made an excellent start to Richard's career in the very competitive concept art industry. He stayed with the company for eight and a half years, focussing first on their video game and general artwork before moving into the Concept Art Department.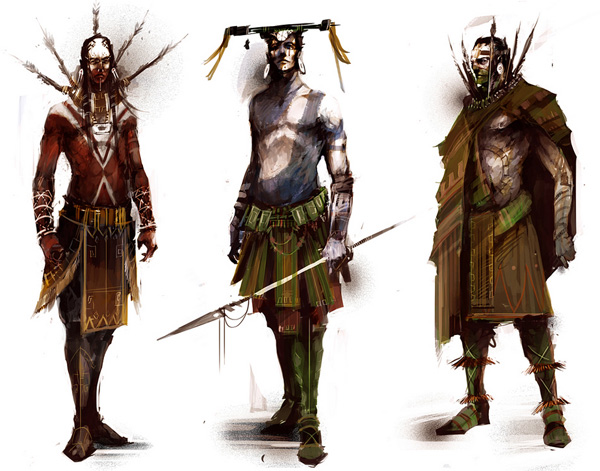 Meanwhile he continuously worked to improve his skills, entering work in online competitions and compilations likeSpectrum Fantastic ArtandExposédigital art annual. He also produced book cover illustrations on the side for Tor Publishing.
Eventually he was approached byMPC, who were looking for a concept artist for feature films, and was offered a job. His decision to seize this opportunity meant a career move from the world of video games to film productions and visual effects teams, as well as moving from Seattle to London. He stayed at MPC until the end of 2011 and then took a job atFramestorethrough to October 2013 when he returned to the games industry at Rocksteady Studios, where he works now.
Inside Visual Effects
Richard explained that when he starts working on a film, he will normally be supplied with a copy of the script. Initially briefed by the client on what they are interested in and attracted to as visual highlights, he reads through it, looking out for those features. Once the look of the movie starts taking shape, the production may use early concept work to show executives and producers how the movie they are investing in is going to look.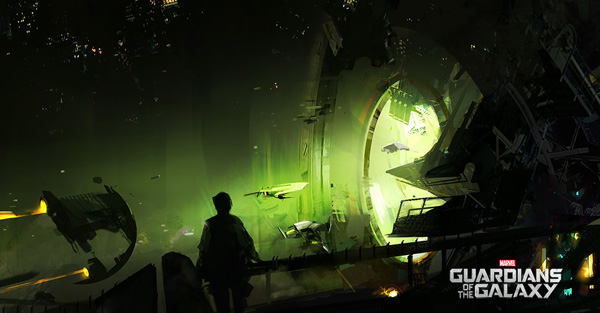 Sometimes, a certain composition, place or set becomes a visual motif of a film, and the Production Designer will want Richard to develop its look and be able to return to it repeatedly at different moments in a sequence or throughout the film.
Working at MPC involved learning what VFX teams need from concept work. Richard said, "Unlike movie pre-production, it's more about working out and visualising effects the production hasn't completely developed yet. The artwork tends to be based on shot footage, working directly on top of the frames, as screen shots. It is usually created in a manner similar to a matte painting, finished to a photoreal standard, and really helps everyone on the production see how that shot will work."
Flexible Images
At the same time, it's important to make all aspects of these shots completely adjustable. Working in Photoshop without a specific colour space, he focusses on the parts of the plates that the client wants to replace. He may also receive some of the unfinished models from the modelling team to include, using flat lighting and a lot of adjustment layers as he works, aware that he has to be able to make changes to any aspect of his work, very quickly. On one day, a supervisor may change the tint to a cool blue, and on the next day change the time of day to afternoon, which needs more yellow.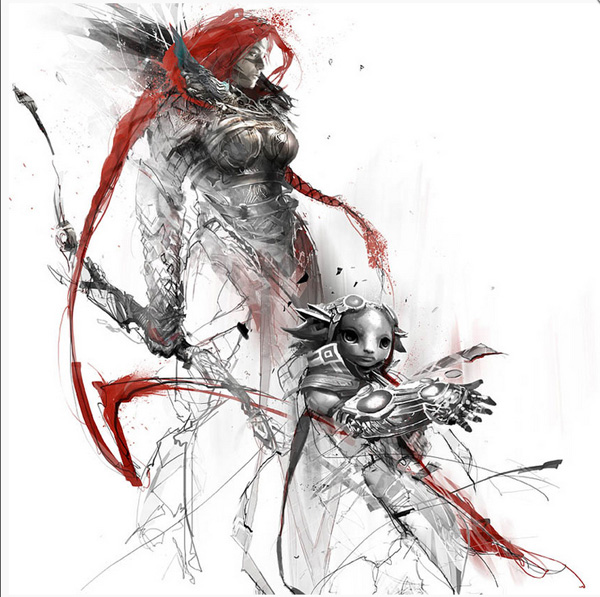 "The teams working on major films can be huge with a lot of different managers. A single image will pass between many teams generating lots of feedback, so this kind of development goes much more smoothly if your artwork is left open-ended," said Richard. "It's important to learn how to click right into what people on the production are telling you – and remember it. At first I wasn't used to taking notes because when you work with Art Directors in an Art Department, you can get started with a more general idea and go from there. But once I started at companies like MPC and Framestore, getting precise notes was essential, setting out the details with bullet points to help hang on to the critical ideas about their vision."
Problem-Solving Art
Richard noted that a lot of 'concept art' is not the beautiful drawings and paintings we see posted on websites and in collections. Much of it is straight-up problem solving or production sketches. "The client does want to see something attractive and inspiring but at certain stages also just needs your work to be functional and quick – after all, they are paying for your services. You can't always be trying to turn every drawing into a creative piece of self expression, and sometimes need to be a little thick-skinned," he said.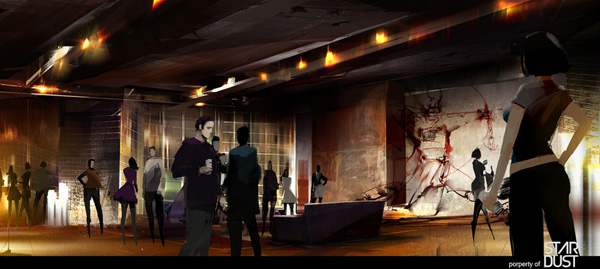 "For example, On'Prometheus'I was making a lot of practical, technical drawings to help build out specific visual effects, whereas on'Thor: The Dark World', I needed to create a long series of more general drawings and paintings to help them decide initially on the overall look of the movie.
"People skills are a critical component of a working as a concept artist. You have to detach yourself from your work in some ways in order to be professional enough to illustrate someone else's vision. Yes, you need to make your work look cool and interesting, but without completely owning it. Your clients may forget just how skilled and creative you can be – but in fact you are there to make their project and their ideas look better than they imagined."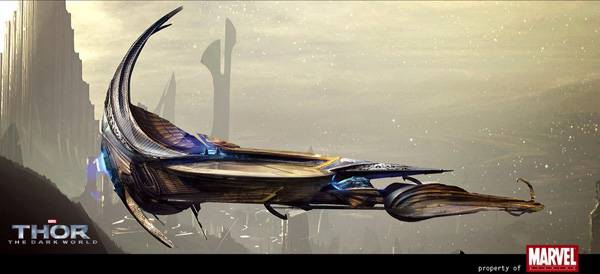 Tools and Teams
Because he uses a Cintiq tablet, on most projects he can usually move straight into Photoshop without making hardcopy sketches on paper. In fact, if he is working on a mainly 3D CG visual effects project, he can often work directly in a 3D package like SketchUp, Maya, 3ds Max or modo. "If an artist can produce 3D concept art, it gives the team a head start and eliminates guesswork. SketchUp is pretty easy to learn and personally, I really like using 3ds Max. It was the first 3D modelling software I learned and is probably the fastest modeling package. But I still keep a sketch pad on my desk - between the keyboard and my Wacom tablet - to help break down designs for small objects and props. It can be handy although starting on paper slows down the process."
From the vantage point of his experience, Richard can contrast working as a concept artist on games and on feature films. "Games projects usually involve smaller teams and more opportunities for creativity within the team," he said. "It's also more personable with everyone focussed together on making the product as good as they can. I don't need to spell everything out so completely for a games team, which gives the modellers some freedom as well.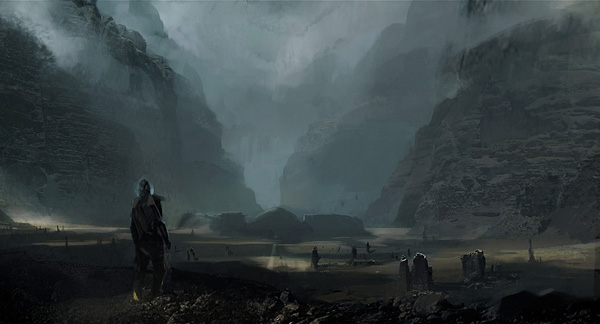 "By comparison, the film environment is more like a huge system, and consequently I feel a little less like a team member and a little more like a temporary freelancer. You encounter a lot of people who want to leave their own mark on the concept art, and this is a major reason why film productions like to see a photoreal finish on the concepts – it prevents arguments. When a photorealistic concept is passed to a VFX team, everyone sees exactly what is expected, and not expected, to appear in the results. Any alterations will be visible.
Finding Your Style
One other type of work that Richard especially likes iscommercials, because they give an artist a chance to use his or her own style. In fact, agencies often look for concept artists with a distinctive style. "When they are thinking about concepts, they are still at the pitching stage, which is highly competitive. They need their ideas to stand out from the other agencies' pitches. So in this way, developing and maintaining a special style definitely works as an advantage along your career path," he said.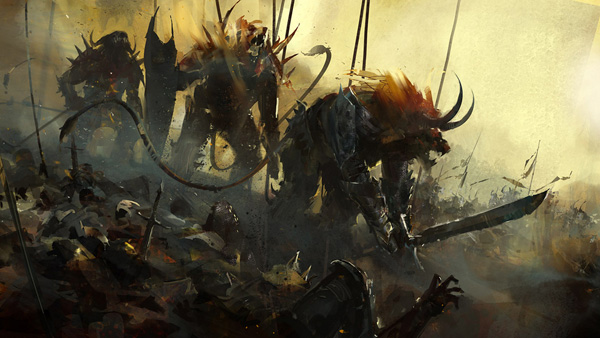 Richard feels thatcourses and trainingare valuable and that they should be used as a jumping off point – while teachers can't teach you exactly how to draw for this or any other kind of work, they can certainly help you learn how to teach yourself. "Drawing skills are at the heart of everything you will do digitally in your concept work and you do have to keep working at it, talent notwithstanding," he said. "Courses that I found especially useful were life drawing and storyboarding. 2D animation was also good training because it involves a lot of drawing and depends on good storytelling."
www.flaptrapsart.com
Words: Adriene Hurst
Images: Courtesy of Richard Anderson