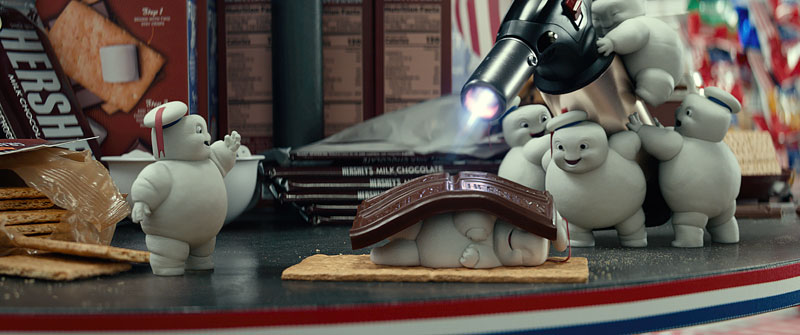 Ghostbusters: Afterlife assures fans that the legacy of the original team is now held in the capable hands of a new generation of Ghostbusters. As this new story begins, a single mother and her two children arrive in a small town, down on their luck and slightly worse for wear. However, as various supernatural events unfold, their sleepy Midwestern town starts to look a lot more interesting and the family soon discovers their ghostly connections to the original Ghostbusters.
A team of VFX artists, production crew and software developers from MPC Film, divided between Montreal and London, collaborated to work on some of the movie's most challenging VFX and animation. They were led by VFX Supervisor Pier Lefebvre, DFX Supervisor Sebastien Raets and VFX Producer Sarah Moussaif, working with the production's overall VFX Supervisor Alessandro Ongaro.
One of their main challenges was to bring the character of Dr Egon Spengler, who had been played by the late Harold Ramis in the original films, back to the big screen. They also brought a small army of Mini Stay-Puft marshmallows to life in a Walmart supermarket and contributed to the body and effects for a resurrected version of the violent, destructive ghost, Gozer.
Digital Media World talked to Pier Lefebvre about the project.
Into the Character Lab
To start their work on Egon Spengler, MPC Film's Character Lab began by building a library of reference material from the 1984 and 1989 Ghostbusters films, and were given access to digital scans of earlier footage that had never been used before. By studying the footage, the artists were able to select key angles and facial expressions, and began to create an accurate likeness.
The next stage was to explore the aging process to reflect concept art supplied by the filmmakers. The Character Lab team was supplied with scans and photography of the stand-in actor performing on set with the cast. Texture artists supplemented this with its own library of skin maps and photography of a life model of a similar age.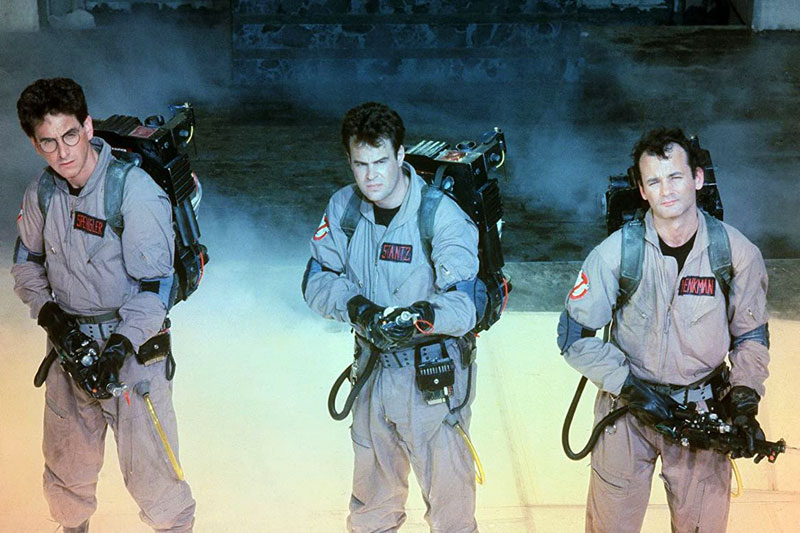 Harold Ramis (left) as Egon Spengler with the team in 'Ghostbusters' (1984).
Pier talked through the development of this approach. "Initially, going through the process of creating the young Egon first gave us a solid base before we began the aging process. It was something we could revert back to in case we started to steer away from the original character of Egon everyone remembers. Since the goal was to make an aged version of Egon as an homage to Mr Ramis, we needed make sure that the 1984 version of him was good enough to convince the filmmakers that it was possible, and offer them assurance early on in the process."
Once they were confident that their digital Egon matched the 1980s character, the team inserted him into shots from the original Ghostbusters movie. Then they organised a very successful screening for the filmmakers to see if they could distinguish between shots that came straight from the movie, and those that contained the digital Egon.
Scruffy, Imperfect and Very Human
The production's concept art depicted an older version of Egon with scruffy hair and imperfect skin to highlight the time he had spent on the farm. The artists used that mockup and processed it with their young CG Egon to guide the aging.
"The references from the stand-in and the texture artists' library – comprised of high resolution images of skin pores, wrinkles and oiliness – were very useful when building the asset," Pier said. "A huge amount of detail is needed when you build realistic digital humans. We used some imagery of Harold Ramis later in life as well to show what his natural flow of wrinkles and skin texture were like. But even looking at photos of him at a younger age helped as you can see where strong features would appear. A person's expression lines usually stay the same and then, with time, gravitational folds and dry wrinkles starts to appear."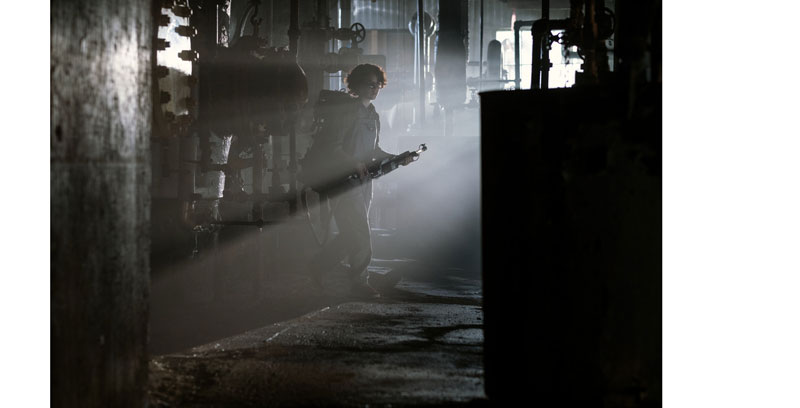 Phoebe, a new generation of ghostbusters.
With all of this data, the Character Lab were then ready to develop the features, with photorealistic hair and skin. Using subtle, expressive facial modelling and rigging, the team were able to give MPC's animators the tools they needed to create a convincing and emotional performance.
He said, "Since we didn't have an actual set of FACS (Facial Action Coding System) actions from Harold Ramis, we had to do lots of line ups based on photography from all of his movies. MPC's artists spent hours watching the first two movies and matching Egon's expressions. Our Animation Supervisor worked with the Asset team and gave feedback on the range of the controls and perfecting blendshapes.
Egon's Eyes
Particular attention was given to the look development of the eyes. MPC has done very extensive work on eye development over the last few years. "It's crucial," Pier said. "From our work on Rachel for 'Blade Runner 2049', we took it a step further by exploring different technique for eye wetness and especially the rendering of caustics that give the eyes their natural look.
"The hardest thing about eyes, and also glasses, is that we experience those phenomena every day, just by having eye contact with people. This is the most common way of communicating for humans and definitely the one that is the most scrutinised. Therefore, it was also key to our shots that the audience could read Egon's emotions through his eyes."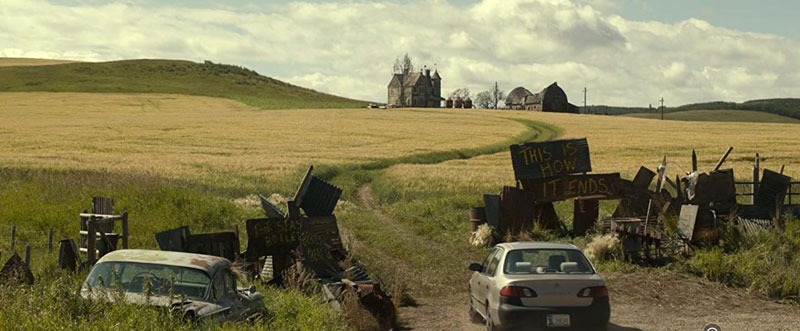 Micro Details
Pier said that, essentially, the team uses a traditional 3D tool package for this type of facial work. But he noted, "Every facility has their own set of proprietary tools for rigging, groom, skin dynamic and so on, and I think that projects like this one are what pushes the envelope for the next generation of CG humans.
"It was a huge honour to be entrusted with bringing Egon back to the screen for Ghostbusters Afterlife, and we were especially humbled and overjoyed by the positive response from Harold's family. Pushing the boundaries of rendering accuracy and the physics of skin and muscles are attracting massive attention in our industry right now. We continue to explore how to introduce more micro details into the skin and follicle, even though the point of diminishing return is another reality we now face in VFX."
At first, the CGI Egon was integrated into the shots without giving him the softly glowing, ghostly look he has in the movie. Instead, from day one, Production VFX Supervisor Alessandro Ongaro's focus was on ensuring that the asset and overall effect looked subtle and tasteful – a wise choice in Pier's opinion since it didn't distract them from the performance but allowed them to connect directly with the character and feel his presence. Some extra passes based on refraction and particles were then used for the final look.
Sweetly Dangerous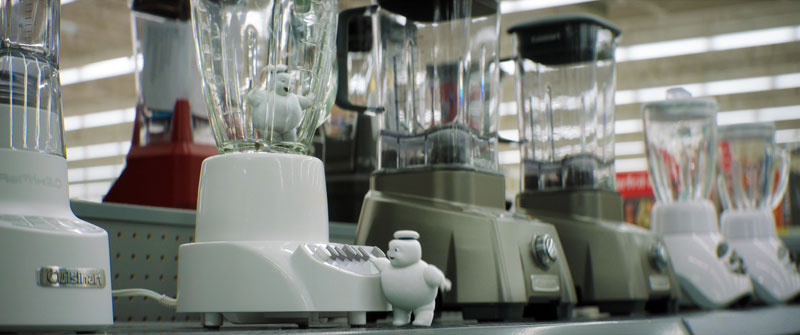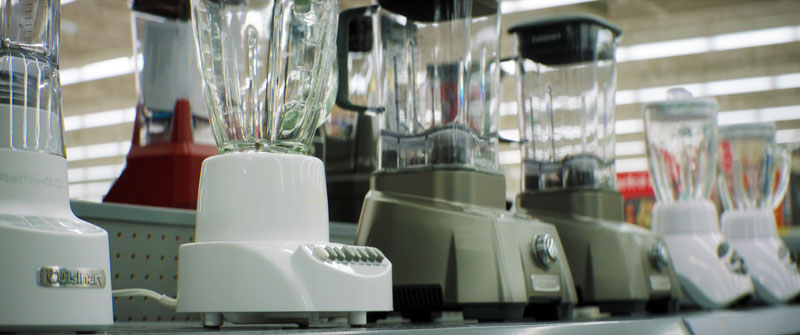 MPC Film created the visual effects for several other scenes in the movie, including a sequence in which mischievous Mini Stay-Puft marshmallows cause havoc in Walmart. The Stay-Puft Marshmallow Man has been a feature of the Ghostbuster movies since the beginning of the franchise, most memorably in a super-sized, menacing version that towers over city streets. This new mini variety brought some unexpected and funny challenges to MPC's team.
Animation Supervisor Christophe Paradis said, "Animating the Mini Stay-Puft scene was one of the moments when you remember why we want to be animators in the first place. Everyone's ideas were on the table to choreograph the perfect combination of gruesome, evil, infantile, savage, clumsy, unhinged and funny, all while creating an identifiable twist of unique personality to each of them." Some inspiration and reference for the scene also came from another 1984 movie, 'Gremlins'.
An initial brief came from Director Jason Reitman and Alessandro about the key actions they wanted to see. Some ideas came from storyboards, others from brainstorming sessions, and some from sitting in with the animation team who devised rough animation blocking to pitch ideas of their own.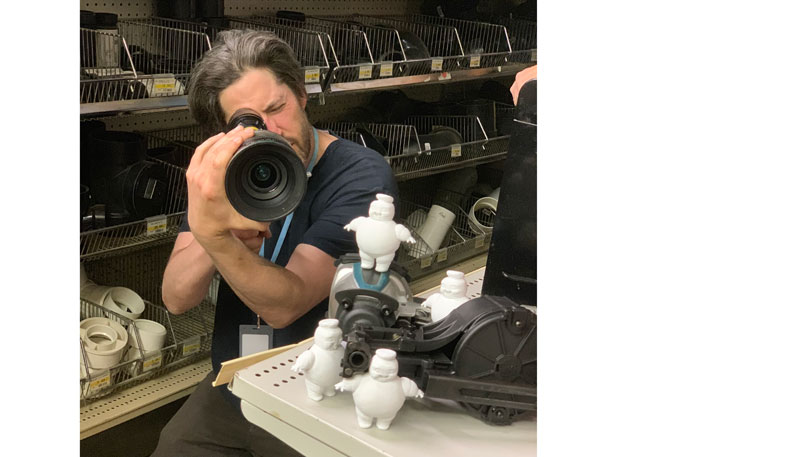 Director Jason Reitman stages some practical Stay-Puft models, framing the action through a director's viewfinder and driving the camera moves. This approach was used for most of the marshmallow shots.
Pier said, "Primary ideas like the s'mores [chocolate and roasted marshmallow sandwiches] were straightforward, but lots of secondary Stay-Puft actions had to be designed, and trial-and-error undertaken to find the correct range as well. Then we ran through a series of fast iterations to let Jason choose the ideas he liked best."
Marshmallows in Motion
MPC received the character assets from DNEG, which the team ingested into their pipeline, rigged and hand animated. Wanting to add clumsiness and cuteness to their movement, toddlers were a useful reference. "While it wasn't possible to plan all the moves we would need in advance of building the rigs, we could correct the model to create a more appealing marshmallow look in shot context, and add controllers as the performances came together," said Pier.
"Rigging was actually pretty straightforward. Since our rigs are quite versatile and suit a wide range of movement and expressions, the same rig could be used for all the Mini Stay-Pufts. But because they are such fat, squashy characters, the Character FX and TechAnim teams did quite a bit of shape correction for squash and volume preservation. Specific actions that highlight their individual personalities needed their own simulations and fixes, which were done using a proprietary solver and sculpting tools in Maya."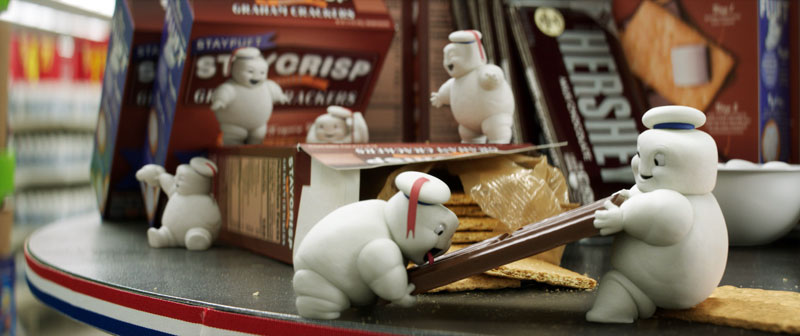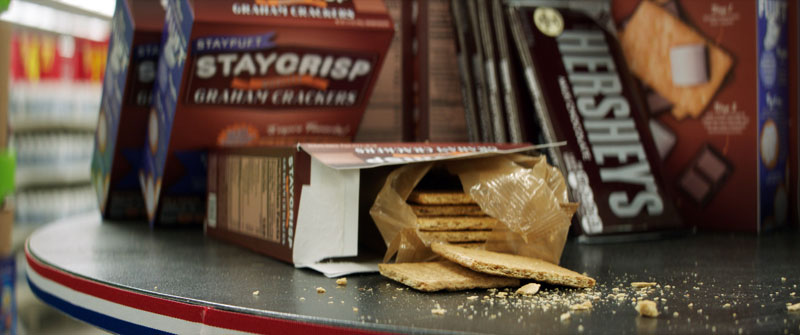 The burnt variations they created for the roasted marshmallows were also interesting – a mix of character FX and a Houdini FX simulation with fluids, which were meshed to recreate the look of a melting marshmallow. "We used two different assets with different variations of burnt textures that were later revealed in compositing, using masks generated by the CG flames. We had a lot of fun burning marshmallows for research!" Pier commented.
Ordering the Chaos
With a horde of frantic marshmallows wreaking havoc on screen, it was important to direct the eye naturally to the right place by carefully pacing their actions. In turn, this allowed the team to add further action outside the centre of attention.
"The goal was to fill the screen with gags and malevolent pranks so you can watch the sequence multiple times and still find details and subtleties that make them feel even more complex and enjoyable," said Pier. "Guiding the viewers' eyes by choreographing the key moment one after another was a challenge, for sure. It was OK to have something very cool happening in the background as long as it didn't distract from the main action. We did lots of timing changes so the shot felt crowded with performances that are not competing with each other."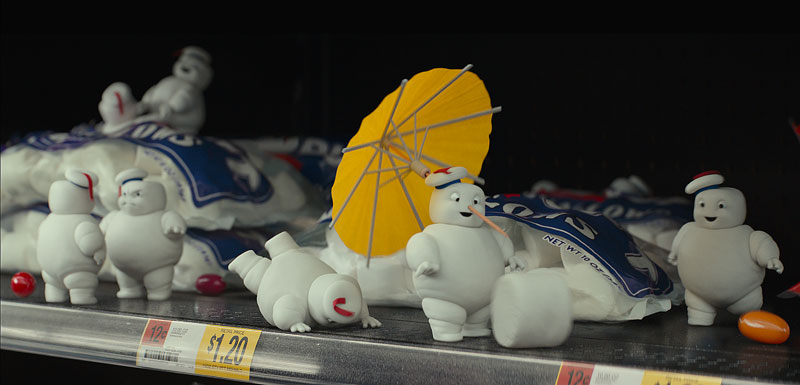 Watching the Stay-Pufts roasting each other was one thing but a favourite shot involving some of them playing with a blender demonstrated to need to find the right balance between humour and horror. He said, "The marshmallow who gets shredded in the blender was initially supposed to have eyes and a mouth sliding and deforming against the glass. The idea was funny but the result was a little too creepy so we took it down a notch by just leaving a quick smile and blink of the eyes."
Ghosts … and More Ghosts
The stars of all Ghostbusters movies are ghosts, of course. MPC Film had a chance to work on the powerful Gozer who had supposedly been destroyed in an earlier movie. For 'Ghostbusters: Afterlife' it returns in a woman's body that the team worked on as another asset shared with them from DNEG.
Pier noted, "Whereas the Stay-Puft asset had been fairly straightforward to ingest into our pipeline and work with, Gozer was harder to match because its shading network was quite complex and the electrical arcs and energy we needed to send through the body had to be rebuilt from scratch. It was quite challenging for the time we had to finish it, but the shot ended up looking great so we were pretty happy with the result."
Through their concept art, MPC's work can be seen in other ghosts as well, which you will recognise in the images shown here: