Steve Lumley, Art Director on 'Hotel Transylvania 2', talks about his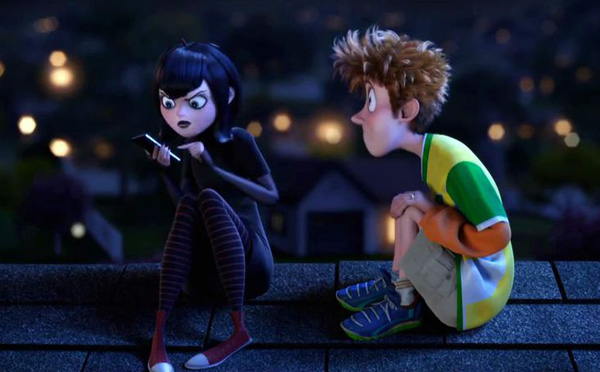 work with the team at Sony Pictures Animation to introduce some
Transylvanian magic to the California suburbs.
---
Art Director Steve Lumley Takes 'Hotel Transylvania 2' to the Suburbs
WhenSteve Lumleytook the role of Art Director on'Hotel Transylvania 2', he had a fairly specific agenda. The looks that the artists at Sony Pictures Animation had established for the world of Dracula's Hotel Transylvania were to remain essentially the same. But in the second film, another world was revealed – the familiar, 'normal' suburban California world where the character Jonathan's family lived, and where we spend several scenes with Mavis and Jonathan. A major story point, this environment became Steve's main influence on the movie.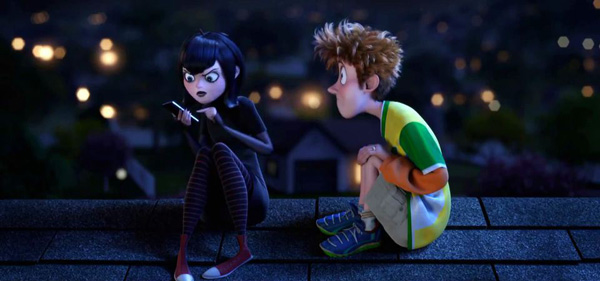 "When I joined the production, the movie had been in the story/storyboard stage for a few months," Steve said. "Some early visual development had also been done on a couple of new locations in the script, still primarily in Transylvania, so it was early in the design process, a couple of months before designs began to move into actual 3D set building for production. I was on the project almost a year and a half, all up.
Design Definition
"The Hotel Transylvania world is characterized by long vertical shapes and lines, and highly detailed textures and designs," Steve said. "To make an interesting contrast in the California environment, we emphasised horizontal lines and adopted a 'box' theme for the spaces and assets – rooms and furniture in the house, at the park, in the supermarket and out on the street. The colours we used were richer, if rather 'boring' and neutral, but the environment still needed to be entertaining for the audience and work with story."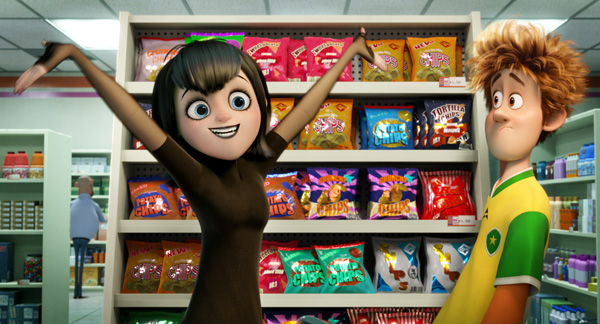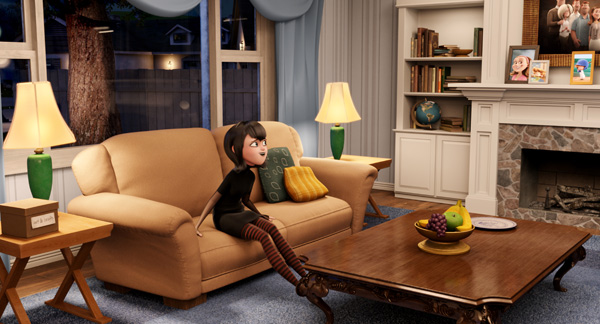 As Art Director, Steve's primary job was to define the essential design elements, and then communicate these concepts and hand them over to the production teams. He approached the task with the idea of CG economy in mind, creating key, modular elements to iterate upon and re-use, with suggestions about related aspects such as storytelling, lighting design and simplifying shots to help direct viewers' eyes through the scenes.
This part of his work on the movie relied on his layout skills, which in fact is where Steve's career in animated films began. One of his first roles in the industry was layout artist at Hannah Barbera Australia, where he later became the studio's creative director. Starting from traditional 2D animation, Steve began working in the story department, as story supervisor and cinematographer.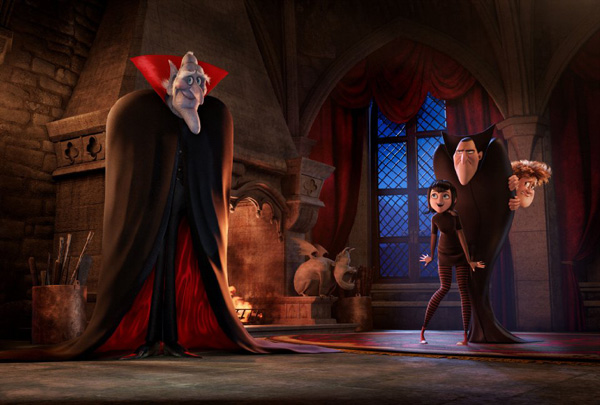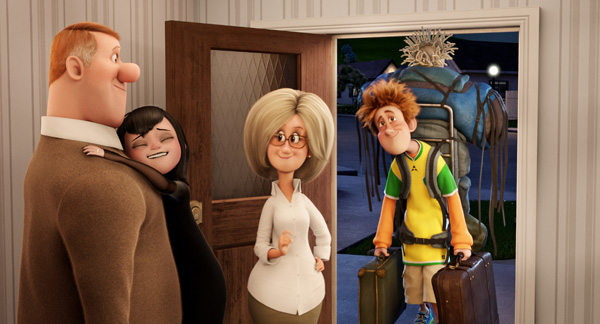 In a 2D context, the layout artist stages each shot and camera setup, defining the action that will take place in each scene, drawing background and character elements into the shots for the animation team to animate.
Layout and Camera
On 'Hotel Transylvania 2', a CG animated production, his layout skills served a similar function to a cinematographer, determining the shot's frame, camera angle, camera path and lighting of each key animation scene. While the 3D camera and lighting rigs are virtual, the principle is nearly the same as in traditional 2D animation – Steve's role has a strong influence on how well and consistently a project follows the story across the production. "For some sequences, such as one in the town park, we broke down the scenes into their elements, panel by panel, and redesigned the shots to achieve that consistency," Steve said.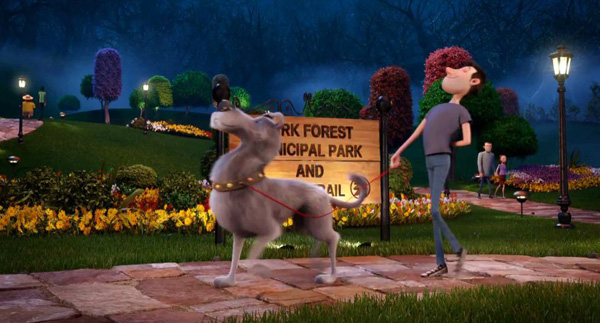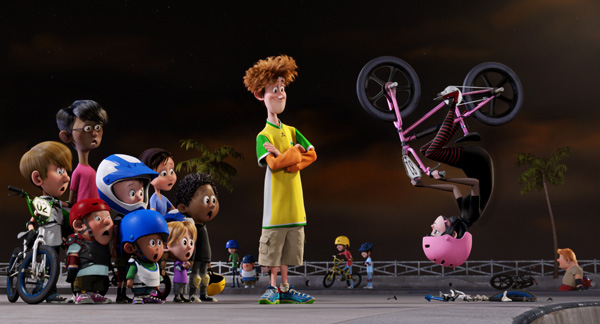 The movie'slayout departmentwas located in Los Angeles and theanimation teamwas based in Vancouver. Therefore, Steve spent a lot of his time in darkened rooms, with the director and production designer holding video conferences with the CG supervisor, texture artists, and effects and special effects teams. The directorGenndy Tartakovskywould make full drawings over the top of certain shots, which helped make sure his trademark comical, stretchy animation style worked within the layouts.
Once the storyboards had been approved and moved to the layout department Steve started advising onshot designandlighting, other aspects of thecamerathat affected layout such asdepth of field, and which lenses would be most effective and which might cause problems for viewing and for the story. These kinds of considerations would be helpful to the stereo team as they looked at 3D effects and composition.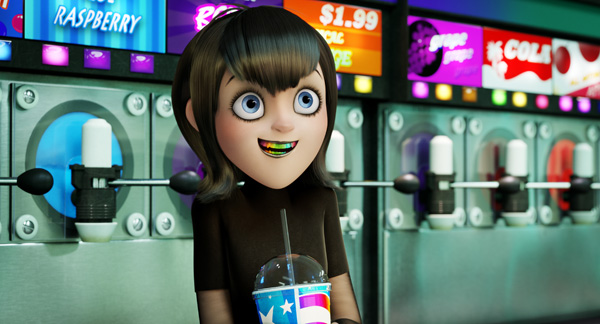 From Design to Performance
Stereo notwithstanding, cinematography in animation requires adjusting depth cues and placing characters within the frame to deliver the right message. Such tasks became especially important for Hotel Transylvania 2's numerous party scenes, held within a huge ballroom style environment, drawing together crowds of Dracula's eye-catching monster friends with Jonathan's suburban family members, all of whom interact in silly but complex ways.
Making the most of such shots involved simplification, but simplifying with knowledge of the director's intent so as not to lose the thread of the drama and comedy. A further aspect of continuity was the fact that Drac's voice actor Adam Sandler, also a producer and writer on the project, took an interest in the design as an integral part of the performances. Steve pointed out that producing animated films is one of the most collaborative industries an artist can work in. It is essential for the supervisor on any one team to have a fairly detailed understanding of what other the teams are doing.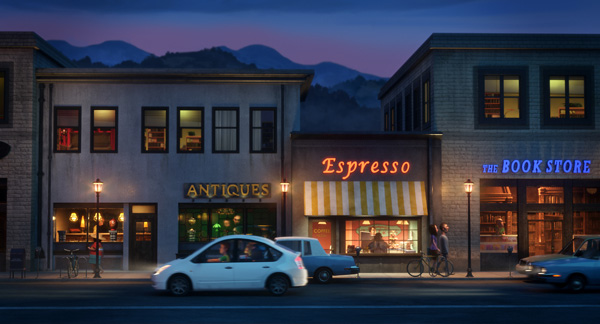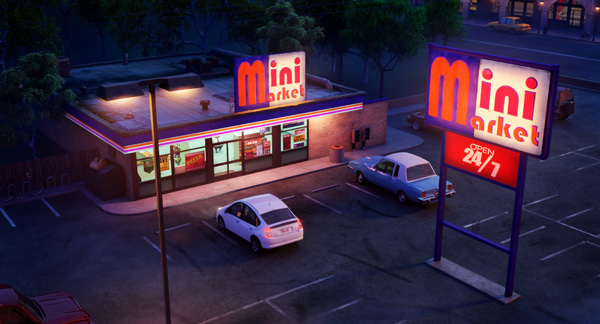 Therefore, part of Steve's work as Art Director, as well as developing the director's ideas into set design and visuals, was to be an agent for that kind of collaboration. He finds the best way for someone in his role to communicate ideas from and to all teams is with digital sketches made on a Wacom Cintiq, most often with Autodesk software Sketchbook Pro and PhotoShop. He said, "I can send these sketches to anyone else on the production to pull apart and use whichever attributes or pieces of them they need for their own work."
An Animated Career
After his start in layout at Hanna-Barbera Australia, Steve's career led him to many diverse production roles. He launched and ran a Specials division at Hanna-Barbera, where he produced and directed several one-hour programs for the ABC and CBS TV networks, earning an Emmy Nomination. After the company was sold to Disney Animation Australia, Steve was hired to set up Southern Star Productions, which has since become Endemol Australia, before he moved on to open his own pre-production studio for animation and commercials.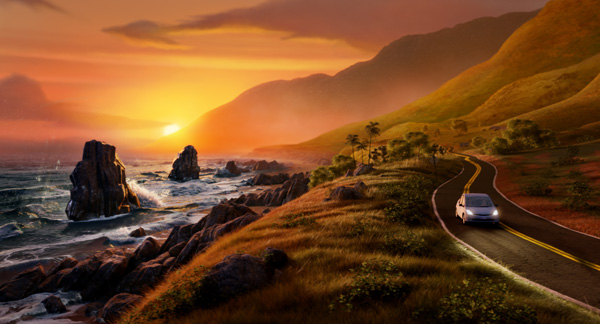 In 1996, Warner Bros. Feature Animation hired Steve and he moved to Los Angeles, where he worked on the storyboard and workbook design of 'The Iron Giant' with director Brad Bird, a film that won several Annie Awards and other awards, and was layout supervisor on 'Osmosis Jones'. After working on several movies with Warner Bros. Feature Animation and DreamWorks, Steve then joined Disney Animation as a consultant later as artistic supervisor.
In 2005 Steve joined Imagi Animation Studios as head of story and cinematographer on the feature film TMNT and then as co-director to develop 'Gatchaman' as an animated feature. He also spent three years at Lucasfilm Animation as 3D Story Supervisor, and from there began working as an Art Director at Sony Pictures Animation. www.sonypicturesanimation.com
'Hotel Transylvania 2' opens in Australian cinemas on 26 November 2015.
Words: Adriene Hurst
Images: Courtesy of Sony Pictures Entertainment