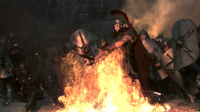 Cause+FX handled compositing and shot finalling on 'Spartacus', working with all vendors to create looks and environments to match the TV series' heroic battles.
---
SPARTACUS
'Spartacus'has been among the TV series making the most extensive use ever of visual effects. Over the four seasons, comprising 39 episodes, there have been some 13,355 effects shots. The last season, 'Spartacus: War of the Damned' was the most VFX-heavy of all, incorporating about 4,350 VFX shots, 925 of which were packed into the final climactic episode.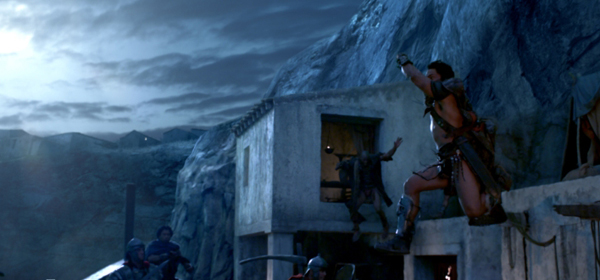 As a primary VFX vendor,Cause+FXin New Zealand came on board toward the end of Season 2, 'Vengeance', although some of their artists had been involved since the beginning of the series, in particular the company's founding partners Greg Flannagan and Paul Dickson, who were employed as VFX artists at Digipost when Spartacus began.
Look Development
Greg explained, "The seasons progressed from Season 1 'Blood and Sand', The Prequel'Gods of the Arena', Season 2 'Vengeance' and Season 3 'War of the Damned'. Paul and I left Digipost and started Cause+FX in September or October 2011, about the time of Episode 6 or 7 of 'Vengeance'. Fairly quickly, Spartacus work started coming in. From that point our workload from the series steadily increased and continued through to the end when we took on some of the most challenging and memorable moments, including Spartacus' last stand."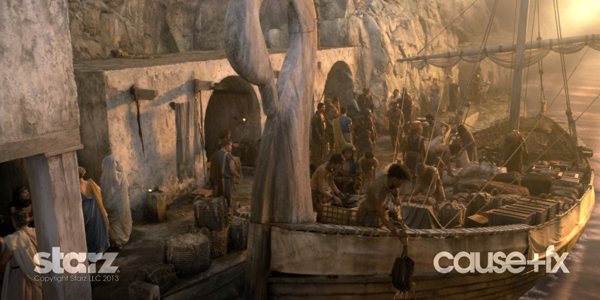 Cause+FX's work focused on compositing the shots and bringing them to final, which meant working alongside the Executive VFX Supervisor Charlie McClellan and the VFX Art Director Peter Baustaedter, and consequently, their work had a major influence on the images the audience sees. "This involvement started with early look development when, with the Spartacus production's in-house VFX team, we established the treatment that would then be carried right through to final delivery," Greg said.
"We also needed to work closely with other Spartacus vendors who supplied us with all of the elements, such as 3D animation, matte paintings and Massive crowd elements, that we combined together into our final composites. The Spartacus VFX team's work included building the virtual environments which, usually while still at an incomplete state, they handed on to us to use on sequences of shots to continue with the look development process."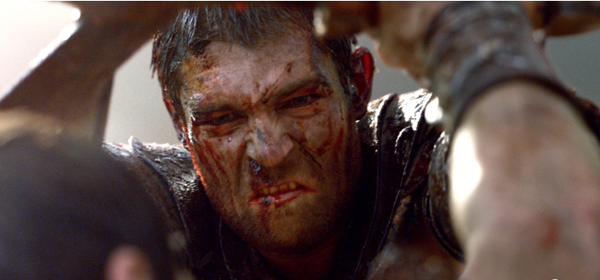 Fast and Flexible
Typical of broadcast schedules, all of this material had to be composited and the shots completed on a very fast turnaround timeline. The number of VFX shots per episode varied considerably per episode, on occasion exceeding 200, and had to be delivered within four to five weeks. Therefore, while it was critical to establish an effective workflow early on, flexibility was also essential. Cause+FX were also prepared to scale the team scale up or down from four or five up to 12 on short notice.
Look development was an important stage in the process because it was a chance to troubleshoot in advance what might cause problems and delays later on, and to see if the direction was achievable. The team matched their work to style frames using a rough edit and basic elements.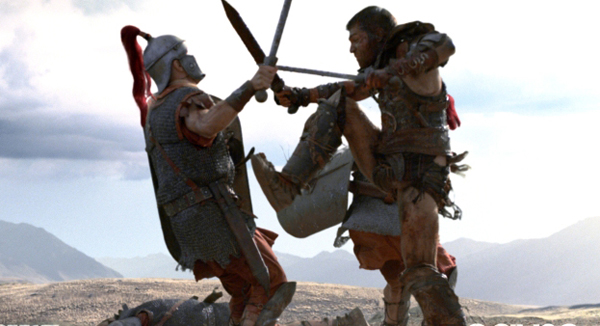 The 'Spartacus' series was shot entirely on a set with a Panavision Genesis HD camera, using a Phantom HD camera for the slow motion work. Cause+FX received the plates as both a raw pass and a graded pass. Working under a LUT, their team would grade the background and add lighting effects to integrate all elements with the graded plate, while the graded pass allowed enough room for the colourists to work with in the grade later.
2D, 3D, Massive Crowds
The vendors' elements would be supplied in a variety of formats. 3D CG assets included wounds, weapons and water assets. Blood effects were 2D composites that one of the vendors created and supplied as a separate element to integrate. They also handled Massive elements, most often used for very large crowds such as armies in the backgrounds, which the team would intersperse with tiled sections of live actors. Matte paintings were provided for the distant backgrounds and skies.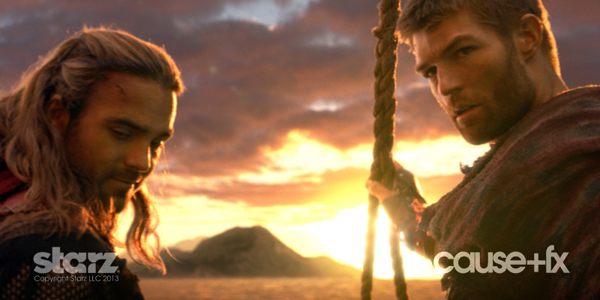 Fire balls and smoke trails such those following catapult shots, arrows or flying spears were 3D CG elements. Fires used as part of the environment within scenes, atmospheric smoke and mist were often practical 2D elements, shot and provided to Cause+FX from the production's Spartacus VFX team. In one dramatic scene, the practical flames had to be tracked very precisely to an actor whose character had caught fire.
VFX Art Director Peter Baustaedter explained that, especially during the last season of the series, 'War of the Damned', all teams not only had a very heavy workload but also demanding artistic requirements. In his role, Peter needed to present Cause+FX with several challenges concerning look, continuity and a range of visual or technical problems to solve. In response the team had to be ready to show their works-in-progress and include any feedback into their ongoing stream of shots. Likewise when problems arose, it was important for them to advise Peter and the vendors as quickly as possible.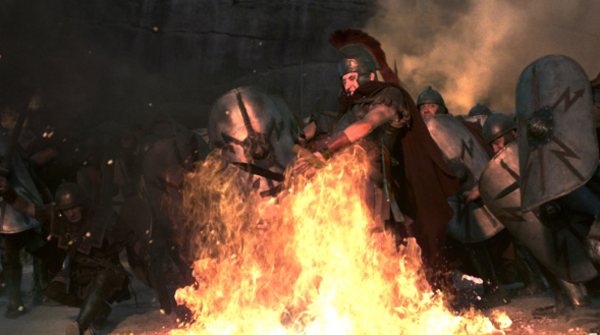 Workflow Evolution
Greg described the evolution of the workflow at Cause+FX as it had developed at the time of demanding final season. "The production Spartacus VFX team served as a hub, creating virtual environments that they passed on to us. In that setup we'd match the virtual camera position and lens to that of the on set camera. This would provide us with a credible view of the artificial world that matched what we'd expect to see in relation the plates. The Spartacus production team would also collect the 2D and 3D elements from other vendors which they would then send on to us to add to the final composites. Our software for all work was Smoke and Nuke.
"Throughout each season some procedures would inevitably have to change, due primarily to time constraints and the volume of work we needed to get through. Thinking on our feet and being proactive also required a good understanding of the vendors' pipelines, because sometimes it was more efficient to talk directly to other teams to solve or pre-empt problems, while keeping the Spartacus team in the loop. It was important to have this mutual understanding and relationship with the Spartacus production team and the other vendors so that when one area was under pressure we were able to adjust our service and, ultimately, deliver."
Raging Battle
For example, Spartacus's last stand in the final episode required quantities of elements to build up the battle raging in the background behind Spartacus' own fight. Further to this, back in look development the team had realised that the environment would need modification to rework the altitude and geographical position of the hill to better reveal the battle below. The time constraints also challenged the vendor's Massive crowd design, animation and rendering, which in turn involved a complex composite at Cause+FX.
In a typical workflow, those tasks would have been completed prior to compositing, but in this case the Cause+FX team had to find a way to composite efficiently while facilitating the environment modifications and also working with Peter and Charlie McClellan on the background battle as it progressed through the scene to show the demise of the rebels. Greg said, "All of this had to be done simultaneously with no room for error so that we could deliver on time. So, we needed to understand the processes going on and be ready to offer solutions that would work with the other vendors and ultimately look perfect." www.causefx.co.nz