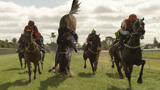 In 2002, Damien Oliver lost his brother in a tragic racing accident. Only one week later he overcame his loss and won the Melbourne Cup horse race in one of this event's most celebrated victories. John Francis at Surreal World took on 'The Cup' as a one-man VFX team, helping to bring this great story to the screen.
---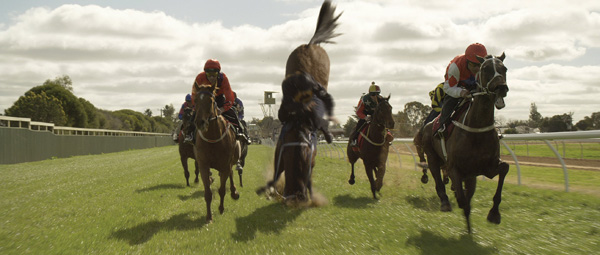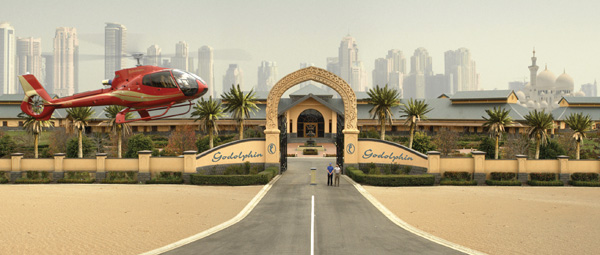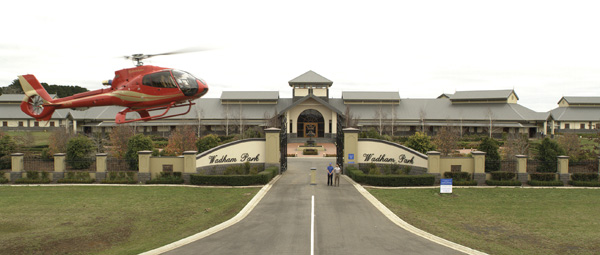 The Cup' was shot entirely inAustralia,though various sequences take place in Dubai and in Ireland. Moreover, footage for the film was shot both in 2006 and in2010,and used to portray events occurring in 2002.ConsequentlyJohn Francis, VFX artist and founder at Surreal World film services facility in Melbourne, was enlisted to help tie all of these elements together into a dramatic true story fitting Director Simon Wincer's vision.

Godolphin Stables
Pre-production meetings were heldmid 2010with Simon and key crew. For most tasks on the project, Simon relied on John's flexibility in creating appropriate shots as they were needed, rather than planning the details closely in advance. For example, the sequences in Dubai made use of a combination of library elements, 3DCGand photo reference to transform a country Victorian stud farm into the location for an establishing shot at the entrance to the Godolphin horse stables.

For the matte painting of the skyline, a trip was made to Dubai for photography of authentic building and background features. These elements were arranged and composited together for an effective look that represented the Dubai skyline in 2002 behind the stable buildings. Foreground elements required continuous collaboration as well. Conversations and hand-drawn sketches passed back and forth as John built and added an elaborate 3D Middle Eastern style archway and vegetation into the shot. "I initially modelled and animated some coconut palms for the gardens," said John Francis, "only to be told that the location called for date palms, of course. Our ongoing communication was pretty important!"

A live action helicopter descends into the image as well, causing the fronds on the palm trees to wave and throwing up swirls of sand from the open ground that John had created to replace the original green lawns. For realistic, offset motion, the final three or four basic variations of the trees were animated with a turbulent effect, building from slow to quite fast as the helicopter approached. The swirling sand was added as composited 2D elements.

Panning Shot
The grandstand crowds, an important feature in the film to convey the excitement and tension at the horse racing events, were achieved with 2D image replication and compositing using Photoshop and After Effects. One major Melbourne Cup shot was unusual, however, due to the timing of this project. In 2006, it looked as if production could begin and a film crew set up at the Cup, which in that year attracted one of the event's largest attendances. Among the footage the crew captured was a wide panning shot the director especially liked and earmarked for the film.

Unfortunately the whole project was delayed and only resumed in 2010. More footage was shot at Flemington Racecourse, but this time on a quiet weekday with empty grandstands, capturing planned shots of horses and actors re-enacting the story's 2002 Melbourne Cup race. Simon had the crew shoot the horses with a very similar, wide panning camera move.

Not so well versed in the limitations of VFX and, believing the camera moves were similar enough, Simon anticipated that John could simply replace the upper grandstand section ofthe morerecent shot with the matching, crowded sections of the 2006 shot. John had to advise him that, even if the same camera crew had tried extremely hard to replicate that original move in a shot captured straight after the first on the very same shoot, as close a match as required would have been virtually impossible.

Stitch and Match
"Instead, I took sections of the earlier filmed shot and created a very wide matte painting, spanning nearly 180 degrees, stitching frame grabs of the 35mm shoot together in Photoshop," John explained. "Lens distortion issues were addressed after achieving a 'best fit' from end to end of the pan. This stitched image was locked in with the newer footage shot digitally with the Sony F35 of the racing horses, bringing back lens distortion to make the sections work together. To give the whole, composited image a natural look throughout the move, tiny lens flares were added here and there through the crowd to represent camera flashes from the crowd plus small elements of noise to add the illusion of motion and life instead of a static still."

Matchmoving the two camera moves into one was another aspect of this task. A series of minor sleight-of-hand tricks worked better than major cuts, blurring the image at some points, distracting the eye with signage and foreground elements at others. A further, aerial still shot of empty Flemington Racecourse was also transformed into Melbourne Cup at its peak, populated with a one hundred thousand strong crowd in the stadiums and grass areas including the centre, full carparks, marquees and tents, and traffic on the surrounding roads and highways. All these additions were done as 2D composites and Photoshop imagery on cards. To finish, John placed a camera move on the final image.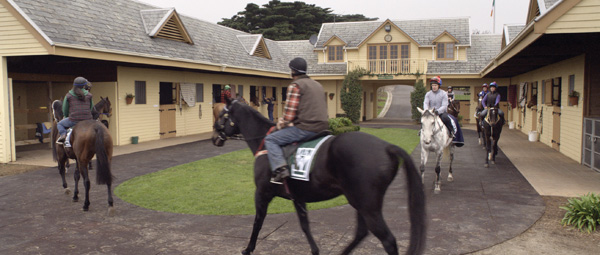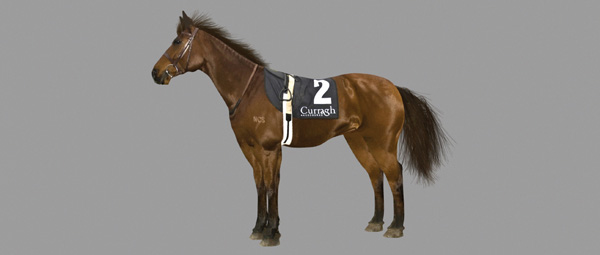 Completing Reality
Interestingly, the footage shot in 2006 had been captured on 35mm film. "Only later in 2010 was it possible for Simon to consider shooting digitally due to the film-like quality of the Sony F35, the camera DP David Burr ACS and Simon Wincer chose when shooting started in earnest in 2010. The frames from the F35 were fantastic, cleaner and less grainy than the 35mm shots. I had to remove grain from some of the 35mm footage to make them blend with the F35 footage," said John.

As Surreal World has progressed over the years, John finds that films like 'The Cup', where the object is giving the impression that a camera has simply been left running to capture events as they unfold, can easily require more planning and attention to detail than some of their current projects involving explosions, mythical creatures and other more obvious gags. "You are generally guided by the main plate containing a principle cinematic, photographed element. When the rest of the shot needs to be composited in as 3D elements, for example, no matter how good they look in isolation they have to match the original plate – film grain, blacks and whites, light, everything," John said.

Single Shot
"The climactic shot for this film did require just this sort of compositing challenge. When Jason Oliver is thrown from his horse in a fatal accident, the director considered alternatives in the edit such as cutting away at the lastmoment,but decided that the drama of this scene and the whole story called for the viewer to witness the actual fall in one long shot. But hewas of courseconcerned that it should appear tragic and realistic, and not unnatural and comical."

At the pre-production stage, plans for visual effects centred on this particular shot, Jason Oliver's racing accident. "This was always Simon's big shot although there were others that rivalled it in complexity," John said. "During the pre-production meetings I advised on critical aspects of achieving the shot. I was asked if the horse fall shot could be filmed in one long take with a tracking camera although, due to logistics, there was no way of employing a motion control system which would have helped our plan to remove the hero horse, replacing it with empty plate and inserting an animated CG horse for the critical 24 or so frames."

Surreal World created the shot in stages, aiming to effectively combine live action, plus CG and 2D green screen elements. Photo texture reference was captured of the live action hero horse from which John built a 3D model and then developed the gallop cycles and fall for the animation. A practical, dummy horse was built for shots of the stunt actor as Jockey Jason Oliver performing the fall against green screen onto mattresses. Surreal World's 3D modelling pipeline is based on Softimage, which John started using as Softimage 3D in 1994, which became XSI in later years, for modelling, animating, lighting and rendering, compositing in After Effects.

Accident Supervision
"I supervised the shoot in early August 2010 at Swan Hill Racecourse in Victoria, which was to stand in for Belmont Racecourse in Perth where Jason Oliver had his fatal fall. We shot a few takes of the racing horses with the Sony F35 rigged onto the back of a special purpose ute, and then roughly repeated the same move without the horses for the clean plate. The stunt jockey atop the dummy horse was shot the same afternoon." The jockey himself was another issue, butfortunatelythe actor playing the jockey running toward camera only had to be replaced by the falling stunt actor for those few frames, and a CG jockey was never required.

Ready for the composite, the replacement hero horse was built from live action sections, kicking CG limbs and parts of the dummy horse the actor was sitting on. "What was as challenging as any other aspect of this was warping and tracking in the clean plate sections of the background where the original removed horse had been," said John. To finish, 2D dust and debris were comped in and shadows were rotoscoped out and new shadows added. Throughout the shot,more environmental2D compositing work was also required to transform Swan Hill into Belmont racecourse in WA.

Cargo Plane
Surreal World was also asked to replace the livery and remove some of the windows on a Qantas 747 jumbo jet, making it over into a Godolphin cargo plane. "This type of change isn't so difficult on locked off or slight panning shots. You can prepare the replacement elements as if working on a still, comping them in and adjusting until they look right.

"But oneshot in particularshows the plane taxiing and turning, involving reflections off the shinyduco. So, for a section where I had to remove windows, I would copy a clean section just below as a replacement, creating a matte hole into which it could be placed. This way, both areas would be moving and catching light in the same way, and I would only have to recreate and adjust the reflections. No 3D was needed in the end."

Alsobecause only the logo had to change from the Qantas kangaroo to the Godolphin symbol, the painted section of the tail could be swapped from red to blue fairly easily through a hue change in After Effects.

A similar task involved replacing the corrugated iron roofs of the Australian stable used as a set with slate tile roofs to transport the sequence to Ireland. John created a stills-test using a variety of collected library texture elements of mossy roof tiles to show Simon Wincer, and he chose a look that he liked from this.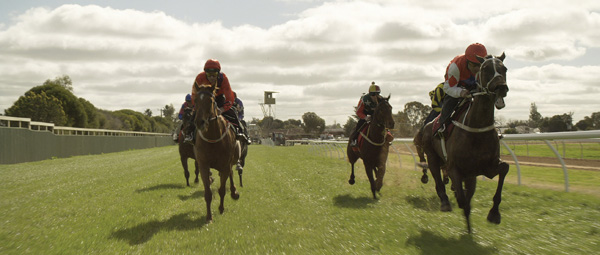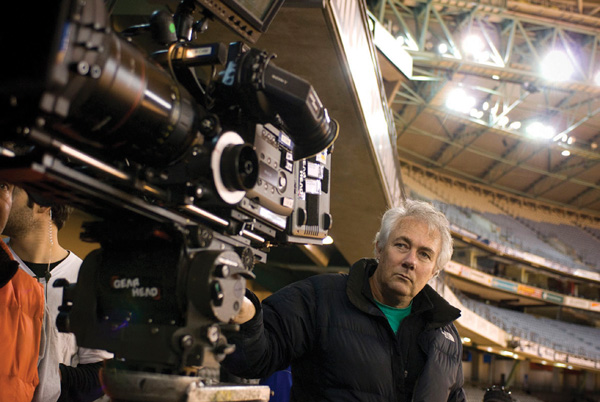 Sony F35 CineAlta
In 2006, when production was originally expected to get underway, 'The Cup' was going to be shot on 35mm film. When the project finally got started again in 2010, Simon had gained some experience with digital cameras and thought the format might suit this film.
DP David Burr ACS, however, was less confident about shooting digital. He did some research, spoke to other cinematographers with more experience and began running tests on the Sony F35 CineAlta camera at the rental company, Gear Head. The F35 has a super 35mm-sized CCD sensor and PL lens mount, a wide dynamic range and captures a wide colour gamut. Results from a series of latitude and exposure tests convinced him the camera was the right choice for The Cup.
It was David's seventh project with Simon, but this was his first real experience shooting in digital, which meant learning from the start of production about a different format. He said, "I photographed the film fairly simply without a lot of detailed lighting mainly because we had only nine weeks to shoot the film and we had a lot of locations." For ample coverage two F35 cameras were in use, recording to docked HDCAM-SR tape units feeding to AJA portable disk recorders for playback on-set.
Most scenes were shot using Angenieux Optimo 17-80 and 24-290 zoom lenses, one on each camera. Occasionally a Canon 150-600 or one of the Zeiss Master Primes was chosen, which were slightly faster. Whenever the Steadicam was used, they fitted a 14-40 lightweight Angenieux Optimo.
David felt reasonably at home with thisset up, finding that the usual follow focus, matte box and occasional motors all worked as they do on a film camera. Data wrangling had to proceed but didn't interfere with the shoot. He had to get used to using on-set 17" monitors, which gave instant feedback but meant physically moving away from the camera.
He said, "I thinka mainbenefit from a cameraman's perspective is that what you see is what you get there on the day. You don't have to guess how much your particular negative is going to see into the shadows or how much of the highlights it's going to hold, without waiting 24 hours for rushes. A DP can be a bit more daring - you can push it and if you think you've gone too far, you can back off a bit there on the day, you don't have to go back and reshoot. I was also judging my lighting on the monitor.
"The images recorded by the F35 are very clean and sharp and I kept thinking, 'We're going to have to dirty this up a bit at the DI - it's just too sharp'. But that's coming from someone with a film background who's used to film grain and a little float in the projector gate - if you speak to young kids these days who have grown up with computers, they think sharper and cleaner is better and that's the image they're happier with."
Words: Adriene Hurst
Images: Courtesy of Surreal World