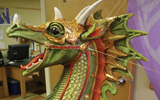 Art Director Jacinta Leong's renders, drawings and animations communicate set designs from the Director and Production Designer to virtually every team member on a production. Here, she talks about her work, and her part in creating the 'Dawn Treader' set for the latest Narnia film
---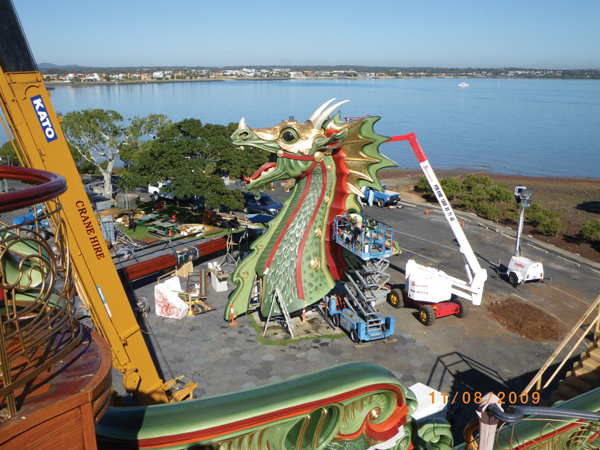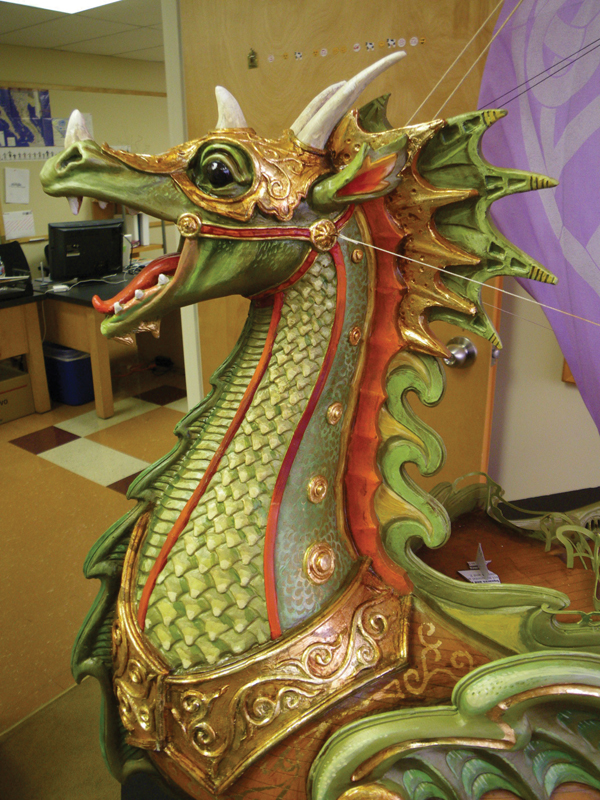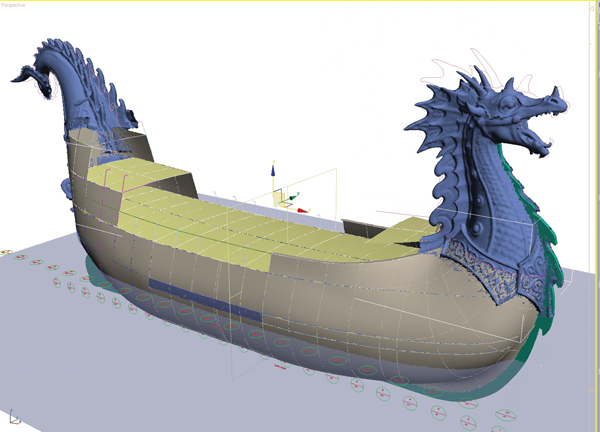 Since 1993, Jacinta has been a drafter, set designer and assistant art director. While the Director, Production Designer and Director of Photography make decisions together about the film's design and aesthetics, Jacinta's roles support the Production Designer in achieving this vision. In 2006 she was appointed art director for the first time in her career on 'Nim's Island' with Production Designer Barry Robison and Supervising Art Director Colin Gibson.
Communicating Design
She explained, "I use 3D-CAD modelling to generate renders, drawings and animations to communicate the intentions of the design and help everyone visualise what we propose for sets, environments, vehicles and props. I also liaise with departments who create the physical sets including set decoration, props, scenic, construction, vehicles and locations. Sometimes these responsibilities overlap, depending on the size of the art department and production and what has to be achieved.
"Art directing means communicating with the VFX, SFX, gaffers, grips, stunts and previs departments. Lately, I have been standing back to look at a film as 'the bigger picture', not just concentrating the sets and builds, but the aim is still supporting the Production Designer and Supervising Art Director."
The designs produced by someone in Jacinta's position are used to concept, cost, build sets, plan how much space is needed in the sound stage or location, inform the departments, and assess SFX and VFX requirements. "This has been the case for decades though advances in technology have brought some changes, for example, the creation of new departments and vendors like Digital Assets Management. Drawings and animations, the digital assets, are distributed to 3D milling and previs. For some very large sets on location, we submit the designs to councils for building approval. Our images are primarily to communicate. If a picture is worth a thousand words, a 3D walkthrough must be worth a million!"
Visualisation Tools
The visualisation side of Jacinta's work focuses on design possibilities, and she needs software that helps her meet technical, scheduling and creative demands within a production. She has been using AutoCAD since 1986 but it has changed so much since then that the scope of her work is changing also.
"When I started using AutoCAD, it was in Release 2.5 and running on DOS. In the last five years, it has gained functions like NURBS, Mesh and Solid Editing capabilities and Annotative Dimensioning. It records walkthroughs of Moving Camera POVs, and has additional Visual Styles, which can be emailed as screen captures for work-in-progress images, the Sheet Set Manager to collate drawing sheets into sets and export as pdfs, Object transparency, Object isolation and Geometric constraints. Improvements I like in 3DStudioMax are the Graphite modelling tools, such as Poly Draw and Paint Deform, and ambient occlusion viewing within the viewport.
GPU Rendering
GPU acceleration and recent increase in RAM have begun to influence Jacinta's work. She works on an HP EliteBook 8730w Quad Core Intel 2.53GHz CPU with 8GB Ram, 320GB 7200RPM hard disk drive, nVidia QuadroFX 3700M 1GB Graphics, 64bit Windows and a 17" WUXGA 1920x1200 Display. she asked supplier Syama Mishra, Digital By Design, about the possibilities. "For my software, GPU acceleration can be used in Max 2011's Quicksilver renderer and the current V-Ray RT GPU Beta. Increases in RAM mean I can edit the large scenes I have to make now with much more detail.
"The viewports use the GPU and CPU together for preview automatically, but the real reason everyone talks about GPU acceleration is for final renders. You do have to manually enable it. Quicksilver uses it automatically, but has average or low image quality. I'd say GPU rendering is still early technology but the V-ray RT GPU Beta is quite good at it.
In the last several years, I've added to my applications library," said Jacinta. "I bought Rhino because I like its Unroll Surface feature and surface modelling. It is also easy to import and export, especially .pdfs. I also love using Poser. I have always put people and characters in the set drawings, but until I had Poser, they were low-tech non-riggable models. I use Final Cut Pro to edit and add sound to my images and animations. I've installed VRay Real Time rendering plug-in for 3D StudioMax."
Compatible Colleagues
On most jobs, set designers have to consider compatibility between the different software of other artists. On various productions, they come across Art Department colleagues using AutoCAD, VectorWorks, Softimage, Rhino, Photoshop, Illustrator, Maya and Sketch Up. Previs are using Maya, SFX teams use Solidworks and AutoCAD, and Lighting uses VectorWorks. Structural Engineers often use Cadkey and Greensmen have ArchiCAD. The CNC vendors use their own software. Add Windows, Mac and Linux to that mix, plus laptops, iPhone and iPad.
Not only are Art Directors freelance and probably using software for projects other than films, they generally come from different backgrounds and disciplines – architecture like Jacinta, interior design, illustration, art college, industrial design and others. "This mix is major a reason why we don't use a standard software. Other factors are budget and what suits the individual's working style. 'Intuitive' is a very subjective description, and what some people find intuitive may suit others. Perception is reality, and I believe familiarity has a hand in perception."
When they start a new project, Jacinta and her colleagues find out who's using which software, and then establish an efficient workflow, experimenting with the settings to suit each application, sending files back and forth until we find the optimum setting. Units may be another issue.
Better Than Software
Currently, AutoCAD and Rhino don't animate objects, and Maya and 3DS Max do not create 2D .pdfs. They often dream about a single CAD system that can do the lot - model, draft, dimension, create pdfs, render, light, and animate walkthroughs – and be interoperable and import each others' native formats without needing to double-handle the process.
"That's in my perfect world," said Jacinta. "But it's not only about the software. It's about how you get the desired result. What kind of information do you want to convey - technical, spatial, colour or emotional information? Will this best be communicated by a diagram, render or concept illustration? Who's at the receiving end and who needs to understand it, a Construction Manager, Producer or Set Decorator?
"Software is dependent on the person driving it. The best software that money can buy is useless if it isn't controlled by a skilful artist, and no software will save poor design, composition or technique.
The growing sophistication of viewer expectations can motivate us to keep up with our game. If it's more 'wow' effects the audience is after, it means the Art Dept has to address the specific VFX and SFX requirements technically and creatively, but it doesn't necessarily mean bigger and better sets. Production design has to serve the story and characters, not outshine them.
Creative Pool
In pre-pre-production, before Art Dept crew members have been hired, the Production Designer will have developed concept ideas with the director and has plenty of concept ideas. Once an Art Dept is set up, the Designer conveys these ideas to us as we read the script, but it is also the job of every member to offer their creative and practical input to the Production Designer, who usually appreciates alternative ideas.The Art Department is not strictly part of the previs team but works alongside them. "I'm in awe of what previs artists do,
creating shots and sequences that inform everyone about spatial elements, pacing, camera and character moves. I didn't get to meet them when I was working on 'Matrix III' and 'Star Wars Ep III', but on 'Superman Returns' in 2004, I met a digital Previs Dept, people from Pixel Liberation Front and Rising Sun Pictures, for the first time, to exchange some sets and props.
I've found that our models are more detailed because we're drawing and building them. Previs models are lower res but with textures on them because they want to render them. Previs ask us to down-res our models before we send them across. When Art Dept receives models from Previs, we add detail and flesh the models out. But it does make sense to exchange assets, and we've worked together this way on 'The Ruins', 'X-Men Origins: Wolverine', 'The Chronicles of Narnia: The Voyage of the Dawn Treader' and 'Fury Road'. This is our basic relationship, although it varies and is much more efficient if we're next to each other in the same building.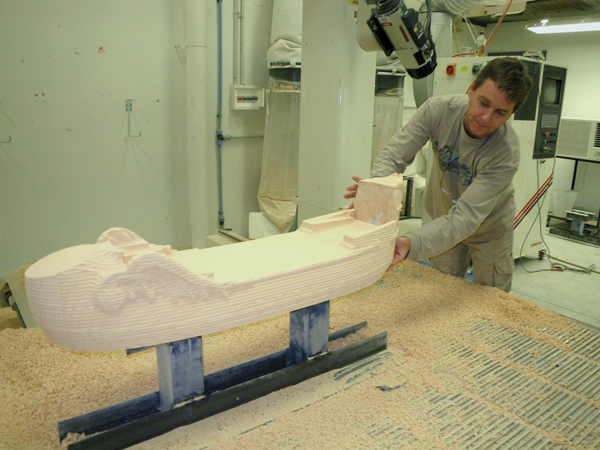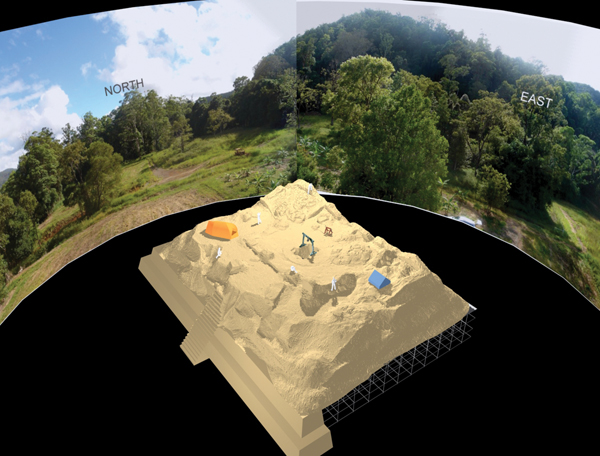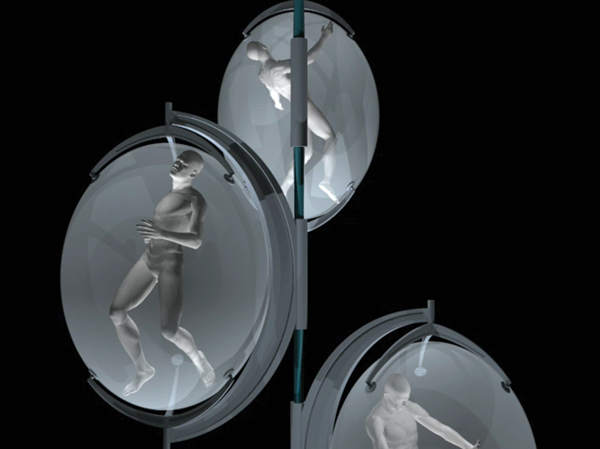 LAUNCHING THE DAWN TREADER
[Quoting Jacinta Leong]
In 2008 to 2009, I worked on 'The Chronicles of Narnia: The Voyage of the Dawn Treader'. My work concentrated on the Dawn Treader itself, the ship in C S Lewis' story and worked on this set throughout pre-production and shoot, working with Barry Robison, Supervising Art Director Ian Gracie and Art Director Mark Robins.
Described as having a dragon's figurehead and a purple sail, the ship went through an incarnation from an Art Department in the UK before Barry Robison took over as Production Designer. He proposed a hull shape similar to a ship of the class and form of 'The Endeavour'. He sketched the Dragon's head on the prow, from which Sculptor Jiang Liu modelled a 1:33.3 scale plasticene maquette. Set Designer Kristen Anderson modelled the hull in Rhino, researching typical ship sections and profiles. Working with Jiang, she ensured that the hull she was lofting matched where it joined to the plasticene prow and tail.
360-Degree Orbit
This maquette was laser scanned by the company WYSIWYG, who provided .obj files of varying poly-counts. Around this time, I left with a crew of Australians to continue the Art Dept work at the Baja Fox Studios in Mexico. Kristen cleaned up the .objs, checked the scale, then uploaded them to an ftp from where I could import into 3DStudio Max to create walk arounds and accurate views for storyboards and concept illustrations. Due to time constraints, Jiang had sculpted only the portside of the hull. Since it had been laser scanned, I simply mirrored the hull portside, satisfying for everyone to see because we could orbit around the entire 360 degrees of the model, even if it was a preliminary hull design.
Having the virtual camera means we can take a view from anywhere using any size lens - from the top of the crow's nest looking straight down to the deck, or a far off view of the entire ship looking from the shore. These give a basic layout for composing illustrations.
The Art Director in Mexico, Marco Niro, was very knowledgeable about ship design, why ships are shaped as they are, and the names of the parts of a ship to help avoid ambiguity. In addition to positioning the oar holes and rationalising how the railing blended into the dragon's neck, Marco set out the hull and decks by applying logical, ordered geometry.
Ship Shape
Sailing ship decks typically have a saddle shape - a longitudinal sweep combined with a lateral camber – which he set out properly to the nearest millimeter. I took these new setouts to NURBS-loft the hull in 3DStudio Max and used the offset NURBS curve to arrange the planks at 8" apart on the skin. Then I checked the smoothness of the surface using Rhino's surface analysis, ensuring there were no wrinkles or bulges.
Marco and two other Art Dept members, Francisco Blanc and Hector Rivera, were using AutoCAD, so we all seamlessly shared files as we detailed different components. Francisco and Hector would draw 2D details of the masts and crows nest, for example, and I would model these in 3D, with no imports or exports to do and no scale changes. For consistency and accuracy, we all maintained the same datum in each file.
This set was challenging in that it had to be a believable, fantasy ship, serve the story and required interiors as well as the exterior. We didn't design the ship only from water level up, but had to consider the keel and rudder, too. We thoroughly researched materials, sails and rigging to ensure the set would function as a ship.
Slicing the Model
To be certain our drawings were useful for construction, I also consulted with Construction Manager Sean Ahern, also a boat builder by trade. At his request, I sliced through the model using Section Plane in 3DS Max to create cross sections at every 600mm in X, Y, and Z planes. I imported these into AutoCAD to create .pdf working drawings for the Construction Dept. For the hull, prow and tail alone, there were 89 tech drawings of just the sections.
The project relocated to the Warner Studios on the Gold Coast, where location scouting took place to find an exterior place to put the ship. There were several options for the ship's orientation and height at all sites. I would match POVs of the location photos with a virtual camera in 3DS Max, render the ship and superimpose this render against the location photo to help everyone visualise the ship in its proposed position.
The .dxfs were emailed off site for polystyrene profiles to be hot-wire cut for the balustrading, head, tail and wing. Set Designer Chris Tangney neatened and updated the balustrading and rear balcony using Maya, and the final model was milled accurately from this file by John Cox's Creature Workshop.
Breakaway Damage
The 3D CAD model was also handed over to the Previs Dept, headed by Mike Makara. During pre-production, some details were altered, hinged hatches and breakaway damage to the ship, and the designs were critical to the action. Previs Dept had to make sure their animations were true to the design. Information flowed in the other direction, too. Mike had already started modelling the interior galley set, and blocking out the action in that scene with director Michael Apted, so he sent us an export from Maya so we could start construction drawings.
The automation of CNC manufacture proved time-cost efficient. Senior Drafter Jenny Hitchcock modelled the StateRoom and Map Room in 3D using Vectorworks. She also exported .dxfs of wall and ceiling ornamentation to be router cut from fibreboard. Junior Drafter Mara Garazini used Illustrator to set out the Moroccan lattice pattern of the hatch, to send this to be router cut from plywood.
Digital Journey
The Oar Deck, Royal Stateroom, Map Room, Prow and Crow's Nest were also built as separate sets in the sound stages. I sent my AutoCAD files of the Ship exterior, Oar Deck, Prow and Crow's Nest to the SFX department so their engineers, also on AutoCAD, could design and build the gimbals and extensive structural steel framing. The VFX Dept were planning an element shoot of wakes out on the water, and needed the drawings showing the dimensions of the Dawn Treader when selecting the practical boat, which had to be of a similar size.
The digital journey of our plasticene maquette has gone from laser scanning to creating images for concepts and storyboards, to analysing the design and drafting construction drawings, to SFX and engineering drawings, Previs and VFX, and we squeezed a lot of mileage out of that file. It was a true collaboration between departments.
Words: Jacinta Leong and Adriene Hurst
Images: Courtesy of Fox Walden
Featured in Digital Media World. Subscribe to the print edition of the magazine and receive the full story with all the images delivered to you.

Only

$79 per year.
PDF version only $29 per year
subscribe