Avrill Stark Entertainment was recently nominated for an AFI Award for the 3D
animated TV series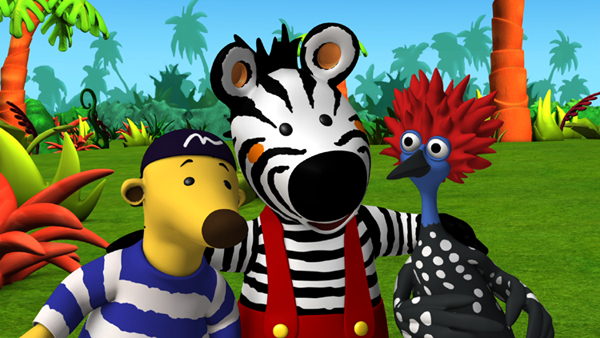 'Zeke's Pad'in the category of Best Children's Television
Animation. The nomination came only months after an AWGIE Award in August
for the script of 'Zigby and the Mango' written by Susie Wicks,an episode
from another of the company's 3D animated series called 'Zigby'.
---
click for larger images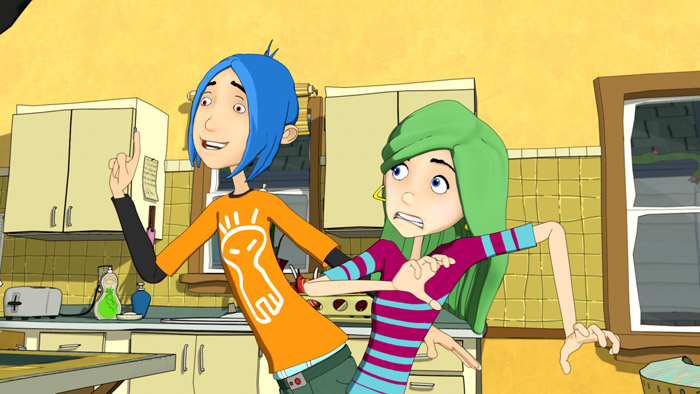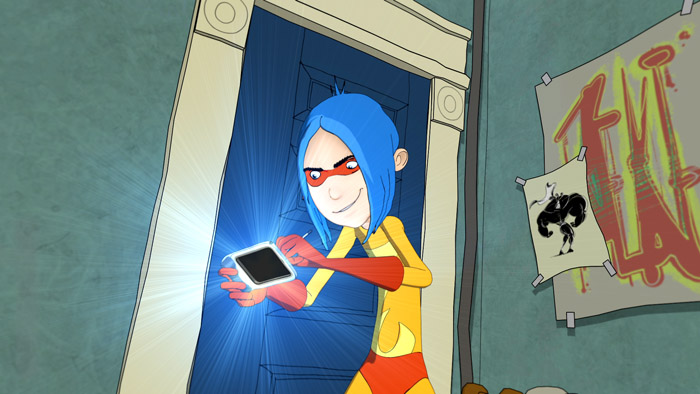 International Co-Production
'Zeke's Pad' is a co-production between Bardel Entertainment and Leaping Lizard Productions in Canada and Avrill Stark Entertainment here in Australia. The Canadian connection developed after Avrill met Delna Bhesania from Bardel and Liz Scully and Leonard Terloch at Leaping Lizard by attending international film, entertainment and program markets like MIPTV and MIPCOM.
'Zigby' is also a collaborative production, between Avrill Stark Entertainment, Zebra (1) Productions in Canada and Big Communications in Singapore. "International co-productions are becoming a trend in animated television series," said Avrill, "mainly to be able to finance the projects but also to benefit from a wider pool of creative ideas."
However, because the production teams at the three companies share and collaborate on the work, such projects require careful organisation, cooperation and planning. The Australian production crew is at Flying Bark Productions in Sydney, capable of handling all aspects of production from script to screen. Avrill Stark Entertainment joined forces with Flying Bark about two and a half years ago. Globally, there are roughly 50 to 80 artists working on the company's productions depending how many shows are in progress at the time. A single production may have eight to ten storyboard artists, 20 to 25 animators, and a smaller team each of modellers and of designers.
The characters for 'Zeke's Pad' were mainly developed in Canada and the voices were recorded there. The rest of the production design and modelling was done here at Flying Bark. Animation teams are located in both Canada and Australia, and the scenes are lit, rendered and composited in Canada. In a season of 26 episodes of 24 minutes each, the Australian team aims to do about half, although this year they completed about a third of the episodes. One director works at Flying Bark, two at Bardel Entertainment.

Pipeline Development
Head of Production Michael O'Brien brings a 14-year background in both 2D and 3D animation techniques to Flying Bark. On 'Zeke's Pad', he plans the production in terms of the tools and technology required, pipeline, workflow and whatever the team requires to animate the scripts' stories.
He explained that Flying Bark's 3D animation workflow on series like Zeke's Pad runs on a Maya-based pipeline. Zeke's distinctive 2D/3D look has been developed and enhanced with Maya's Toon Shader, which has been customised to give the images their hand drawn-style black outlines. The old style squash and stretch animation techniques, exaggerated facial expressions and gestures also help give a 2D impression to the series but the action, smoothly integrated performances and camera moves are achieved with 3D technology.
Michael is always keen to improve the pipeline, but prefers to make smaller adjustments one at a time instead of major changes to avoid interrupting the tight scheduling that TV production demands. Recent adjustments are the new version of Maya, or a new technique that might have been developed to solve a particular problem during one season and then retained for use into the next season or other series.
Sometimes, though, everyone agrees on a bigger change, like migrating from paper storyboards to using Storyboard Pro with a Wacom tablet and Cintiq pens. An interesting development from this change was building up a library of reusable poses that can be used to make neat, consistent animatics. It gave the storyboard artist more control, almost like a virtual director.

Into the Workflow
The production team's work starts when the scripts are ready. Designs are drawn up, and storyboards are plotted out. Leading up to the animation process, environments and backgrounds are built and edited, the characters and assets are put in and the lights are applied. The animatic editor passes the animatic to the animators. The characters can then be animated in 3D space, posing out the scenes with the voices, and the performances recorded with the 3D camera.
From a team of six to eight animators, one is devoted to each scene. More experienced artists can handle the more complex scenes involving several characters. Clearly, timing is critical, which is where the director is essential to help step through the characters' interactions with each other. If the animator needs to review what he's done, he can create a 'playblast' - a quick, low-res preview of the animation he has made, without any rendering effects - in Maya to watch in real time.

Inspiring References
The animators use as many different references as possible, and may watch video references as they work through their scenes to help them create distinctive movements for different characters. Obviously for Zeke's Pad, young kids on skateboards were ideal references. Sometimes, animators make videos of themselves, acting out the parts in the scenes they are working on.
Finding references is an important role for Avrill because once she and the other producers have developed a concept for a series and begun writing scripts, they have to communicate to the artists how they expect the characters to look and behave. When working out a concept and designing characters, she will pass on as much reference material as possible to inspire the production team, from well known movies and TV programs, documentaries and videos to books, images, real people and animals, and listen to any of their ideas about elements and looks for the environments.
The 'Zigby' series, designed for three to six year olds, had a straightforward reference because it is based on the books by Brian Patterson. Nevertheless, it required the same look development for environments, props and characters. Avrill pointed out that because Zigby is for a very young audience, she and the producers wanted the modelling to be soft, round and comforting, whereas 14-year-old Zeke's older audience sees his world as an edgier adventurous place, full of sharp corners, jagged lines and unexpected events.

Ready for Broadcast
As a producer, Avrill also has to deliver a consistent product on time for broadcast and balance available resources. All creative decisions have a cost effect. Herein lies the skill in producing, she says - how good a product can you pull from the time, funds and people that you have? As much as she likes scriptwriting and making the creative decisions in character design and series development, this logistical challenge is an essential part of the job for her.
She works a lot with her directors on timing for the animators, which is critical to the success of the humour in the scripts. Both series rely on comedy. She also notes that each person in the workflow can add their personality and ideas to the story and script as it passes through – storyboard artist, animatic editor, animator and compositor – resulting in a multilayered production. New technology has made this even more possible in some ways, by extending the capabilities in each person's job.
Zeke's Pad' screened on Channel 7 this year, and is currently airing in Canada on YTV. It is also due to screen in Germany and Latin America in 2010. Zigby airs on ABC in Australia and is broadcast in Canada on Treehouse TV, France and Italy. It will soon appear in Germany, Great Britain, Asia, Spain, Scandinavia, Turkey and Eastern Europe. Another animated series is currently in production, 'Legend of Enyo' for which the animation is nearly complete and lighting and sound track are now in progress.
Words: Adriene Hurst
Featured in Digital Media World. Subscribe to the print edition of the magazine and receive the full story with all the images delivered to you.

Only

$77 per year.
PDF version only $27 per year
subscribe