Dalet xN IMF Maker Automates International Content Prep & Versioning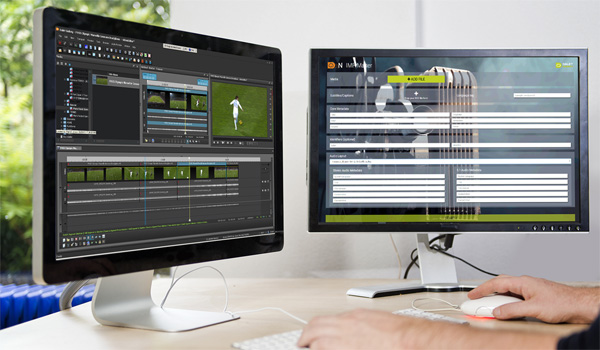 Dalet xN IMF Maker was developed and recently released for IBC 2016 to simplify the creation of IMF bundles for international distribution. It is available as an on-demand service through Amazon Web Services (AWS) and the Microsoft Azure Marketplace, and is one of the few systems on the market for generating complete packages that comply with SMPTE's Interoperable Master Format, on demand and inexpensively. To support complex program preparation and versioning workflows, it uses the media orchestration and processing functionality of Dalet's AmberFin platform.
xN IMF Maker combines the AmberFin capabilities and Dalet's own long term knowledge of the IMF file format - designed to create a single, standardized master bundle for distribution of versioned content between facilities and into different territories - and its associated workflows.
For example, Matthieu Fasani at Dalet said that producers need a common set of processes and rules that take productions from the director's vision for the film to the manufacture and distribution of cinema variants, film variants and versions for other distribution channels such as television and Internet. Otherwise, content creation workflows become very unwieldy requiring several incompatible processes using different systems. IMF's goal is to define a single process that leaves creative tasks for the appropriate people, and automates repetitive, tedious operations using IMF processes.
Using xN IMF Maker the user specifies the content and metadata only, and the software will output the required bundle, supporting captions/subtitles, audio labeling, IMF metadata insertion in MXF and other properties. The source files may be video, audio or captions, and the metadata can be core metadata, audio layout and caption languages. The service will retrieve the information and automatically generate IMF bundles based on this supplied data that are compliant with the IMF standard.
Users that have a constant demand can build an orchestrated API-driven IMF workflow with Dalet AmberFin on or off premise, or use the app-style version of the service. Both options result in the same JPEG-2000 files, regardless of the format they were created from - ProRes, XDCAM or others – and all steps of the workflow can be monitored via a web-based interface. All usage is on a pay-as-you-go model. www.dalet.com