Managing Media in the New Filmmaking Age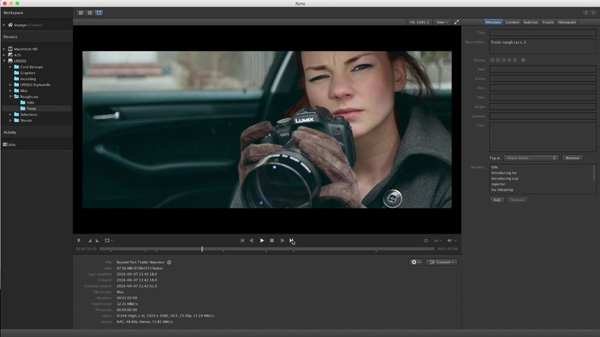 Robert Krüger is the co-creator of Kyno video data management software, and is passionate about the possibilities of modern filmmaking, which he believes is undergoing a democratization process begun over the last 10 years. "That process is truly wonderful, and means that more people can create via a lower barrier of entry, resulting in multimedia experiences that would never have seen the light of day several years earlier," he said.
"The introduction of file-based workflows together with significant quality improvements in digital video has completely changed video production. Affordable cameras, equipment and software mean affordable filmmaking, and the explosion of online video has lead to a huge increase in the video production worldwide. NLEs and other post production software can run on an entry level PC or Mac and produce video in TV or even cinema quality. Cloud platforms have become commodities and platforms like Frankie, Frame.io and Wipster make web-based collaboration a reality, no matter your level of experience is."
Keeping up with Video Content
Nevertheless, despite these innovations, Robert considers that the realities of media management in the production process have not changed much at all. "Part of the problem is the sheer volume of content produced. With the advent of mainstream 4K and even affordable cameras capturing footage at more than 1,000 Mbps, the mass of content captured today is beyond anything capable in previous years.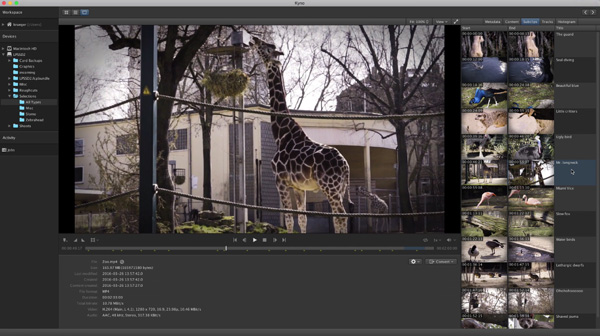 "Think of the new Panasonic GH5 increasing its in-camera bitrate to 400Mbps from the GH4's 100, or the DJI Inspire 2 capable of recording 5.2 K RAW at 4,200Mbps. Furthermore, with the availability of cheap cameras that enable more perspectives of a shot – GoPro, drones and so on – comes an increase in output."
"With that amount of pure data, media management and organization remains a challenge. Disk space is now a critical resource, especially when using relatively expensive SSD storage for editing. For example, three hours of 4K footage shot in ProRes HQ requires roughly 1 TB of disk space. Due to this, filmmakers need to be more efficient with storage – at times being selective with material from longer takes before editing - if they don't want to run out of disk space or drive up archive and production costs."
Mixing file formats, codecs, colour handling - RAW, S-Log, V-Log, LUTs and so on - and metadata has also become more common, so processes have to be built in a way to accommodate that, and in many cases need to work around compatibility issues. The metadata world in particular is still fragmented, with many mutually incompatible standards.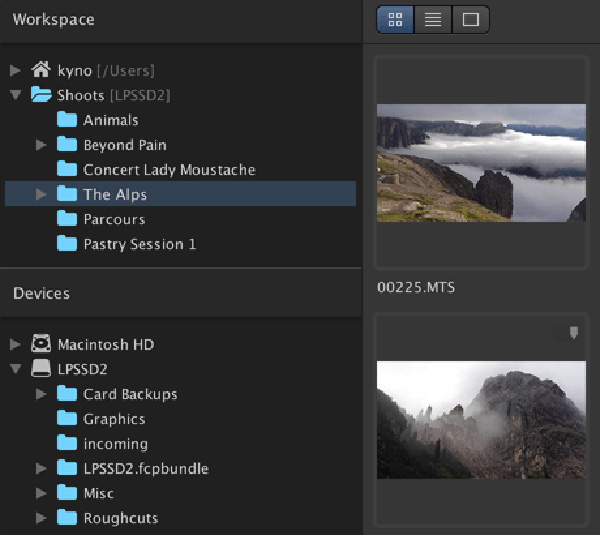 Workflow Trade-offs
So, although the potential for video producers to explore their craft has increased in the past decade, material organization has not kept pace with those developments. Building a production workflow for a given environment still requires work, experience, tools and, very often, tough trade-offs.
So far, at least, Robert believes the cloud may only help in collaboration, such as using Frame.io to give project partners access to intermediate or finished versions. "Realistically, at this time relatively few professionals have the bandwidth required for exchanging footage for editing projects recorded at 100 to 1,000Mbps. Uploading and downloading would still take many hours, especially if you needed to work in 4K ProRes," he said.
"Similarly, although progress has been made in intelligent workflow storage, archiving and storage transfer speeds due to high bandwidth systems, the amount of storage needed due to current bitrates and resolutions has increased as well, making the net gain uncertain.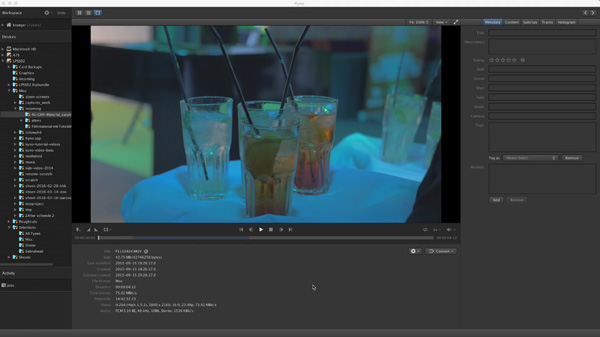 "It has always been the case that a skilled, experienced camera person has a much better ratio of used/unused material. Those skills, plus good planning and production, are at least as important as tools - but even those people are likely have more material on their drives now compared to five to eight years ago."
Metadata and Formats
Robert also mentioned three major functions in Kyno that address the challenges described here. One is fast media-aware file browsing, searching and filtering to quickly move around and regain control over what you actually have. Metadata support, especially subclipping, is important as well because until recently, finding and isolating the content you really need and organizing it well has been a very tedious task, and so not many people actually did it.
Kyno's very broad format support prevents having to swap between tools to look at or process material from different cameras. As of version 1.2, the new formats that Kyno supports are ProRes MXF, DNxHR, RAW image files from Olympus and Fujifilm cameras, Apple Core Audio, HAP video, gaming captures using the FRAPS codec and even AVI ultrasound video.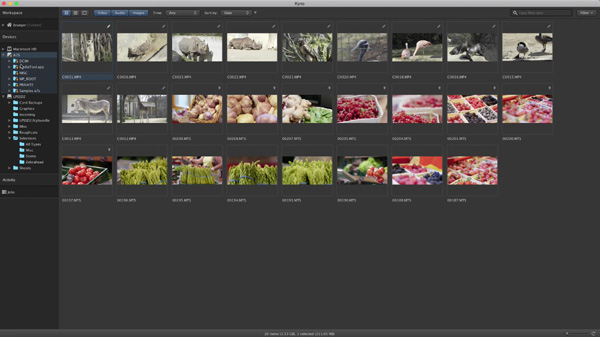 "The last decade's innovations are too empowering to be entirely negated by the challenges imposed by diversity and quality, but the challenges are there nevertheless," Robert said. "We need to discover and develop tools that can overcome them to free video professionals from technical chores, and to further support creativity." lesspain.software/kyno