SCRATCH 8.6 Expands HDR Mastering, Format Support & DIT Tools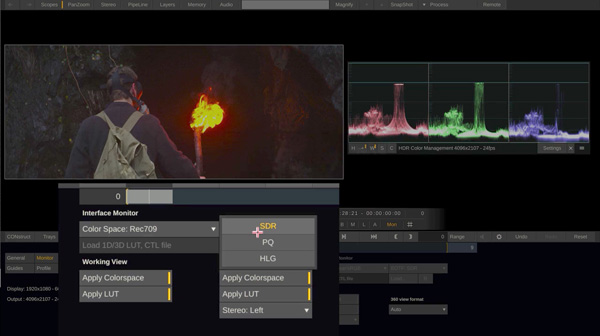 SCRATCH 8.6 is a new version of ASSIMILATE's post-production tools and workflow for DPs, DITs and post-production artists, and is now available following the open-Beta stage launched in January 2017.
The SCRATCH products are high-performance 2D/3D tools made to work together in a workflow covering dailies, conform, colour grading, compositing, finishing and mastering, which ASSIMILATE continuously develops to align with changes in the post environment. The updates in 8.6 increase support for HDR functions and new formats, and add a more accessible UI and more efficient DIT tools.

The expanded support for HDR mastering allows a user to set up HDR and SDR combinations, as required, to create a number of deliverables in a single project. PQ and HLG transfer functions, which are colour mapping standards for display, are now a regular part of SCRATCH colour management. HDR metadata is included inside the media when publishing HDR media directly to YouTube.
The scopes automatically switch to HDR mode if needed. They show levels in a nit-scale and highlights the reference level that the user sets. You can also define HDR mastering reference levels per project. All settings are automatically included in the video-output signal to your reference monitor - colour space, colour primaries and white levels, luminance levels and others.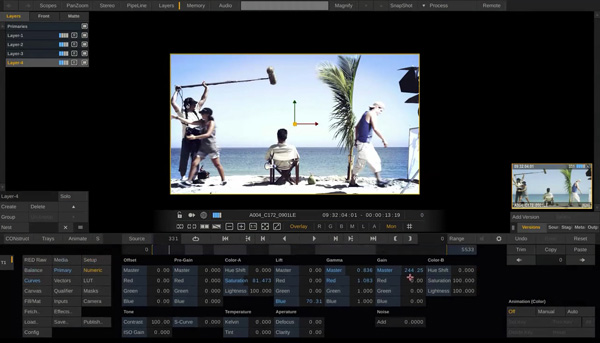 An HDR-levels report of your graded timeline may be generated, including MaxCLL and MaxFALL – Maximum Content Light Level and greatest Frame-Average Light Level of the content being mastered - that are now more often a requirement for an HDR deliverable.

SCRATCH 8.6 has been adding support for new formats as they emerge, such as Panasonic Varicam LT DNG, and several still camera raw formats like Canon, Nikon, Kodak, Hasselblad, Pentax and Leica.
Users can also create 10-bit H264 SDR or HDR output in resolutions up to 8192x6144, including all HDR metadata. For ACES, this version contains all of the most recent standard transforms as published by the Academy, including the new ACEScct working colour space, a derivative of ACEScc, or ACES log.
A high-speed DNx MXF encoder for OpAtom and Op1A, including DNxHR and including all clip metadata and audio information, makes it possible to run a direct AVID round-trip workflow. A DNx MXF decoder, reading OpAtom, OP1a and Op1B variants, is also added.
Performance has increased for QuickTime and XAVC MXF playback, and in the DNG Raw reader with better DeBayering and extended support for DNG variants. DeBayer for Kinefinity RAW is new as well.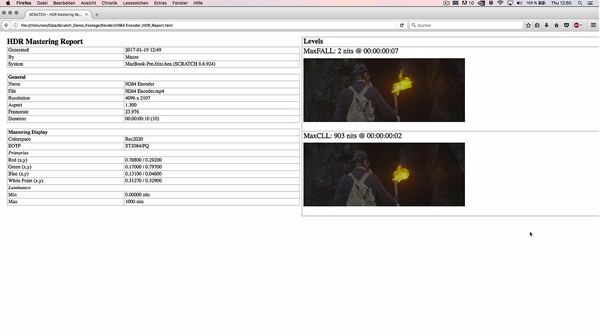 SCRATCH v8.6 has a new DIT reporting tool with a set of pre-defined reports for on-set, dailies. and post-production contexts. The reports are all customizable – the user adds a logo and sets a personal sub-selection of media to include, ranging in size from a single shot, to a timeline, up to the full project. A sub-selection of metadata can be added with ad-hoc information and notes. Reports are generated in html and csv, and then printed to PDF or converted to other formats for the deliverables.
Several updates make the user interface more natural and easier to learn with tooltips to guide artists through the many functions. But for experienced users, the more advanced tasks such as project overview and management, can also be reached faster and more directly.
SCRATCH Applications and VR
SCRATCH 8.6 post and finishing software is available now as a monthly subscription. About other applications in the workflow, SCRATCH Play for review and playback also supports several new 2D, 3D and VR formats now. SCRATCH Web is a cloud-based, real-time review and collaboration tool. News of updates for the SCRATCH VR Suite 8.6 tools will be posted shortly but the main changes concern stitching of any type of footage, loading camera templates for the different views and optimising your lens parameters. Users will have the ability to display a 360 view of a project in SCRATCH as they work, and ambisonic audio functions for adjusting sound position. www.assimilateinc.com