Prelight 5.0 Visualises Consistent Looks On-Set and into Post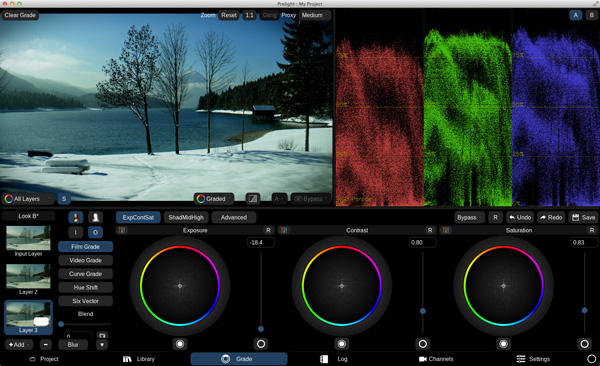 FilmLight Prelight 5.0 is made for DoPs and DITs who need visual reassurance while on set without disrupting the flow of the shoot. The application is named Prelight 5.0 because it is built on version 5.0 of the core Baselight software and is now integrated with the ARRI Alexa SXT, the Alexa Mini and the Panasonic Varicam.
At NAB 2017, FilmLight will demonstrate Prelight operating with all three cameras, natively supporting the Baselight Linked Grade (BLG) metadata format or grade metadata. It will also be demonstrated with a range of LUT boxes including Flanders BoxIO colour management for on-set and post, the Teradek COLR real-time LUT box and converter, and the Wowow IS-Mini real time colour transform device.
Prelight allows the DoP to retain control of the look of a movie on set by being able to preview the camera output with the preferred LUT or with looks developed by the colourist, and by reference to the director or DoP's own stills. The application was recently used on the upcoming Disney comedy 'Magic Camp'.
"One of the most challenging factors in digital cinematography is obtaining consistency in mood and colour throughout an entire scene," said Theo van de Sande, cinematographer on 'Magic Camp'. "To achieve this, the DoP needs a colour management system on-set that is simple, efficient, fast - with excellent frame grabs for reference and a full ACES workflow - to carry the right mood through to the final DI."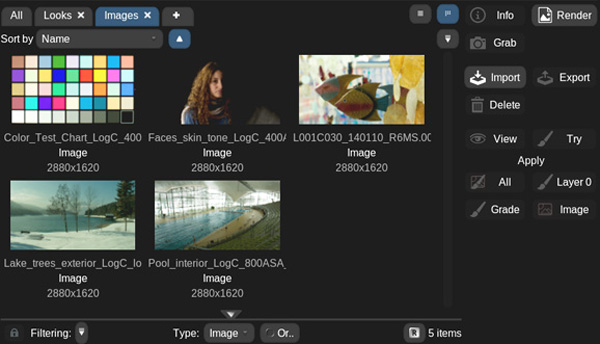 The free version of the Prelight macOS software, which was first available at NAB 2016, can be used to adjust looks, apply them to still images and export them as BLG files. The Prelight 5.0 commercial version now adds real-time colour management so that on-set monitors and editorial outputs will align with the chosen look. It also exports LUTs with the option to embed BLG or grade metadata inside the supported Alexa and Varicam cameras.
Users have access to the full set of grading functions if required, including dynamic shapes, vignettes and detailed colour correction - as well as their customised LUTs. As it uses the FilmLight BLG metadata format, Prelight will fit within FilmLight's render-free workflow.
On the other hand, Prelight can also be used purely to focus on a consistent, reliable viewing environment on set, without involving colour science or LUTs. Directors and DoPs often simply want reassurance that their chosen LUTs and reference looks are working. They can also enhance the grade on set, meanwhile capturing their decisions in the BLG metadata. All such decisions are non-destructive, which means DoPs can give suggestions to colourists while knowing that previous decisions will not be lost.
More about Baselight version 5.0
FilmLight's Baselight version 5.0 also has also affected Baselight Editions, the plugins for Avid and NUKE. Both plugins have adopted the new Base Grade colour handling technique that follows the way the eye sees colour, plus colour tools such as midtone contrast and filters for denoise and deflicker. Baselight for NUKE takes on functionality from the version 5.0 BLG allowing Baselight to act as a multiple-input node in NUKE so that BLG files can refer to multiple input images and OpenEXR channels.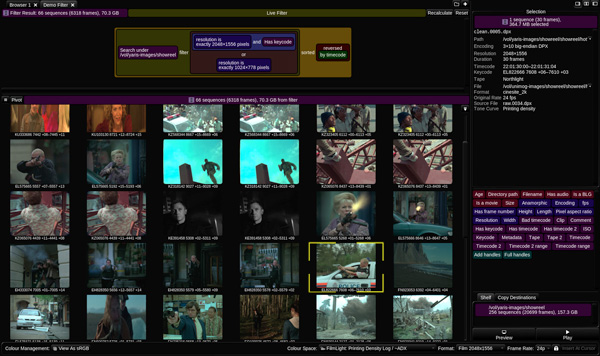 Baselight 5.0's gamut compression tool can help avoid having to compromise when working with data from HDR-ready cameras that capture colours that can't be displayed on a cinema screen or television. Out-of-gamut colours are fixed automatically. Compressing the outer volume of the gamut without affecting the inner volume prevents colours from clipping.
Version 5.0 also has mainstream VFX functionality such as paint, perspective tracking, warping, depth keying and relighting, and can take advantage of images that contain World-Space-Position (WSP) and Normal Map information in their EXR image channels. This means it is possible to isolate static objects and grade them individually – even when a moving camera is involved. Also, Baselight 5.0 supports plugins written in Autodesk Flame's Matchbox Shaders format and, therefore, users can view and grade these effects in context while accessing Baselight's GPU performance.
At NAB 2017, people can explore the new functions in various demonstration areas, including on the compact Baselight ONE, the complete Baselight TWO and Baselight X, built with extra bandwidth for demanding projects. www.filmlight.ltd.uk