Frame.io 2.0 Updates Client Review, Workflow Support and Player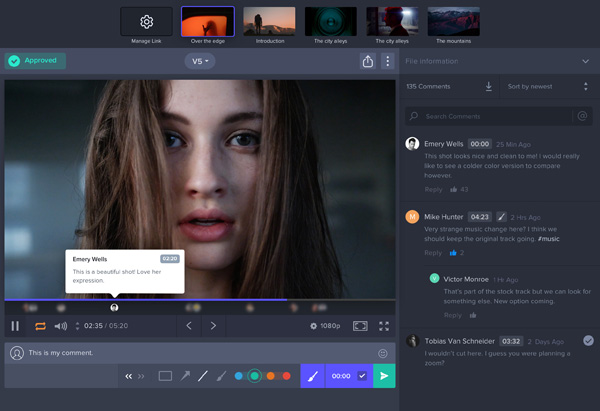 Review page
Frame.io 2.0 software for media sharing and client collaboration now has expanded content Review Pages for clients, tighter workflow integration with Final Cut Pro X and Avid Media Composer, and a re-engineered player.
Frame.io was developed by content creators to replace the tasks handled by Dropbox for file sharing, Vimeo for video review, and e-mail for communication – in one application specialised for filmmaking, VFX and post production professionals. At the 2017 NAB Show, Frame.io 2.0 can be seen in action at the G-Technology booth.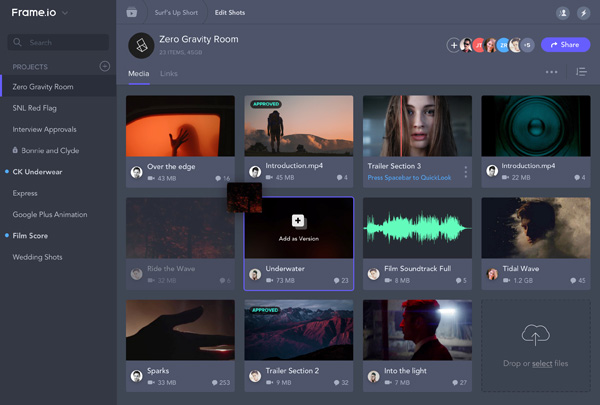 Dashboard
The client Review Pages give detailed feedback on projects, and works similarly to the way internal teams collaborate using annotation and feedback tools. Logging in is not required, and clients can comment without being exposed to the full Frame.io interface. The settings are configurable to meet any one customer's specific needs, including workflow controls for approvals, security through password protection and expiration dates, and personalized communications instead of email threads.
For people using Adobe Premiere or After Effects, the comments are directed into the timeline, where you can make corrections and upload a new version. Client Review Pages are also available in the Frame.io iOS app, which allows the project content creators, artists, clients and other stakeholders to collaborate, out of the office.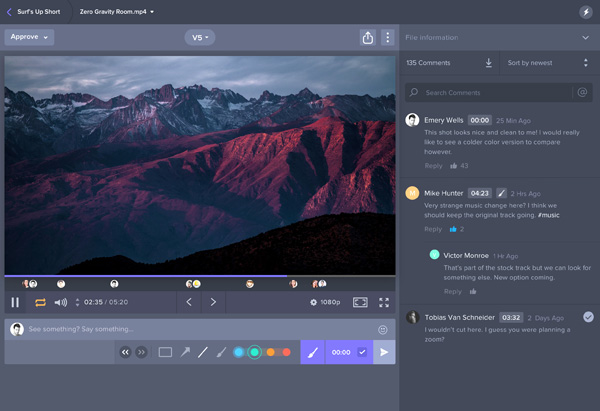 Player page
To support post-production and VFX workflows, Frame.io 2.0 now exports and imports comments and annotations into Final Cut Pro X and Avid Media Composer using a free upgraded, desktop companion app. Users download and open comment files and bring them into the NLE as markers without having to toggle between Frame.io and the editor.
Users can also now copy and paste comments from one version of their work to another so that feedback is not lost. The information is exportable in various formats. The PDF version contains a thumbnail, timecode, comment, annotation and completion status that can be shared and reviewed with the team. The .csv or .xml file versions contain extra data for further processing. Other new workflow support in Frame.io 2.0 is a SMPTE-compliant source timecode display that works with both non-drop and drop frame timecode. Users can also download proxies straight from Frame.io.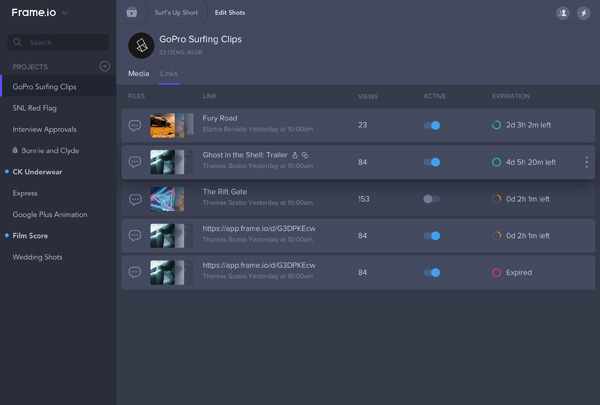 Management
The Frame.io 2.0 Player page has been rebuilt with more navigation options and, for motion and visual effects artists, a new looping tool to watch the same short clip on loop to help users focus and make and control precise adjustments. You can select a small range within a clip for closer analysis. Frame.io 2.0's asset slider navigates between assets from the player page.
New comment heads allow artists to see who left a comment and where, and prioritize feedback on projects. Users can also preview the next comment, to understand the complete comment chain in advance.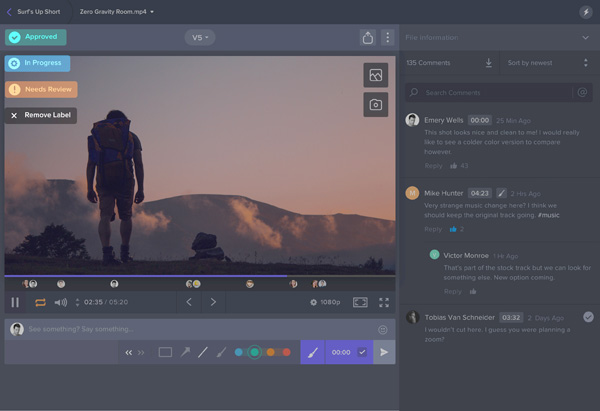 Player labels
Frame.io 2.0's Dashboard, which manages collaborators on a team, has been redesigned as well. Project searches are faster, and to avoid getting lost in a project, a navigation bar tracks all moves deeper into a sub-sub-subfolder. A new list view option with a mini-scrub displays a birds-eye view of everything happening in Frame.io 2.0.
Copying and moving assets between projects does not require extra storage space, even when users make thousands of copies of a clip or project. Frame.io 2.0 can also publish directly to Vimeo and allow control over publishing options, descriptions and privacy permissions. frame.io