Digital Garden Upgrades to 12G-SDI with Blackmagic Design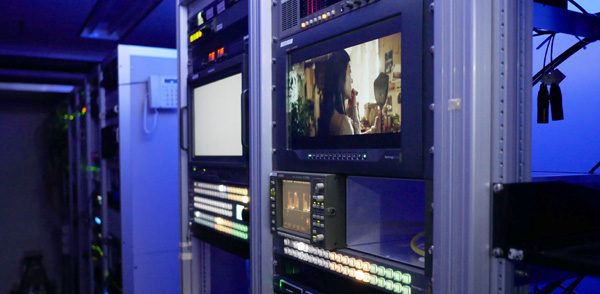 Post production house Digital Garden in Tokyo has updated its facility with a new 12G-SDI machine room, replacing the original 1.5G-SDI HD/SD workflow built 11 years ago. It will support the company's main services - which include CG content development and creation, video and audio editorial, data transfer for digital content, and related services – and in particular several new 4K editing and grading suites.
The new workflow is based on Blackmagic Design's Teranex AVs with 12G-SDI components including the Blackmagic Smart Videohub 12G 40x40 with Videohub Master Controls and SmartControls, and HyperDeck Studio12Gs. Digital Garden is also using Blackmagic's MultiView 4 and Teranex Mini Converters.
Due to the need for more 4K support in their editing and grading rooms, Digital Garden decided to make the whole system 4K compatible. The machine room now connects to two audio suites, four online editing suites and a grading suite, totaling seven suites controlled by the Smart Videohub router.
The company also decided to build this new system from scratch, using almost none of the original equipment. Shinichi Futagami, a lead technical manager at Digital Garden, said, "Repairs on the original equipment were getting very expensive. It was also unable to pass SD signals to HD compatible equipment.
12G-SDI Compatible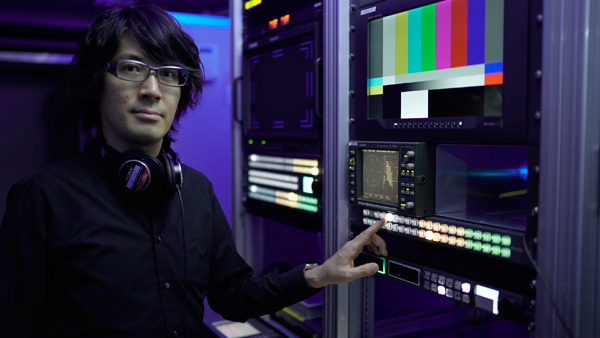 "Actually, what we care most about when we build post production suites is how smoothly we can carry out preview sessions with our clients. We try to keep the editor's suite simple and easy to operate and make preview control work for both 4K and HD. To achieve that, 12G-SDI systems are the only answer, which made Blackmagic one of the few options for this update. Because their products are mostly 12G-SDI compatible, we could build up the system without increasing the number of cables. Not including construction costs, we equipped an up-to-date machine room affordably and at an adequate scale for our purposes."
By updating to the Videohub Smart Control, they can now use its Macro function, which makes the workflow more convenient. With the configuration software they can activate several switching commands simultaneously through a single button, and define and activate up to 10 macros, each with their own source and destination routing commands, on the one button.
"This update also means that all audio is sent as embedded audio, allowing us to convert AES audio from an audio suite to SDI via the Teranex Mini converter," said Shinichi. "We found that the amount of latency has decreased considerably after switching to this converter, and being able to see and confirm the image on the front panel of the Teranex Mini during operation is much simpler."
Everyday Conversions and Connections
Digital Garden can use Teranex Minis for many of their conversions. For example, the Audio to SDI and SDI to Audio versions are used for volume control in the edit suites. "In the suites, we use an attenuator type of volume control. Via Teranex Mini's setting menu, the editor can control audio gain from his computer and doesn't need access to the physical volume controller," Shinichi said.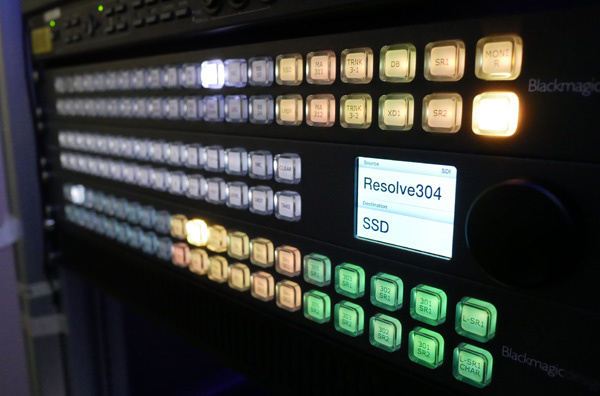 "We are still using some Quad SDI equipment as well, and use the Teranex Mini Quad to SDI/SDI to Quad converter to connect it to other Blackmagic products. DeckLink Extreme 12G for DaVinci Resolve is connected via a single Mini 12G-SDI to the SmartVideohub. For some 4K equipment, audio is embedded to all Quad SDI channels, so we use Teranex AV for multiplexing and Teranex Express for Black Burst signal generation.
"We also use the UltraScopes' waveform monitors for all suites, MultiView 4K for managing colour when working on 4K projects and HyperDeck Studio 12Gs for recording. The main advantage of these products is that we no longer have to worry about what kind of signals we are handling when using them.
"Video systems are constantly evolving, which means that, as a post-production facility, we will have to continue investing in new hardware and software. Products like those from Blackmagic allow studios to update their systems quickly with recent developments, at an affordable cost." www.blackmagicdesign.com