Colorfront Ramps up QC, Analysis and Watermarking for UHD/HDR Mastering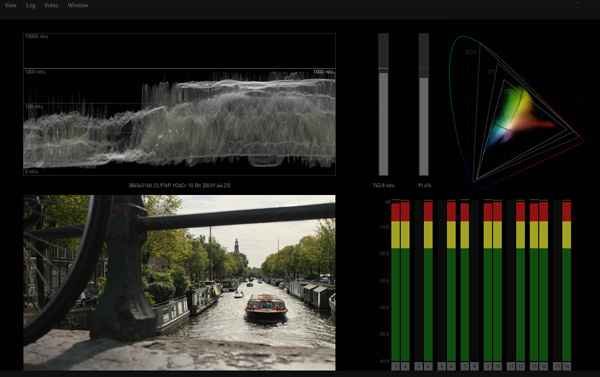 Colorfront HDR Image Analyzer
Colorfront has introduced two quality control products, extending the company's software for post production facilities and studios that need to master Ultra HD and high dynamic range, Wide Colour Gamut content. Colorfront specialises in image colour science and develops on-set dailies and transcoding systems for broadcast, films, OTT and commercial work. The new QC products, Colorfront HDR Image Analyzer and QC Player, will support facilities that are currently retooling for 4K/UHD HDR mastering.
Aron Jaszberenyi, managing director at Colorfront, notes that existing hardware-based video monitoring and analysis systems can be very expensive, creating an interest in more affordable software-based systems.
Colorfront HDR Image Analyzer and Colorfront QC Player are both powered by the Colorfront Engine to ensure colour and metadata fidelity, and are fast, robust and flexible. They employ monitoring, analysis and validation tools that are used in Colorfront's Transkoder software, their workflow tool for handling UHD, HDR camera, colour, editorial and deliverables formats.
Colorfront developed the Engine with an ACES-compliant pipeline using the Academy's floating point colour transforms. Instead of using lookup tables in the workflow, exact mathematical function curves are employed to maintain extreme precision during colour processing. It also maintains image integrity from on-set to delivery by establishing a Master Look, based on a partial subtractive colour model. This Look is useful in compositing, owing to its neutral gray scale with a wide range colour palette and ability to balance skin tones under varying conditions.
Having a Master Look means productions start with a pleasing, balanced base picture, regardless of the original source format, without relying on technical intervention. From there the production can focus on creative concerns and develop looks that support the story. All input sources are automatically converted into ACES. Once a look is developed, it can be applied to any camera type with matching results.
HDR Image Analyzer & QC Player – What's Inside
Colorfront HDR Image Analyzer packages together waveform, histogram, vectorscope, split-screen, color gamut, nit light level and audio level metering, and error logging. It supports the most recent HDR standards – including HLG (Hybrid Log-Gamma), PQ (Perceptual Quantizer) and Rec 2020 on 4K/UHD content.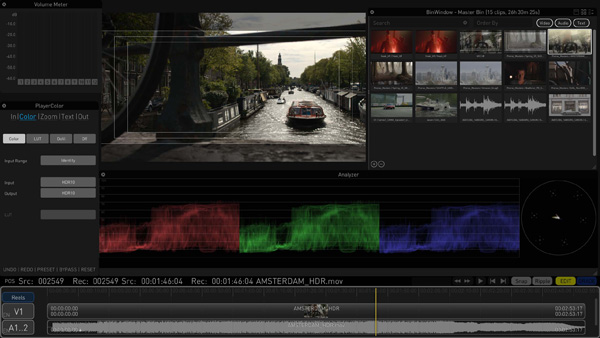 Colorfront QC Player
Colorfront QC Player supports playback of JPEG 2000 content, including 2K and 4K DCPs, encrypted and with subtitles. The player also handles IMF packages, such as lossless/high-bit-rate UHD Dolby Vision mezzanine masters with IMSC1 subtitles, HDR10+ dynamic metadata and integrated Dolby Vision remapping and external Dolby CMU control.
It delivers real-time support for all major RAW UHD HDR formats from the most recent digital cinematography cameras. These include Alexa ARRIRAW – both MXF-wrapped and .ARI files - and Panasonic VariCam 4K VRAW and Panasonic AVC-Intra. From Sony, it supports F55/F65 RAW, XAVC and the new Sony Venice X-OCN. Other supported formats are Blackmagic DNG, Canon C200 RAW, RED R3D and Apple ProRes plus 10/12/16-bit DPX and 16-bit TIF and Open EXR sequences from VFX or scanned content.
For the basic UHD HDR image analysis tasks, QC Player also has waveform, vectorscope, histogram, split-screen, colour gamut and nit light-level metering tools. Framing guide overlays for title/text/logos/graphics safe areas, plus image reframing and burn-in/watermarking tools, are built in. The player also comes with audio tools supporting embedded audio, WAV files and up to 24-channel audio output.
Hardware Power
Colorfront HDR Image Analyzer runs on a 1RU form factor Supermicro server and accesses GPU performance from the new NVIDIA Quadro P4000 graphics cards for monitoring, with the AJA Kona 4 HD-SDI I/O card supporting real-time input up to 4K/UHD. The Colorfront QC Player runs on Supermicro and HP Z840 workstations, using GeForce 1080Ti or NVidia Titan-XP graphics cards for monitoring tasks with AJA's Kona 4 I/O card supporting realtime output up to 4K at 60fps.
Colorfront QC Player is shipping now and is priced at USD $10,000, with an annual rental option of USD $5,000. In either case it includes support, updates and an upgrade path to the full Colorfront Transkoder license. The HDR Image Analyzer is set to ship later in 2017. During IBC 2017 in Amsterdam, Colorfront systems were shown at partner booths AJA, Dolby and Sony.
NexGuard Watermarking
Also at IBC, Colorfront released a number of updates to the joint system they launched with NexGuard in 2016, which adds support for multi-layer watermarking workflows and improves scalability and automation in NexGuard forensic watermarking.
Aron Jaszberenyi, Colorfront managing director
The joint Colorfront-NexGuard system protects digital content assets, particularly 4K/UHDTV and HDR, in applications ranging from digital cinema and broadcast to OTT and VOD. It protects almost any type of dailies, mezzanine and master deliverables at all stages of the production and post production workflow, while also allowing users to track the source of illicit B2B and B2C distribution.
The system uses NexGuard's forensic watermarking alongside Colorfront Transkoder deployments, and with Colorfront On-Set Dailies systems used in feature film workflows. New for IBC 2017, Transkoder has been extended so that the NexGuard Manager is fully integrated. Consequently, users can scale up their use of forensic watermarking on pre-theatrical and pre-aired content, and store all NexGuard watermarking job metadata in a centralized database to give a view of all watermarking activities.
The update also includes multi-layer watermarking support. Up to three levels of NexGuard G2 watermark layers can be embedded in any given pre-release or pre-aired piece of content by using different watermarking keys, which do not affect the robustness and imperceptibility of the watermarks. This function enables watermarks to be embedded at the ingest and outgest of post-production workflows.
NexGuard forensic watermarking adds a unique, invisible identifier to video content. The watermark remains with the content throughout transcoding, resizing, downscaling, recording by camcorder or any other alteration before illegal re-distribution. www.colorfront.com