NIM 2.7 Updates Artist Time Monitoring and Flame Integration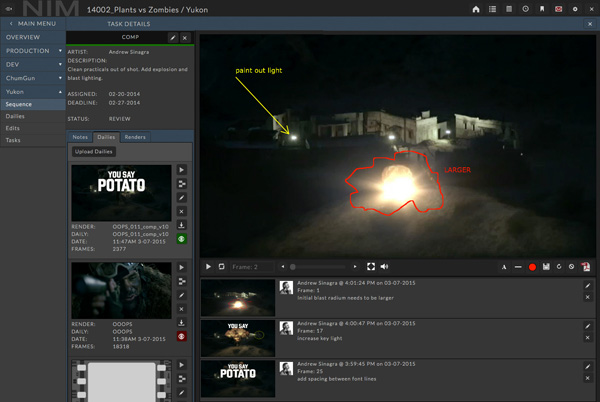 NIM for dailies.
NIM is a management application designed to visualise production studio workflows, and is now released in version 2.7. NIM Labs designed NIM for communication on production stages from bidding/budgeting through production management and final delivery, developing and trialling the software in real production environments.
Version 2.7's main changes affect levels of control over time card functionality. Now redesigned to make entry less ambiguous and information clearer, NIM uses time cards to chart the progression of a project in terms of the time artists spend on tasks, so that producers can stay ahead of trends and meet tight deadlines. Artists can also be categorised by location to show the division of labour among several studios.
Time in Perspective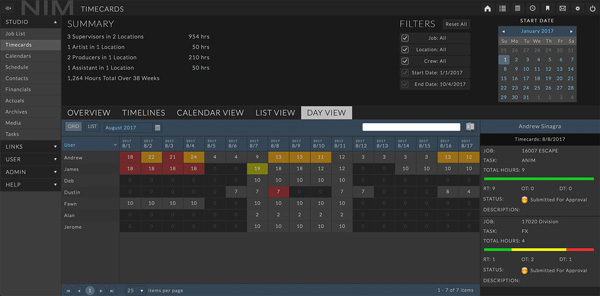 NIM time card
The time cards' main role is to give a rapid perspective on producer and artist hours, including users on regular time (RT) alongside users who may be running into overtime (OT) or double time (DT). The Time Card Day View is new, used to monitor the total hours in two modes - a heat-map style grid view and a list view, which displays cumulative time per user in a list that can be filtered and exported. The Time Card Day View also flags days on which a time card was entered on two jobs, helping to determine where OT/DT should be negotiated between jobs.
Time cards now automatically calculate RT, OT and DT based on rules set for each team, making sure everyone works to appropriate schedules. The new Timecard Approval system is a robust four-stage process - at any time, cards outside of job rules can be manually overridden with RT/OT/DT hours if necessary.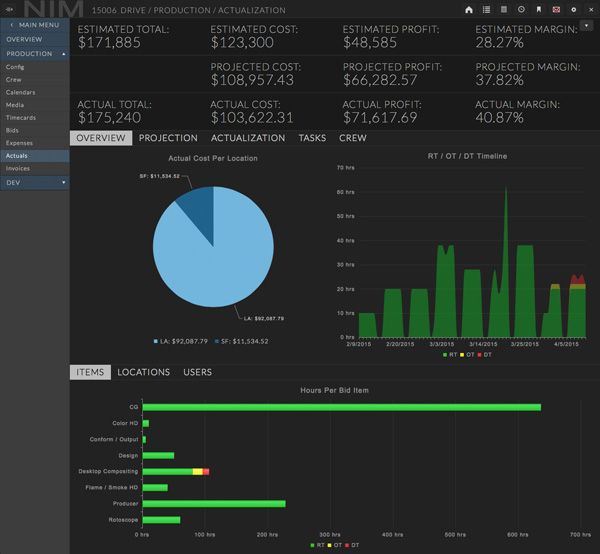 Actualisation of estimated task time.
Artists can use NIM 2.7 to set estimated times on tasks for more control over their working day. The task estimated time is compared or actualised against the time cards already entered for that task, and visualized on NIM's own Task Gantt chart as a colour coded representation of time used per task. Users can immediately see which tasks are under or over planned time. For producers and studio owners, the Task Gantt chart now visualizes task throughput and burn rates based on estimated task time, giving an insight into the efficiency of tasks as they are completed each day.
Because artist time cards contribute to calculations for job actuals from the awarded bid, NIM 2.7 includes a permission option that hides sensitive financial information in the actuals, meaning users only view actualization against time.
Autodesk Flame Connector
Other changes to version 2.7 affect NIM Connectors, which are direct integrations into users' content creation software. They currently exist for Nuke, Nuke Studio, Cinema 4D, Maya, Thinkbox Deadline, Photoshop and now Autodesk Flame as well. This new integration is available in the full NIM suite of connectors. The Flame Connector integrates with NIM from within Flame or Flare to create published shots in NIM, add exported elements to NIM shots, export clips to NIM dailies and edits, and roundtrip NIM elements back to the Flame timeline and batchFX.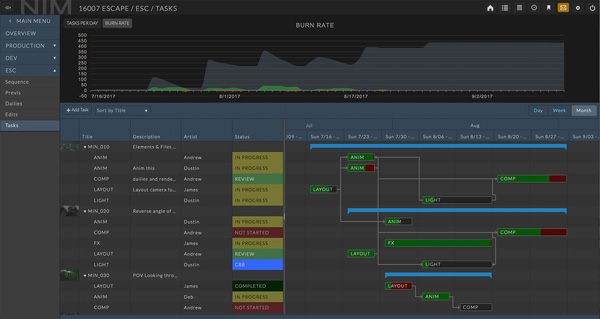 Task Gantt chart - project financing burn rate.
Virtual Machine infrastructure improvements for PHP 7.1 and MySQL 5.6 increase speed across all functions but especially raise performance when loading large sequences with numerous custom keys per shot.
NIM 2.7 is available now. Current NIM customers can upgrade to NIM 2.7 for free. New users can access a free 30-day trial at nim-labs.com.