Digital Anarchy Automates Transcription and Search for Premiere Pro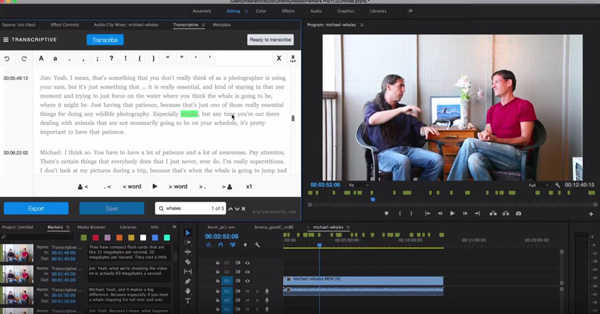 Digital Anarchy's automated, intelligent transcription plugin Transcriptive for Adobe Premiere Pro editors was developed to automatically transcribe video through the use of speech and natural language processing engines to generate closed captions, sub-titles and metadata for search engine optimisation. Turning all the speech in a video into text also makes it possible to search the entire video for words and phrases.
Currently, most transcription is done manually and therefore, it is frequently time consuming and expensive. Transcriptive's use of AI services automates and speeds up the process, and also produces more accurate transcripts, in 18 languages. As well as a standard text document, the results are output in formats that are useful to editors while working in Premiere Pro.
Speech Engines
At this time, Transcriptive works with two different speech engines, which are priced by the minute. First, Speechmatics achieves up to a 95% accuracy rate, is able to work well on noisy audio and performs speaker identification. The second choice is IBM's Watson, which is slightly less accurate, but allows users 1,000 minutes of free transcriptions per month and its per-minute rate after the free minutes are used is considerably lower. Users deal with the speech services directly, paying the wholesale cost per minute. Transcriptive does not add fees.
Transcriptive has timecode, text editing and other capabilities that make transcription simpler and more useful for video editors and producers. Batch processing multiple clips at once places the entire transcript for each clip into the metadata for that clip. You can then search each clip's metadata to find exactly what is required, and its complete integration with Adobe Premiere Pro allows users to stay within one application, avoiding the need to switch back and forth between pieces of software.
Inside Premiere Pro
All functions work directly within Premiere Pro from a Premiere panel, without having to create and import XML files, which makes it easier to communicate with other parts of Premiere and use all of its tools. Once the transcriptions are complete, editors can either use them within Premiere or export them as .srt, .stl, or .vtt files for use in other applications, or online, for example, on YouTube for SEO and sub-titling purposes. Support for .scc files is coming soon. You can also save the metadata with the video clip, which adds to its value over time.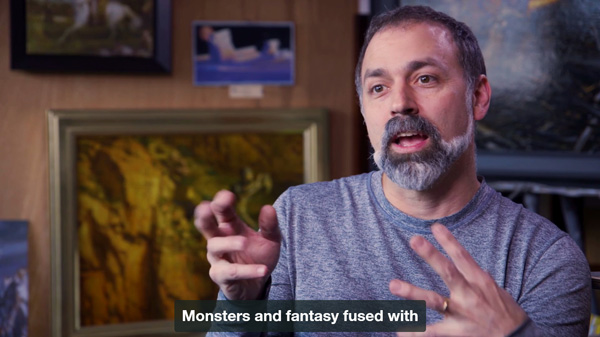 From 'Eye of the Beholder', Cavegirl Productions.
An important function is the ability to use keyword searches to find where on the timeline of a clip or sequence a specific word or phrase was spoken. Clicking on a spot in the transcript causes the software to jump immediately to that point on the timeline. Transcriptive's search panel is restructured to make searches easier and more reliable within Premiere Pro. Users can also import an existing unedited transcript and Transcriptive will synchronise the transcript and timecode, automatically conforming it to the edits made within a sequence.
Interviewing
Transcriptive was launched at IBC 2017 and since then, producers and editors are using its functionality in different ways to suit specific applications. Joy Reed is a filmmaker at a small New York production house, Oh My Productions, specialising in documentary. "We're using Transcriptive to transcribe both sit-down and on-the-fly interviews with our subjects," Joy said. "Depending on the audio quality, we've used it for the odd verite scene as well, recording both the action and the production. We also use it for transcripts of finished projects to create closed captions and subtitles."
The turnaround time to finished transcripts is much faster than when using a service. They mark up interviews with sequence markers so that when searching for specific words and phrases later on, they can be found and accessed nearly instantly. For example, replacements can be located when a critical word in a sentence has interference. "We now keep the Markers window open and can hop to our desired areas, without having to flip back and forth between the transcript text document and Premiere," said Joy.
"Transcriptive has been particularly helpful with our documentary in progress, 'Ren & Luca'. We've had the best luck with the Speechmatics engine. The transcripts are only as accurate as our speakers, of course - we have a teenage boy who tends to mumble, and his sound has needed more tweaking than some of our other subjects - but it has been great for very clearly recorded material. The time it saves compared to the time you need to tweak for errors makes a difference."
Hearing Impaired
Willow Park Church in Canada hires a specialist to deliver their services in sign language, and has acquired a sizeable deaf community. Their technical director Chris Neufeld had considered recording and inserting video of the sign person into their recordings online, but because some hearing impaired people do not understand sign language well, he has been using Transcriptive to subtitle the online videos instead.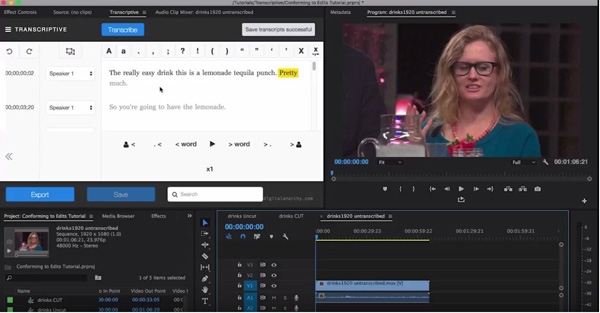 He said, "I'm also working with our lead pastor on a series of podcasts, and using Transcriptive to produce transcripts of the podcasts in order to make them searchable. The pastor has devoted his life to ministry around the world, and now has a very unusual accent. Transcriptive is about the only speech to text engine available that can understand him, and the transcripts have been very accurate.
"The time we now need to spend on transcription has been reduced significantly. Seeing the text highlighted as the track is played, and being able to make edits without having to take your hands from the keyboard, is ideal for us. Also, until I used Transcriptive, I couldn't find a speech engine application that worked well with two speakers in an interview situation. Transcriptive can reliably identify the two."
Collaboration
Kelley Slagle directs, produces and edits independent films at Cavegirl Productions near Wahington DC. She uses Transcriptive to work on short films, web series and feature documentaries. "We have used Transcriptive to transcribe all of our interviews for an upcoming documentary, 'Eye of the Beholder'. We have 40+ hours of footage, and need to share ideas for edits and content with a co-producer in New York. Because the idea of paying a premium for that much manual transcription was daunting, he reviews transcripts generated by Transcriptive," she said.
"For our purpose, producing transcriptions of about 85% accuracy is adequate, and because of the ability to save the markers in our timelines, we can find what we need by searching a text file or searching the metadata. As editor, I will now be able to find an exact quote that my co-producers refer to, or find something by subject matter, and anticipate that this will speed up the editing process. When it is time to output captions of our completed project, I'll be using the plug-in again on final exports." www.digitalanarchy.com