Maxine Gervais and Baselight X Take On Marvel's 'Black Panther'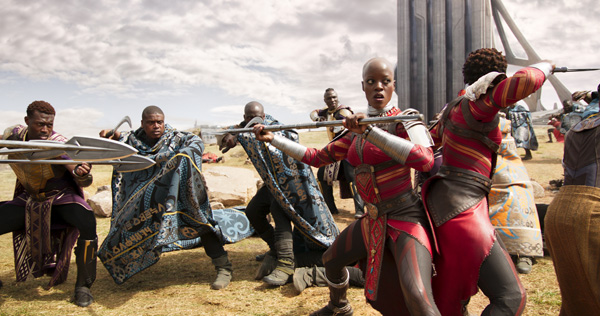 Star of Marvel Studios' most recent production, Black Panther is the first dominant black Marvel Super Hero. 'Black Panther' has become a huge box office success and earned critical success as well. Fans watch T'Challa, whose first film appearance was in 'Captain America: Civil War', returning home to take the throne of his African country Wakanda, isolated but sophisticated in terms of the nation's technical knowledge and development.
The project was shot by cinematographer Rachel Morrison, who has worked with Ryan Coogler before and was nominated for an Oscar last year. She shot on the ARRI Alexa XT Plus, recording ARRIRAW at 3.4K to CODEX recorders, and the digital intermediate was output as a 4K master.
Starting to Finish
The finishing team was led by colourist Maxine Gervais from Technicolor Los Angeles. To handle the huge size of the project resulting from shooting raw footage and mastering at a high resolution, her team worked on a network of six or more Baselight colour grading workstations simultaneously. In particular Maxine wanted to work closely with the cinematographer, to be able to add her own distinctive touch to the movie.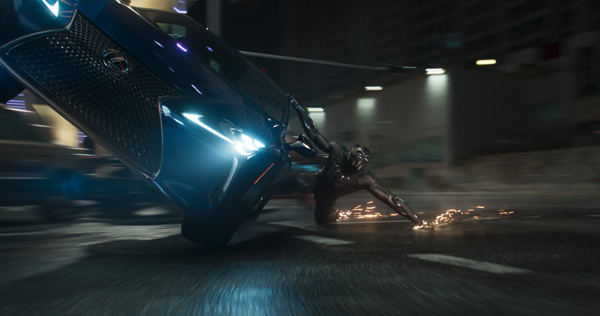 "We knew that 'Black Panther' was a movie with big themes and a strong story, and knew we needed to emphasise those elements to create the epic look the producers were expecting," Maxine said. "Approaching it was exciting because it was not an established franchise but a completely new departure, so it gave us all more creative freedom."
Part of the attraction and visual excitement of the story is that moves between Oakland, California and a secretive, futuristic African nation, a world the audience has never experienced. "Even so, we wanted the film and photography to feel real, unlike most superhero movies," said Rachel. "We wanted to highlight the beauty of Africa, for example, looking at films like Baraka and Samsara, the TV series Planet Earth and even The Godfather and The Dark Knight, as visual references. Also, like all of our work, we were hoping to clearly show the filmmaker's subjectivity and point of view."
Working Relationships
Because Marvel Studios, not surprisingly, took a close interest throughout the production stage of the film, the production team was ready with positive guidance. The viewing sessions devoted to considering the grade, for instance, were attended by as many as 20 people. While that put some pressure on Maxine, who was expected to interpret and implement the many inputs, she saw it as an opportunity to collaborate, share ideas and challenge each other.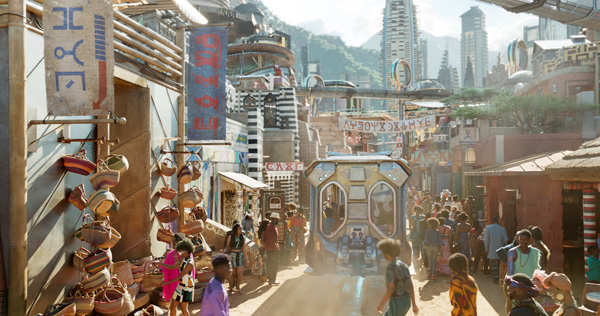 She and the cinematographer Rachel eventually built a close working relationship. Maxine said, "We had a similar response to the overall feel of the movie. Rachel is clear about what she is after and has a great eye for contrast nuances. We both looked for a strong, rich image. I think we achieved that very well."
Because the majority of the movie cast is black, like the director African-American Ryan Coogler, Rachel also mentioned that she and Maxine worked hard throughout the film to maintain contrast between the actors and sets, especially when the slightly shining, all-black figure of the Black Panther himself appears in night time sequences.
As part of this working environment, Maxine had to be prepared to present options in response to requests from producers and the director, at speed and with flexibility. She worked on a FilmLight Baselight X system workstation, running version 5.0 software, and the FilmLight support team was also working with her as the project progressed. Meanwhile, SHED LA was grading and delivering all the dailies on FilmLight's Daylight tool. In terms of functionality, Daylight is a dailies platform for shot management and fast transcoding, but in effect it gives the DoP and director a chance to both establish looks and visualise what they have shot on location.
Integrated VFX Pipeline
An inevitable challenge in all super hero fantasy stories is that, of course, they have to rely heavily on visual effects. Furthermore, Black Panther not only contains over 2,500 VFX shots, but also had a short delivery time. For the grading team, this meant the finishing workflow had to fundamentally integrate the VFX pipeline, and meanwhile ensure that the director was seeing looks that were close to the finished grade at all times.
To do this extensions were made to Baselight's workflow functionality, allowing users to flag and track all the VFX shots according to their state of completion. In practice, the director, DoP and production team attending grading sessions could see at a glance, using colour-coded markers on the client monitor, which VFX shots were temporary and which were final. Another Baselight function they found useful was the Shots View, which is driven by metadata so that everyone could navigate the mammoth number of shots more easily and see at a glance how many shots were actually finalised.
Working with VFX Supervisor Geoffrey Baumann, Maxine made sure that the CDL matched what they saw in the VFX reviews. "Sometimes, we used the CDL as a starting point for the grade and sometimes we would blend it off by 50%," she said. "Other times, we would drop it altogether and use it only as reference. It all depended on the complexity of the scene."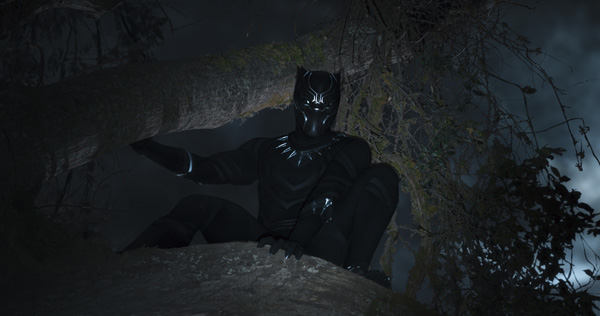 The movie's varied settings posed real challenges for the grade. Among these, both Maxine and the cinematographer Rachel Morrison agreed that the jungle scene was the most demanding. (See image above.) Rachel shot the scene inside a studio on a sound stage, which she noted gave it "a bit of a 'set' feel". In post, everything was stripped back before they worked to amplify the contrast in the background.
"As it was set at night, to keep all the detail viewers need to see and still make it feel organic, I ended up grading in multiple levels to keep them organised," said Maxine. "On Black Panther generally, I used much more composite grading than I have ever done before, blending many separately graded layers to achieve the final look."
Heroic Delivery
Timescales were foreshortened and the producers set a premiere for the end of January. "I was involved in the project for a little over two months, but when you get to the finish line on a movie like this, a lot of VFX shots need to be dropped in," Maxine said. "The regular standard 2D movie had to be wrapped by about 24 January, but the 3D versions had already started as I was finishing 2D, so that was challenging, too."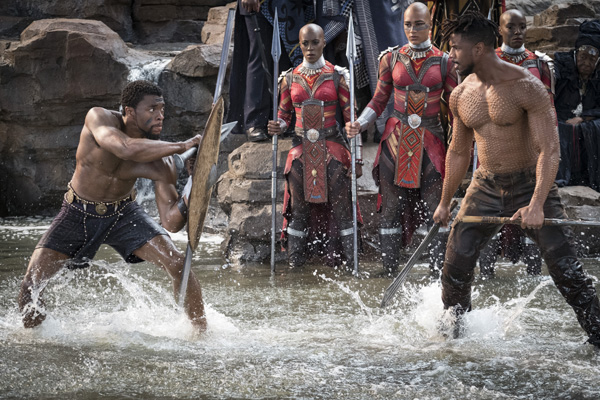 With such a VFX-heavy film, Maxine called on the team at Technicolor to help with all the rotoscoping and tracking that were required. Working with her assistant colourist, Jeff Pantaleo, to rotoscope a lot of the shots, they tried to avoid using too many mattes in order to simplify other deliveries like 3D. But they still ended up with a huge number of layers and shapes. "We had a dedicated team just to offset all the shapes for 3D," she said. "Luckily, Baselight 5.0 has tools to speed up the way shapes are translated between 2D and 3D, making us a little more efficient in that respect.
"Even when it comes to deliverables, the tasks mount up. We had versions for laser projectors as well as standard digital cinema. The film is also available in IMAX, and of course there are HD versions. It adds up to very many variations – and each one needs a trim." www.filmlight.ltd.uk